"When you put Mexico versus Ireland, you know it is going to be a war," proclaimed former six-weight world champion Oscar de la Hoya to start the press conference for tonight's showdown between Cork native Gary 'Spike' O'Sullivan and Tijuana native Jaime Munguia.
A fight with all the trimmings of a world title encounter – without an actual belt on the line – takes place at the Alamodome in San Antonio, as Golden Boy's hottest prospect Jaime Munguia attempts to announce his arrival into the middleweight division in style.
To call Munguia a prospect is probably doing the 23-year-old a disservice, as he has already become a world champion in the lighter 154lb division and has amassed a staggering 34 professional wins in an unblemished six-year stint, having turned pro as a 16-year-old.
Munguia's first 25 fights took place inside his native Mexico, and fought for the first time on American soil just over two years ago.
Six months later, the then 21-year-old secured the WBO world super welterweight title and has since gone on to defend the belt five times including victories over notable opponents Liam Smith, the former world champion, and Kildare native Dennis Hogan, who was unlucky not to get the decision, having travelled to Monterrey to fight Munguia in his home country.
"You will make mistakes. And when you do, Spike O'Sullivan will be there to capitalise" - Paschal Collins
Standing six foot tall, Mungia has now outgrown the 154lb ranks and will look to make his mark at the marquee middleweight division, and in order to command immediate respect at that level, he has been tasked to defeat the experienced O'Sullivan.
Munguia comes into the fight as the favourite, however, he has had to go back to the drawing board over the past nine months to develop his style and pay a lot more attention to his often wide-open defence, which was severely exposed in the fight with Hogan last April.
Since that fortuitous victory, Munguia has started to work with one of his country's top former fighters, Erik Morales, who won world titles at four different weights and unified the super-featherweight division by beating Manny Pacquiao in 2005.
Morales was also involved in an "Ireland v Mexico war" back in 1999 as he defeated former world champion and Olympic silver medallist Wayne McCullough in one of the most memorable fights of the year.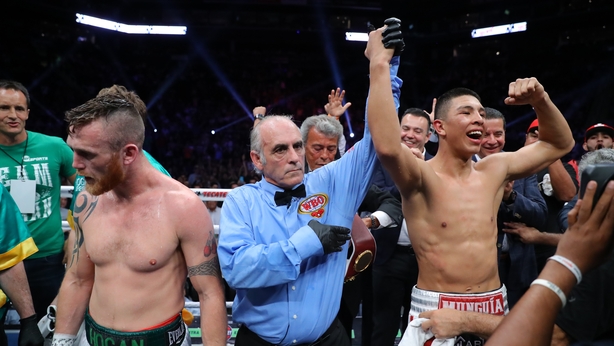 "Their styles are made for each other – we were looking at [Spike's] fights and he hasn't had a boring fight, he is just a fun fighter to watch," said Munguia spokeman Juan Carlos, speaking on behalf of the absent Fernando Beltran.
"He is always prepared, always focused and like Oscar said, everytime that there is no trash talk between the fighters, you know they are focused.
"[Jaime] graduated from 154 division with honours and now he is coming to the best division in boxing and we hope to have success in this weight class.
"And we see him progressing every time. The last fight was his first with Erik Morales as his trainer and he made lots of adjustments, defensive adjustments, and now after a year with Morales, we are confident that he will bring a lot of defensive skills and will show a lot of boxing skills."
De la Hoya referenced the Morales versus McCullough fight in the build-up to this much-anticipated war between the young gun and the old-timer – O'Sullivan is now 35 – and the Irish camp are under no illusions that they will not only have to win, but to win well in order to get the decision in Munguia's backyard, just 200 kilometres from the Mexican border in south Texas.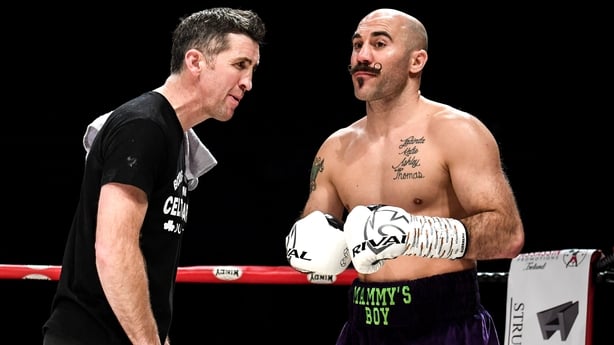 O'Sullivan will be hoping that Munguia's new defensive approach is still a work in progress as he will take great heart from watching old footage knowing that opportunities will present themselves over the scheduled 12-round contest.
Spike will embrace a war and despite his age, he is in peak condition physically and will be quite happy to take the contest into the championship rounds to exploit Munguia's frailties.
O'Sullivan's trainer Paschal Collins – brother of former world champion Steve – called the fight a "no-brainer" for Golden Boy, saying that they had dropped to junior middleweight in search of Munguia's world title.
As it transpired, Munguia would go the other way and it should certainly suit the power of O'Sullivan to fight at the heavier weight.
"We believe it is Spike's destiny to win this fight," said Collins at the pre-fight weigh-in.
"We know we are not going to get the decision, we're not fools," added Collins, perhaps making reference to the oft-debated decision that the Mexican secured against Irish fighter Hogan.
"Twelve rounds is a long time to be in there, you will make mistakes," prophesised Collins.
"And when you do make mistakes, Spike O'Sullivan will be there to capitalise.
"It's nothing personal but on Saturday night, Spike is coming to take his O, his O is going to go."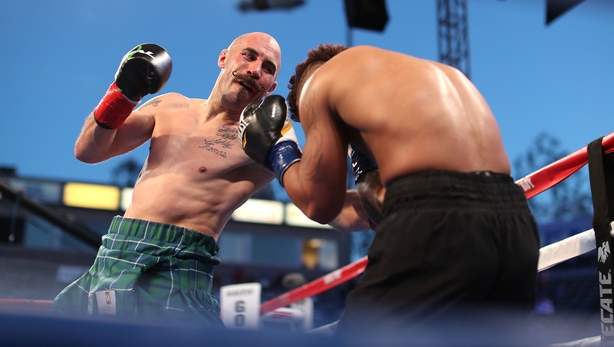 De la Hoya introduced the Rebel fighter as Gary "the best dressed fighter in boxing today" O'Sullivan, and the sharp-dressed and moustachioed Spike spoke with a fine blend of confidence and respect going into what can be a career-defining encounter.
"I'm under no illusion that Jaime Munguia is a great fighter, but he should be under no illusion that I have prepared really, really hard for this fight.
"I have made a lot of sacrifices. I recently bought my first home for my family and I was looking forward for some time to spend Christmas in my new home with my family but I remained in training camp for the holidays.
"I spent Christmas Day and New Year's Day with the family and came back [to camp] to train really hard, putting everything I've got into training and I am coming here on Saturday to win this fight.
"It's nothing personal, he is a very nice guy, and I wish him good health and good luck in life...", at which point O'Sullivan dramatically paused to shake hands with his opponent.
"But on Saturday night, I am coming for war and I am coming to win, and I look forward to putting on a great show."