Michael Conlan has defeated Vladimir Nikitin in New York's Madison Square Garden, avenging his controversial loss to the Russian in the 2016 Rio Olympics. 
The Belfast boxer won a unanimous points decision, each judge comprehensively giving Conlan the nod with the scorecards reading 100-90, 99-91 and 98-92. 
The stats at the close of the fight made plain Conlan's dominance, the Irish fighter landing 177 punches compared to his opponent's 130. 
This was the pair's first meeting since that fateful clash in the Olympic quarter-final in Rio, when Nikitin was awarded the victory against the gold medal favourite, a decision which famously enraged both Conlan himself and the Irish boxing public. 
They were due to fight at the Feile an Phobail in West Belfast in August but the Russian fighter pulled out with a bicep injury. Conlan would subsequently fight - and defeat - Diego Alberto Ruiz and the promised bout with Nikitin was re-arranged for December. 
After a couple of slow and uneventful rounds at the outset, Conlan began to swing into his groove from the third round onwards. 
Nikitin won marks for his aggression in that infamous Rio bout and that approach was evident here but Conlan was by far the more stylish and composed fighter throughout, picking off his opponent with shots from the outside. 
The Russian fell on the canvas in the third though the referee rather harshly deemed it a push. Rounds four and five also went Conlan's way as his opponent grew more ragged. 
Nikitin had been undefeated in the professional ranks until yesterday and enjoyed his best period in a frenetic pair of rounds in the seventh and the eighth, forcing a cut to Conlan's eye in the latter. 
But this was a very brief setback, the Irish fighter re-establishing his control and dominance in the ninth, continuing to coolly land pot-shots as the aggressive Russian lumbered forwards. 
Conlan's superiority was evident again in the tenth and final round, as he had time to raise his hands in the air as the clock wound down.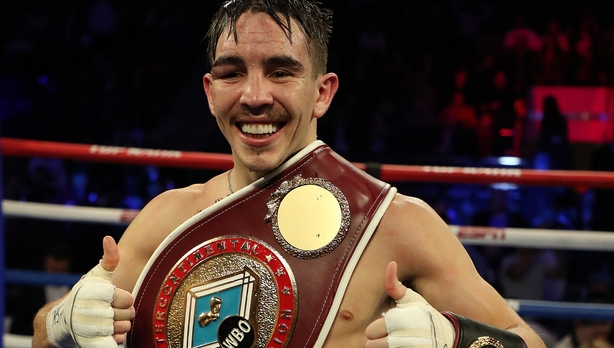 The pair embraced warmly at the final bell and the judges gave Conlan a clear victory. Afterwards, he said he envisaged a world title bout coming "within 12 months." 
"It was a lot of pressure going into this fight," Conlan said following the win. "I feel like I had the weight of the world on my shoulders. But it's nice to get it done.
"On that performance, it wasn't as clean as I wanted. Vladimir actually came out with different tactics and tried to box! It took me a while to find a rhythm but when I found it, it was cool and easy. 
"Maybe I stayed in a comfort zone too long instead of pushing it. You could see when I wanted to trade I could do it better than him but the game is all about longevity.
"I've always said I've no ill-feeling towards Vladimir. Nothing was personal. I just needed to get that one back. That fight could have been very emotional because of what happened and what it caused for me. I just had to remain calm. We worked on that in training camp and it worked tonight."
It is Conlan's 13th win from 13 bouts in the professional ranks and a world title fight is now expected to arrive in 2020.