Michael Conlan expects to have to beat the very best of Vladimir Nikitin when the featherweight rivals meet at Madison Square Garden tonight (2am Irish time).
The fight, on the undercard of Terence Crawford's defence of the WBO welterweight title against 'Mean Machine' Egidijus Kavaliauskas, will be the third and defining meeting of the skilful Belfast boxer and the rugged Russian and follows Nikitin's infamous quarter-final win at the Rio Olympic Games back in 2016.
Despite being clearly out-boxed and out-fought, Nikitin – who was unable to compete in his semi due to the injuries sustained in the contest - was given a hotly-disputed decision by the judges at ringside, leading to a memorable protest from an irate Conlan who had travelled to the Games as one of Ireland's leading medal hopes.
Since then Nikitin has progressed to 3-0 as a pro while Conlan has moved to 12-0 with seven stoppage wins and goes in as favourite on his sixth appearance at the New York boxing Mecca.
"He might try and box me more," said Conlan, Ireland's first male World amateur champion.
"I think we'll see better from him than we have seen as a professional because this is his world title fight really, this is his big one and I'm expecting it to be the best Vladimir Nikitin we'll see.
"Whether he tries to box or come in close and take my head off… I'm ready for anything. Because of what I've worked on in training and in the sparring which I've had, I'm very happy with whatever way it's going to go."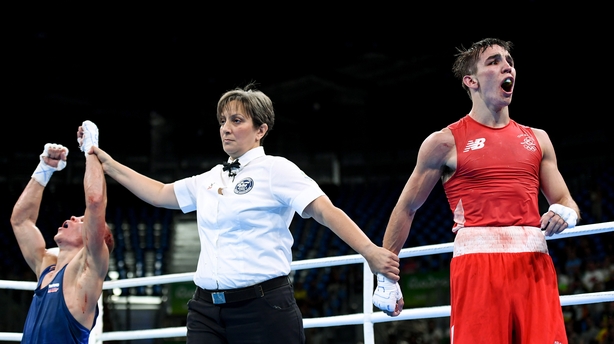 Conlan is odds-on to win and that has been partly fuelled by the perception that Nikitin is now a flat-footed "high-energy slugger".
The Russian has not looked convincing in any of his three professional outings to date and pulled out of an August meeting against Conlan because of a bicep injury.
He comes to fight and will swing in his punches – booming long right hands followed by left hooks to the body – and underestimate him at your peril because you don't assemble the medal collection he has at European and World Championship and Olympic level without being a top class fighter.
"I think the general public are underestimating him and I think the boxing media are underestimating him because he hasn't performed to his level yet," Conlan agreed.
"But I'm certainly not underestimating him and what people say doesn't matter, what matters is what happens on Saturday night. I just have to go back to what I've done in training and no stone has been left unturned."
Another factor that is definitely in Conlan's favour is that Nikitin hasn't gone beyond six rounds yet and the Belfast man is already a veteran at 10 rounds.
"It's another box I have ticked and he hasn't," says Ireland's first ever male World amateur champion.
"He has a big engine but until you do it in an actual fight you don't actually know if you can or not. There'll be a doubt in his head and that'll be something I'll use to my advantage in the fight.
"If I see him trying to take a break I'll probably push him a bit to make him deteriorate a bit more and consume his energy a bit more."
🥊 WEIGH IN: @mickconlan11 v Vladimir Nikitin - From New York City #ConlanNikitin #Redemption pic.twitter.com/1ZD7YgCyfU

— iFL TV™ (@IFLTV) December 13, 2019
Conlan says tonight's fight is "strictly business" and that he has not become invested in it emotionally. He says he wants to put Rio "to bed and move on".
"I'm looking forward to going in there and getting the victory and looking good doing so," he said.
"I'm just really happy and really confident because of the work I put in to training camp and everything we have done has been fantastic.
"I have no doubt, I have no fear, and I have no negative feelings towards what's going to happen."
An intriguing clash of styles, slick boxer Conlan has the ability to control this fight from mid to long range and force Nikitin to gamble on closing the distance and making him stand and fight.
Conlan will be happy to do so and, although the capable Russian will have moments of success, the Belfast fighter should win this over 10 rounds and look forward to a world title shot on home soil next summer.