"It came out of nowhere, I didn't even see it," conceded Dennis Hogan, following his unsuccessful world title bid in Brooklyn on Saturday night.
The Kildare native was knocked out in the seventh round by WBC middleweight champion Jermall Charlo at the Barclays Center having moved up a weight for his shot at glory.
And there were no complaints from Hogan following the fight, admitting that he could not compete with Charlo's power throughout the seven rounds of the scheduled 12-round championship bout.
"It started well, [but] I could really feel that middleweight power when he landed that first shot, and after that, he knew that he had an advantage," said Hogan, speaking to Showtime Boxing.
Hogan normally fights in the light-middleweight division but moved up from 154lbs to 160lbs to fight the champion, and despite the difference in power, the Kildare native said he still felt comfortable after the fourth-round knockdown, which saw the challenger completing a backward roll after the ferocious left uppercut landed.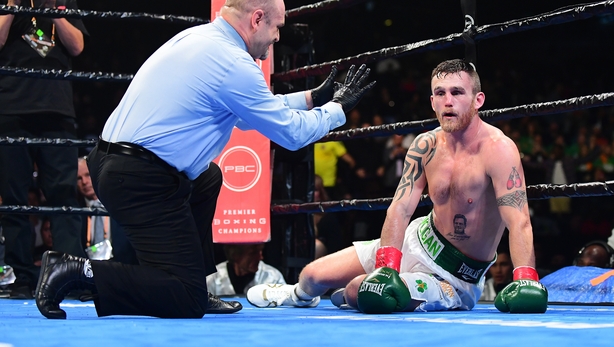 "It didn't faze me all that much and I tried to land more and that first knockdown warmed me into the fight."
It was the first time that Hogan has been knocked down throughout his 32-fight professional career, and when he hit the canvas for the second time in the seventh round, the referee took the decision to end the contest.
"I then tried to get back into it and find ways to get ahead but in the seventh round, that shot, I didn't even see it, it came out of nowhere.
"So big props to Charlo for catching me with that."
Onwards and upwards for the Australia-based Hogan who said that he will return to the lighter division and confirmed that he has been invited back to fight on the US Showtime network in the future.
"It won't be at middleweight for sure, it will be at light-middleweight. We gave it a shot but I was found wanting when it came to strength and power, especially against Charlo.
"Stephen Espinoza, the main guy at Showtime came up to me and said 'big props' because nobody will fight him at 160, so for me to come up from 154, it was good, and they said anytime I want to can come back and I will have a fight here anytime."
Hogan will now take a break for Christmas and the New Year before making his next move, sometime in 2020 with the intention of making it third time lucky in a world title fight, having lost out to Jaime Munguia in a WBO light middleweight world title fight last April.
"I'll go back, regroup, rest up for a while and spend some time with my daughter my partner, and then come back down to 154 and start again next year," said Hogan.