Jason Quigley returned to winning ways in California on Thursday night as he enjoyed a third-round knockout victory over Abraham Cordero.
In what was Quigley's first fight since suffering his maiden defeat in the professional ranks, the Donegal native enjoyed a facile victory to secure the bout early in the scheduled eight-round contest.
Quigley was beaten for the first time in his career in July when he lost to Tureano Johnson, and returned to the ring under a new training team with former world champion Andy Lee now working with the former amateur star.
The opening rounds of the Cordero fight proved straightforward for Quigley who took a couple of rounds to work out his opponent before hurting the Mexican with a right hook in the third.
Quigley seized his chance and a combination of heavy punches led to the fight being stopped in the third round as the 28-year-old secured his 17th professional win.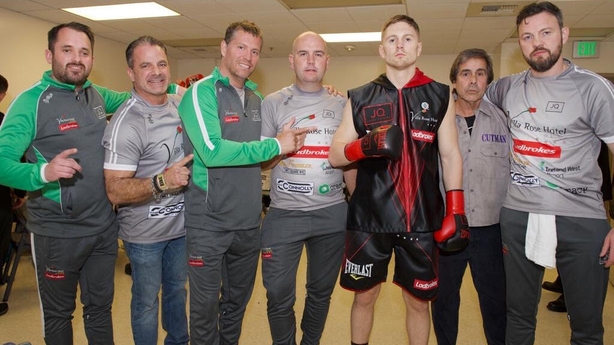 Monaghan prospect Aaron McKenna also enjoyed another victory, fighting on the same card as Quigley at The Hangar in Costa Mesa.
The 20-year-old maintained his unblemished start to his professional career with a knock-out victory over Victor Gaytan.
McKenna ended the contest in the second round following a ferocious left-hook to the body with Gaytan unable to beat the count.
That was McKenna's tenth straight win in the paid ranks and the sixth knock-out victory for the Golden Boy welterweight.
Congratulations @Aaronmckenna99 on your KO 🥊💥 #AndStillUndefeated#UlysseBarroso

LIVE NOW 🚨 https://t.co/xLoaOSlpaU pic.twitter.com/ICY3g86HGC

— Golden Boy (@GoldenBoyBoxing) December 6, 2019
"I'm happy to get the comeback win," said Quigley following the fight.
"I was happy with my patience in there. He was tricky. He didn't commit too much with any shots. He was flicking the shots.
"I think I hit him in the second round. I saw him wobble a little, but he wasn't hurt. I knew I couldn't jump in.
"I hit him in the third round and I knew that he was gone. I saw his eyes dazing. I knew I had to put on the pressure. I probably put it on too much. I got excited. I just wanted to get him out of there. I couldn't have done it slicker and tidier, but I got the job done."
Quigley was favourite to secure a comeback win ahead of the fight, but the Ballybofey man admitted that there were lingering doubts ahead of the bout.
"I won't lie. Walking into the ring, I was thinking: 'I don't want that shit to happen again'.
"The doubts were in the head. I wanted to get that behind me and get the victory. I need to learn to control that and wait for it to come. I've been working on my ruthlessness and getting the job done. It's onto the next one now.
"I love Christmas and I can't wait to get back home now.Christmas is a special time of year and I treasure it.
"I'm excited for what's ahead. I've got a training camp out in LA in January. I felt good at that weight.
"I could fight now at 168lbs (super middleweight) or 160lbs (middleweight). There'll be a belt on the line in the next couple of fights for me - then it's onto a world title."