Gary 'Spike' O'Sullivan admits he did not expect to get the call to fight unbeaten Mexican Jaime Munguia.
Headlining the card at the 64,000-capacity Alamodome in San Antonio against one of the game's rising global stars is the stuff of dreams.
Munguia defended his light-middleweight world title five times over the course of 14 months but he'll move up to middleweight level for the first time when he squares up to the Corkman. 
O'Sullivan is lean and hungry. He's also on something of a revenge mission. 
Back in May, Munguia controversially defeated O'Sullivan's friend and compatriot Dennis Hogan in Mexico.
The home favourite was awarded a highly contentious majority-decision win that infuriated Hogan. 
"I believe if it had been in Ireland Dennis would have got the fight," was O'Sullivan's verdict when he spoke to RTÉ Radio 1's Sunday Sport.
"Munguia got the decision in his back yard. I like Dennis a lot. I'd like to try and rectify the result for the Irish."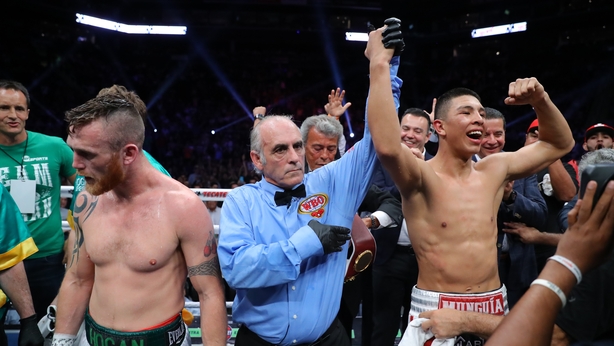 O'Sullivan was Stateside to promote the fight recently and dressed for the occasion - "I thought, while in Texas, why not go as a cowboy? I thought it was appropriate and it went down well" -  and he's savouring all the build-up and hype ahead of what will be a massive occasion.
O'Sullivan, 35, has plenty of respect for his 23-year-old opponent, though he fancies himself to cause an upset.
"I met him in Vegas when we both fought there last September, he's a very sociable guy... a nice guy.
"We're going to fight at middleweight and I believe it's going to be a world title eliminator at middleweight. 
"As a fighter, for what he's achieved already, he could be a Hall of Famer down the road. He's an outstanding fighter.
"But I like guys who come to have a fight. I've had trouble in the past with the likes of Billy Joe Saunders, who likes to move and box and not engage too much. I've got a lot of power and I like to engage myself. I think it's going to be a very entertaining fight. It is going to be difficult for me but I believe I've got the tools to beat him. 
"I'm in pretty good shape. I've been in the gym for months and months. I've got six weeks since yesterday for this fight. I'll be in really good shape come 11 January."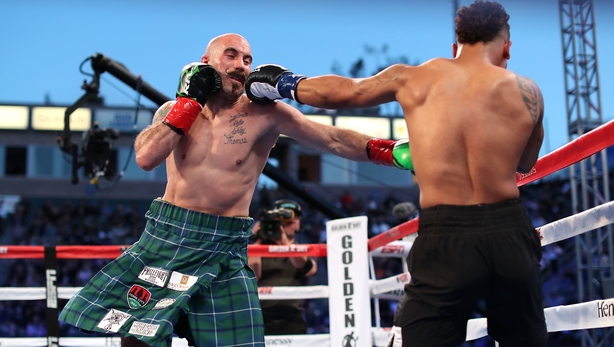 A huge atmosphere awaits. For O'Sullivan, it will be something to embrace. Highlighting his past experiences boxing in big venues, he also outlined his true motivation for getting in the ring: his children. 
"I fought in a stadium before, at Upton Park, on West Ham United's pitch," he said. 
"I fought in the O2 Arena in London... I've been in some big arenas but never as the main event. 
"It's the stuff of dreams for me. I always wanted to become champion of the world, that was my dream. But what motivates me more these days is, I have four beautiful young children.
"If I can be successful in my boxing career and beat this world champion and go on to even bigger fights, it brings significant wealth.
"You can do things for your children down the road. That's what motivates me. When I go to the gym every single day I think of my children. It gets me through it when I have to dig deep in training to get to this level and be super fit. It's not easy.
"That's what motivates me to push through the pain barrier and get into great shape."