The gambling hub of Las Vegas seems a fitting location for Carl Frampton to enter this high stakes phase of his career. 
A non-title fight over 10 rounds wouldn't usually be considered a big punt for one of boxing's high rollers, but the Belfast man will step into the ring in the early hours of Sunday morning knowing it's all on the line. 
Frampton (26-2) is either 39 minutes away from retirement, or a chance to become Ireland's only ever three-weight world champion. It's the kind of fork in the road that can only come at the end of an already distinguished career. 
Most of the betting in the casinos around the Vegas Strip will be in Frampton's favour.
He's expected to beat the relatively unknown Tyler McCreary (16-0-1) at the catch-weight of 128lbs, and his reward for that could be a fight with WBO super-featherweight champion Jemal Herring in Belfast. 
And if he loses? By his own admission, there will be no more chips to cash in. 
"If I lose to someone like Tyler McCreary, definitely. That's it, game over." Frampton said.
Vegas is mad. The mecca of boxing. Proud that it will be my second time fighting here on Saturday. Cant wait. #FramptonMcCreary #StillFrampton pic.twitter.com/p7amMenpuc

— Carl Frampton MBE (@RealCFrampton) November 29, 2019
"Because I want to be boxing for world titles. If I can't beat Tyler McCreary, then realistically I'm probably three or four fights away from a world title again. And I don't want to have to sit around and wait on it.
"So, there's a lot of pressure on me and I probably put a lot of pressure on myself but I can feel like I can deal with that.
"I'm being honest, I need to win this fight. I have to win this fight, or it's the end of the road. So that's why I've prepared like I have.
"That's why I've been out in Las Vegas for so long, training and getting used to the time difference and everything else. I've done everything I can to make sure I win this fight." 
If that sounds a little intense from the 2016 'Fighter of the Year', don't be alarmed. The Tigers Bay native has always been forthright in his analysis, and speaking at his hotel just off The Strip, he looks relaxed and assured.
Happy fighter....cant wait to put on a show. #FramptonMcCreary #StillFrampton 📸 - @4MikeyWilliams pic.twitter.com/B6aPtCL2ks

— Carl Frampton MBE (@RealCFrampton) November 28, 2019
Frampton's body of work over the last decade as a professional has instilled the type of confidence that only champions truly know. 
That's just as well, as he's coming off a nightmare 12 months.
After losing his last attempt to win a world title against Josh Warrington last December, Frampton then suffered a freak injury in Philadelphia back in August when a concrete pillar fell on his hand, breaking it, just days before his comeback fight.
On top of that he's had a legal case against former manager and promoter Barry McGuigan hanging over him. That would be enough to break many a fighter at this stage of their career, but Frampton insists he's undiminished. 
"I still believe, me at my best, I can compete with the top guys in the division and beat them. So that's the motivation, to win another world title.
"I haven't been able to call myself a world champion for a few years now, but I want to win another world title before I retire. And the prospect of doing it in a third division is quite possible, so that's a lot of motivation for me." 
"Bob Arum has said the prospect of me actually fighting Jamel Herring, back at home, for the chance to become Ireland's only ever three-weight world champion is a real possibility. But I need to beat this guy first." 
That guy is 26-year-old McCreary. The fighter from Ohio is unbeaten, but untested at the elite level. At 5'9 he has a significant height and reach advantage over 5'5 Frampton, and based on the video analysis uses his jab well.
That could be tricky for Frampton to negotiate, but he's ready for anything: "I heard a rumour they're going to try and fight me like Warrington fought me, which would be strange tactics for him; someone of his height. If they do that, happy days, that suits me.
"It just makes it a little bit easier for me. If not and they move like I expect him to...I'll do whatever it takes to win the fight."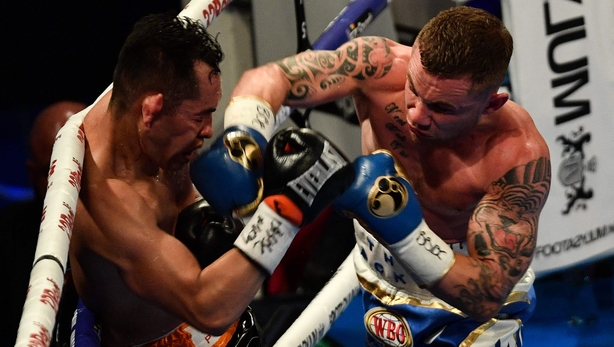 Frampton's preparation has included training in high altitude chambers, and a couple of weeks spent in the UFC's state of the art Performance Institute.
Recovering from the infamous hand injury in Philadelphia has meant the 32-year-old has spent more time on his aerobic capacity in this training camp. 
He said: "I had to be careful as to what I was doing in terms of punching and when I started sparring and stuff, but I've been really monitoring it and the hand's been fine.
"I've reduced my rounds of sparring because of the hand but I think that's actually benefited me because my last spar I done over here, I did 10 rounds with two guys and I was pushing them back.
"I was outworking the fresh guy in the 10th round. So, in terms of fitness I'm where I need to be." 
After a year of bad hands, Frampton will want to produce a royal flush in Sin City.