Kellie Harrington is planning for a successful 2020 following an injury-affected year since securing the gold medal at the world championships.
The lightweight world champion has missed the second half of the year since pulling out of the European Games final as a result of a hand injury, while also missing the national finals in Dublin last week, where she was scheduled to fight 2019 European bronze medallist Amy Broadhurst.
As a result, Harrington had to settle for silver in Minsk but is looking for an upgrade heading into an Olympic year.
Despite securing the world title in November 2018, Harrington still has to qualify to fight at the Tokyo Olympics in 2020, and assuming she gets the nod ahead of Broadhurst to represent Ireland, the Dublin fighter is hoping to secure the berth at the first time of asking in March.
"The comeback is always bigger than the set-back, so hopefully we will be back for a bigger 2020 now," said Harrington, speaking to RTE Sport at a presentation by the Sport Ireland Institute and their official analytics partner SAS.
"In December, we are back out here (Abbotstown) training, building formations again, we have training camps in January and then we go to London for the European [Olympic] qualifiers in March," said Harrington.
"Then there are more qualifiers in April or May in Paris, so hopefully enough of us get through in March so we won't have to be worrying about the second qualifiers."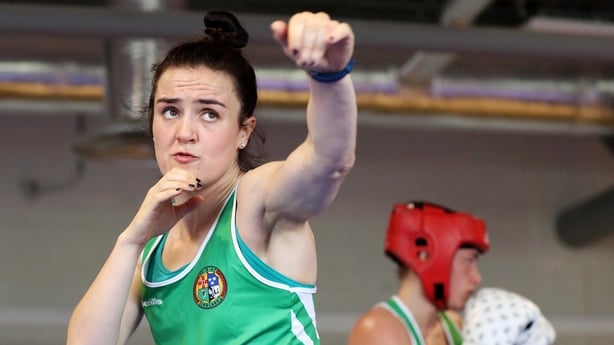 Harrington explained how she has benefitted from the availability of in-depth boxing analysis, which helps her prepare against her opponents, while also aiding in the correction of mistakes and decision making inside the ring.
"It's more for the coaches," said Harrington. "They will look at the data of the top eight boxers in my weight group, assess all their good and bad attributes, break it down and explain it in layman's terms to make it really easy for me to try to carry out the tactics from it.
"And it allows you to correct yourself so if something is not working for me and I keep doing the exact same thing, I will be able to see that through the data that is given.
"It gives you all the data; punches thrown, punches landed, and even feinting, pretending to throw punches, so it is absolutely fantastic the amount of information that we can get from it.
"It is the little one percenters that makes a massive difference, and this is a big attribute of what we are doing."
Harrington feels that nothing has really changed since emulating Katie Taylor by landing top world honours.
In fact, she believes that it has made her focus and train even harder as a result of the victory.
"This is what I thrive on, nerves, they let you know that you are alive. Some people crumble, but I love it, I absolutely love it.
"I don't feel any different. I'm just a normal person who went out and did something extraordinary.
"Nothing has changed, I still eat the same way and I train just as hard, probably harder because now I am the one with the target on my back."