Unbeaten heavyweight champion Tyson Fury has revealed he will travel to Dublin "quite soon" to take up an offer from Conor McGregor to train in MMA fighting.
Fury has previously mentioned his plans to link up with McGregor and after a session with Darren Till last week, it seems a session with McGregor in Ireland is next on the agenda, albeit a brief one as he focuses on the planned rematch with WBC champion Deontay Wilder in boxing next year.
Speaking on Today with Miriam O'Callaghan on RTÉ Radio 1, Fury said: "I think Conor is an absolutely fantastic fighting man. He has offered to train me if I ever want to go into MMA. What better trainer could I have than the Notorious Conor McGregor?
"I'm looking forward to coming to train with Conor. We're going to get it all planned in and I should be over in Dublin quite soon.
"I'll definitely be coming over for a training session, that is for sure. I have been MMA training in the last week with Darren Till in Liverpool. I really enjoy the new challenge.
"I don't know where or when [I'll move into MMA] because after I finish my boxing career I fancy my hand at MMA as well."
Fury has also described two-weight division world champion Katie Taylor as "unbelievable", having followed her career from amateur to professional.
"I've known Katie Taylor for a long time. I think Katie Taylor is absolutely fantastic. She is definitely the fighting pride of Ireland in boxing.
"She is unbelievable, as an ambassador for women's boxing and sport in general in Ireland and all over the world. She is an inspiration to all."
We need your consent to load this SoundCloud contentWe use SoundCloud to manage extra content that can set cookies on your device and collect data about your activity. Please review their details and accept them to load the content.Manage Preferences
The lineal heavyweight champion discussed his battles with mental health issues as his book 'Behind the Mask' is released today, detailing the "breakdown" he had after dethroning Wladimir Klitschko and the journey back to the ring.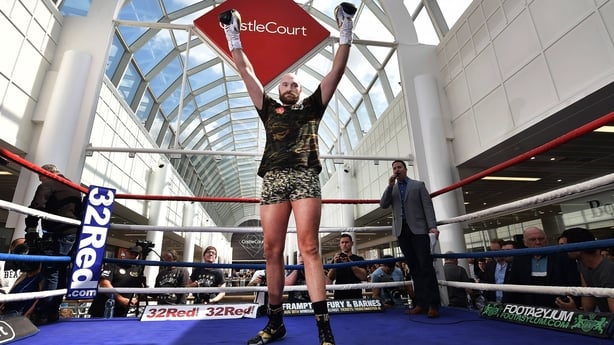 The 31-year-old lost 140lbs and returned to boxing after two and a half years out. He will challenge for the WBC belt next February after a controversial draw a year ago against champion Wilder.
"I've suffered with depression and anxiety all my life. I knew [severe depression] was coming and I couldn't stop it. I know it is hard to come out and say you are suffering, but if I can do it and I'm 6'9, 18 stone and heavyweight champion, then anyone can do it. There is no embarrassment for shame in admitting you have a problem.
"When I went and saw doctors, my mood changed. I felt a bit better and I started working out. I thought if I was ever going to be well again, I have to go back to the gym and train again. I had to lose weight because I was 28 stone and I couldn't bend down to tie my shoe laces without being out of breath or sweating.
"I did 20 minutes and built it up. Every day I went back to the gym I felt better and better. The weight fell off quite quickly. It took six month to get from 28 stone to 18 stone. That was an achievement in itself.  I thought, 'you know what, I'm going to fight again'.
"I ended up getting back in the ring and boxing again. It was an uphill battle. It was one of the hardest things I ever had to do.
"All the time I was trying to lose the 10 stone I was still mentally unwell. I couldn't go to sleep without the light on in the house. I always wanted to be around people. I couldn't be on my own.
"That continued for a couple of training camps. Without the mental breakdown I had, I wouldn't be able to be happy today because I'd still be balling it all up.
"I think the book will help a lot of people with their struggles, but people may not realise how much it helped me to write it down and sharing it with others."