Kellie Harrington has guaranteed herself a European silver medal after a unanimous victory over Sweden's Agnes Alexiusson in Minsk.
The world lightweight champion will fight in the final on Sunday against Finland's Mira Potkonen after this evening's semi-finals. Potkonen will be remembered as the boxer who beat Katie Taylor at the 2016 Rio Olympic Games.
It's progress for the Dubliner, after picking up a bronze at last year's championships in Bulgaria.
"I'm just feeling great," she said afterwards.
"I came here last year and got a bronze medal. I said, 'coming here, hopefully I get more than a bronze,' and now I'm in the final.
"The best thing about it is that we're a wolf-pack. We're all here as a team, we're all medaling, it's fantastic. Irish boxing is well and truly alive.
"I haven't had a fight since February, so to come back here now and be in the European final... this is what dreams are made of.
"I have every medal now expect for an Olympic one."
Earlier, Michaela Walsh progressed to the featherweight final at the European Games in Minsk and guaranteed at least a silver medal. 
The Belfast fighter beat Daria Abramova on a 3-2 split decision in this afternoon's semi-final.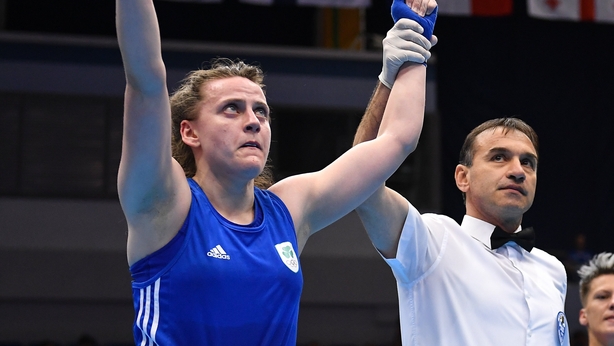 Walsh rattled her opponent from the start and landed a number of clean punches to establish early dominance. 
Abramova came back hard in the second round though, and delivered some powerful blows to test Walsh at every turn.
The third round was just as close, and despite a late rally from Abramova, a tactically strong Walsh held her composure to win out 3-2.
On Wednesday, Walsh shocked reigning world champion Ornella Wahner of Germany and will face Bulgaria's Stanimira Petrova in the final tomorrow afternoon. 
Petrova beat second seed Jemyma Betrian in the other semi-final. 
In the men's bantamweight, Kurt Walker beat top seed Peter McGrail of Great Britain's on a split decision to become the third Irish boxer into a European final.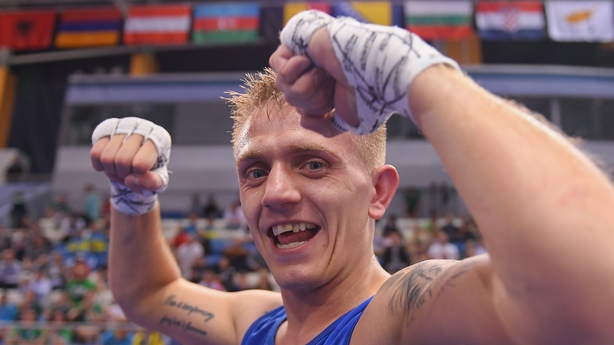 Grainne Walsh, meanwhile, was beaten in her welterweight semi-final bout by Poland's Karolina Koszewska. 
The Tullamore fighter will return home with a bronze medal. As will Regan Buckley, who was beaten in the men's light flyweight by Artur Hovannisyan on a split decision.
It was more clear cut for Michael Nevin, who was stopped by Italian Salvatore Cavallaro in the first round.