Katie Taylor hopes her exploits can inspire the next generation of Irish female boxers after returning home as the undisputed professional lightweight champion today.
The Olympics only staged a women's competition for the first time when the Bray native won gold in 2012.
"We've come a long long way. It's been an incredible journey," she reflected
"I think the best part about this is seeing so many female boxers here today, and in every boxing club around the country.
"If you're passionate about something, just go for it with all your heart. Don't let anyone tell you can't be something or can't do something.
"Just go for it. Anything is possible when you're willing to work hard."
Taylor told RTÉ Sport that she felt becoming the WBC, WBA, WBO, IBF and Ring champion was her greatest achievement to date.
"The Olympics was fantastic. I achieved a childhood dream. But ever since I turned pro three years ago this was always my dream.
"This is the pinnacle of boxing. To become the undisputed champion, to hold all five belts, this is why I started boxing in the first place."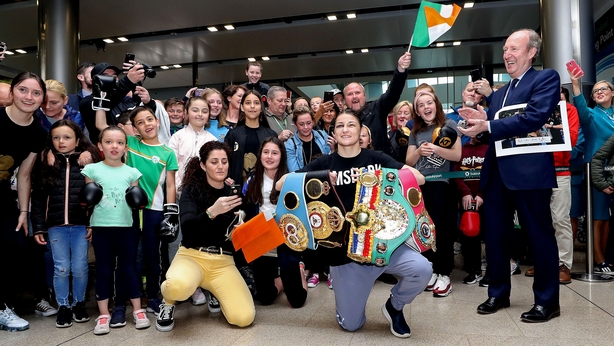 Politicians have led calls for a statute of Taylor to be erected in her home town but for now the 32-year-old is focused on some well deserved rest.
"You're only supposed to get a statue when you're dead," she laughed. "I'm not sure how I feel about that.
"But the support I've received from the whole country has been absolutely phenomenal over the last week and I'm so grateful for that.
"I'm just going to put my feet up for the next few weeks and spend time with my nieces and nephews.
"I've been in Connecticut training for the last six months basically so I'm just going to enjoy family time, rest up and recover."