What's rare is certainly wonderful and in this alphabet soup era of professional boxing, it is most refreshing to see a proper world title unification bout taking place this weekend in New York City.
Katie Taylor has been a trailblazer, trendsetter and breaker of boundaries throughout her entire boxing career, and once again the Bray native is leading by example when it comes establishing the true champion of a weight division of the noble art.
The modern professional boxer can claim to be the champion of the world with the procurement of any of the four established belts handed out by the WBA, WBC, IBF or WBO, while within those federations, belts are often established for super, regular and interim champions, not forgetting the lesser-spotted of the species, the 'champion in recess'.
Currently, throughout the men's weight classes, not one of the 17 divisions can claim to have an undisputed champion, while only Oleksandr Usyk at cruiserweight, lightweight king Vasyl Lomachenko and middleweight Canelo Alvarez can claim to be the true champion of their division, and no doubt, Billy Joe Saunders would dispute the last of that trio.
The Ring magazine do attempt to cut through the nonsense to a certain degree and name who they believe is top dog in the division, and with ten of their own "belts" vacant it shows the current chaos that surrounds the sport.
The blue riband belt, the men's heavyweight division, is the prime example of what is wrong with the modern game as Anthony Joshua and Deontay Wilder continue to avoid each other to the frustration of the entire boxing community.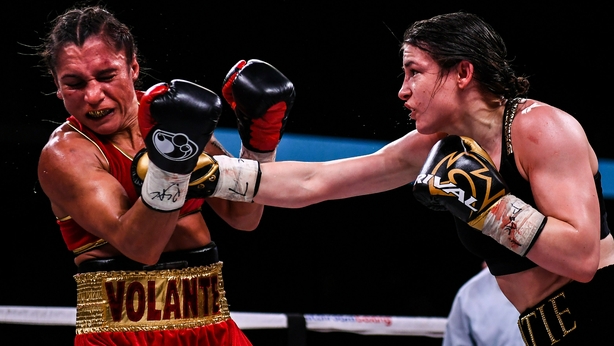 But Katie's quest has been relentless as she set out to sweep up the lightweight class ahead of more high-profile fights that will surely follow throughout adjacent divisions.
The 2012 Olympic champion is just two and a half years into her professional career and she has already snatched three of the four available belts in her weight class.
Anahi Esther Sanchez was relieved of her WBA world title in what was only Taylor's seventh fight in the paid ranks, before Victoria Bustos relinquished her IBF strap two fights later.
Taylor would have to wait a full year to add number three as Rose Volante finally succumbed to a unification fight and, needless to say, the Brazillian returned home without the title of WBO champion.
The final piece of the lightweight jigsaw is the WBC belt, currently residing in Belgium for five long years, as proud owner Delfine Persoon has kept it within the Low Country boundary for all-but one of her nine title defences.
But now the Belgian policewoman has been coaxed out of her comfort zone to bring the belt to the iconic Madison Square Garden for Saturday night's showdown with Ireland's golden girl under the bright lights of New York City's most famous boxing venue.
Big cheers for Katie Taylor as she takes to the scales for her official pre-fight weigh-in here at Madison Square Garden. @rtenews @RTEsport pic.twitter.com/DXZCz4r3xB

— Brian O'Donovan (@BrianOD_News) May 31, 2019
Compared with Taylor's short stint in the professional ranks, Persoon has been trading leather for cash since 2009 and has fought 44 times throughout this past decade.
Persoon has not been beaten since 2010, when she was stopped by fellow Belgian Zelda Telkin four rounds into an eight-round encounter, and boasts a remarkable 98% win rate.
Yet her stoppage stats sit around the 40% mark, which shows that she does not appear to have the power to stop the juggernaut that is Katie Taylor on Saturday night.
Persoon, to her credit, appears to be in fantastic shape coming into the fight and looked composed, rhythmical and relaxed throughout her public work out earlier in the week.
But in reality, Persoon's style should not trouble Taylor, who will be much too fast for the Belgian and will have to let her guard down, literally, to get caught with anything noteworthy that the WBC champ can muster.
While Persoon's attributes have served her well throughout what has been an impressive career, she lacks accuracy and aggression, and may appear pedestrian for Taylor, who has been adapting to the pro game and improving with every fight.
In fact, this should prove one of Taylor's more straightforward encounters in the paid ranks as long as she fights her own fight and does not attempt to please the assembled masses too early into the contest.
Because Persoon's finest feature is her willingness to come forward and like those who have gone before her, the Belgian will know that there is no way she is going to be able to compete with Taylor's skills.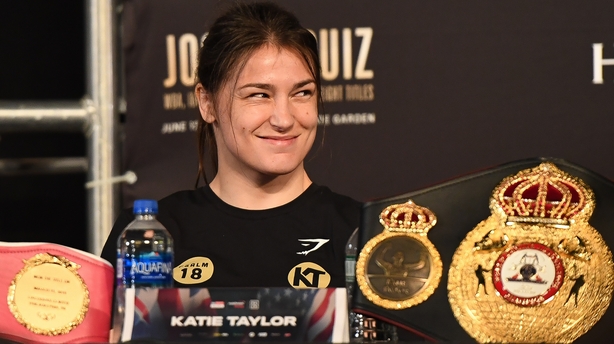 Katie has been dragged into a street fight on more than one occasion throughout her professional career and while she has always come through it, with plenty to spare, Persoon appears conditioned to remain durable for a longer, sustained period.
Taylor has a habit of upstaging the more high-profile men's bouts on previous cards, and will have her work cut out to surpass the other big fights on Saturday as fellow world champions Anthony Joshua and Callum Smith are fighting, while the always entertaining Tommy Coyle and Josh Kelly are also on the bill.
Twenty-punch combinations to the body have become a Taylor trademark in recent fights, which always draws a raucous reaction from those in attendance, and no doubt, the former five-time world amateur champion will begin to break down Persoon in that area.
The Belgian will be tested like no other time throughout her ten-year career, and it will be most interesting to see if she can keep to any sort of game-plan as Taylor gets to work on her body.
The two-minute rounds will certainly give Persoon a chance to get through to the later stanzas of this particular story, but by that stage, it should be poetry in motion for Taylor with the Belgian most likely needing a knockout to shock and awe the three-belt champion.
In reality, if Persoon is still trading with Taylor in those final few rounds, should the canvas come calling, it will most likely be calling for the floundering Flanders fighter.
Follow Katie Taylor vs Delfine Persoon via our live blog on RTÉ.ie/sport and the News Now app from 1.30am on Sunday morning