Carl Frampton is being lined up to return to the ring in August in the United States.
After considering retirement following December's defeat by Josh Warrington, the Belfast native was preparing to fight earlier this summer but the adjournment of his court case with former manager Barry McGuigan means that date will be delayed.
The 32-year-old signed with influential US promoters Top Rank in March and was set to be rewarded by challenging Oscar Valdez. The WBO featherweight champion is instead fighting on 8 June, but Frampton's legal matters mean that he cannot be ready.
He will therefore not fight for a world title until the winter, by which time stablemate and fellow Belfast boxer Ryan Burnett is expected to have fought dangerous WBO champion Zolani Tete, and another in Michael Conlan will hope to have avenged his controversial defeat by Vladimir Nikitin at Rio 2016.
Burnett will face Filipino Jelbirt Gomera (14-5) at Ulster Hall on Friday night in his first fight back since losing his WBA Bantamweight title to Nonito Donaire last November - Burnett was forced to withdraw after tearing an oblique muscle during the bout.
"Frampton is fighting in August in the US, and then he'll fight for a championship in probably November, December," revealed Top Rank promoter Bob Arum.
"He was going to fight on August 3 but then that date went to Michael Conlan. I'm going to Belfast, where Conlan will fight. Later on in August, maybe the 10th or the 23rd, he'll be fighting. He'll be top of the bill.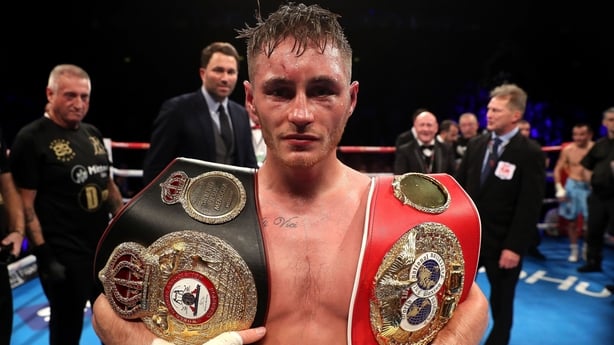 "Ryan Burnett, Frank (Warren, Tete's promoter) mentioned, we were going to put him on in Belfast but now it's going to be in the United States.
"He has Tete he'd like to put Burnett in with. I'd love to do that fight.
"We have absolutely no compunction to show fights in the afternoon in the United States, so that they can be in the evening in the UK."
Warren, who has developed a close relationship with Arum through their co-promotional agreements with Tyson Fury and Frampton, added: "I'd love to do that fight. Zolani would love to do that fight.
"That's why he went into that tournament (the WBSS, which Burnett withdrew from through injury). That's a great fight for Tete; I fancy my man."
Frampton is suing McGuigan, his wife Sandra McGuigan and Cyclone Promotions (UK) Ltd, claiming purse money and other earnings due to him were withheld.
He is also facing an action from his former promoters, who he split with in 2017, for alleged breach of contract.
Lawyers representing the McGuigans have insisted that all of the allegations are categorically denied.