Next stop the iconic Forum in California for Ireland's self-proclaimed road warrior and reigning IBF Super Bantamweight world champion TJ Doheny.
The Portlaoise man has been living on the other side of the world for the past decade, settling in the Sydney suburb of Bondi Junction, but when it comes to competing, Doheny has fought in all corners of the world.
An amateur prospect in the high performance unit in Ireland, Doheny missed out on a chance to qualify for the 2008 Olympics and headed Down Under, where he would eventually take to the paid ranks, working his way all the way up to world level.
'The Power' has since fought in Boston, Bangkok, Tokyo and most recently, the iconic Madison Square Garden in New York City.
And Doheny will now attempt to unify the super bantamweight division on Friday night as he takes on reigning WBA world champion Daniel Roman at the Inglewood venue on the Californian coast.
Ultimately, you want to unify the division and cement your name at the top of the division
"The top two fighters in the division. He wants to unify, I want to unify, it's what all world champions should be trying to do," said Doheny ahead of Friday's fight.
"I keep saying it, you've won the world title, but then you have to raise the bar and what's next? Unification.
"It's what the fans want, it's what the fighters want, and it's great for professional boxing. Ultimately, you want to unify the division and cement your name at the top of the division."
True to his word, Doheny has no problem conceding home advantage to the Inglewood native, who dreamed of fighting at the historic California venue, where Elvis Presley played in the early 1970s, and which was also home to the basketball event at the 1984 Olympic Games.
"I'm always on the road, I'm a bit of a road warrior. He is in his home town so I know he is going to bring it but he is going to have to bring his best.
"We both traveled to win the title in Japan so it is a kind of similar story. He is a great fighter and has a great punch selection, so he is going to bring it all.
"It's exciting for me. I thrive on these sort of situations because it is exciting for me to travel the world and box in all these different places.
"I have boxed in Tokyo, Sydney, Madison Square Garden in New York, and now I am about to co-headline in the Forum in LA. It is the stuff of dreams."
Roman was in attendance in New York when Doheny successfully defended his belt, defeating Ryohei Takahashi, stopping his opponent in the 11th round, and both fighters essentially agreed to the unification bout in the ring afterwards.
"When Danny challenged me in the ring in New York, he said 'I have got a lot of respect for you'.
"Myself and Danny are in the same mindset and it is crazy how alike we are. He is a really respectful guy so there is no point saying anything negative about him."
"I grew up in Inglewood and always dreamed of fighting there," said Roman. "It is the biggest fight of my career and I am fighting in my own back yard.
"I want to fight the best. I am not here to waste time. I want to unify all the belts."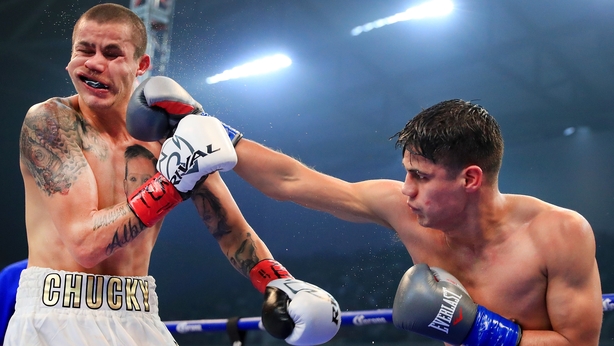 Doheny remains unbeaten in the professional ranks and will be looking to move his impressive record of 21 wins and no losses along by taking Roman's belt on Friday.
Such a result would catapult the 32-year-old into the conversation for some very big fights that would be available up in the featherweight division and even the potential of all-Irish bouts against Ryan Burnett, Carl Frampton or Michael Conlan.
And while Doheny is happy to remain out of the spotlight on a personal level, he understands and embraces the attention that he is achieving for his recent exploits.
"I'm getting nothing but positive feedback. I am getting a lot of reaction back in Ireland as well and because it is on Sky Sports it helps raise my profile.
"It is not something that I crave, all this attention, but I think it is something that I deserve, having gone and achieved what I have achieved and in the fashion that I achieved it."
And while Doheny is loath to make any definitive predictions about the fight on Friday or beyond, he is promising a contest that will keep the paying public on the edge of their seats.
"I am going to predict fireworks. It is not my style to make predictions but the fans can expect a good fight.
"I know Danny is going to bring it but he better believe that I am well prepared and ready for whatever he brings."