To secure a world title shot as the main event on US television after only 17 professional fights is usually only the preserve of certain anointed boxers.
Those fighters that have been earmarked for stardom from early on; usually with an Olympic medal in their back pocket.
That's not Jono Carroll. The charismatic Dublin native (16-0-1) has taken a circuitous route to this point - but he's here all the same, and ready to prove he belongs.
After stuttering for a few years, it's finally lift-off for Carroll's career in Philadelphia on Friday night as he challenges Tevin Farmer (28-4-1) for the IBF super-featherweight world championship. It's the biggest moment of his career, and Carroll is embracing every second of it.
"I love the ride," he said. "The thing is, a lot of people think they're going to find happiness at the end of the tunnel, or at some destination."
"I find success is a mindset. I already feel successful; I already feel like I've made it. I already feel happy in myself and with what I've accomplished in boxing and what I'm about to accomplish. I just soak up all this," he adds.
"I enjoy this type of atmosphere, I enjoy all the cameras, doing the press conferences, doing all the interviews – I just take it all in. I'm enjoying the whole journey, not just the destination. For me, this is fun. I thrive off things like this. I never let pressure get to me."
"I'm not one to let a big occasion get to me. Because at the end of the day I'm confident in my ability in boxing, and once I get in the ring I know what I have to do, everything else slowly but surely just fades away once that bell goes."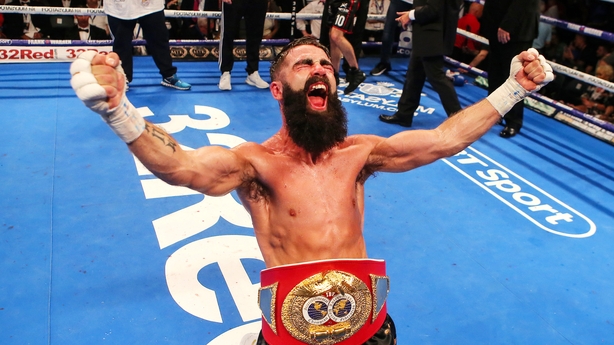 The slick champion Farmer is a strong odds-on favourite, but Carroll has shown an ability to get under his skin in the build up to this contest. He'll be hoping to bring the American even further out of his comfort zone when they get in the ring.
The 26-year old has been a real underdog before, in particular when winning the lightweight Prizefighter tournament, and he's not fazed.
"Don't get me wrong, what he does well, he does very, very well…But he's a one-dimensional kind of fighter. Me, I like to think I'm an all-round fighter. I don't do anything amazing but I do everything quite well, but by doing that I can break people's hearts and get into someone's head.
"I'm mentally stronger than Tevin Farmer. That's where I'm head and shoulders above most of these fighters I'm in against.
"We're going to see what he's made of and see if he's a true champion," he said. "Listen, if he can beat me on Friday night then he's a true champion and I'll take my hat off to the man. But it's going to take a seriously good man to beat me for the world title in America topping the bill on Paddy's Day (weekend). I feel like the universe is giving me a gift and I'm just here to collect."
Unlike his compatriots Katie Taylor, John Joe Nevin, Michael Conlan and Paddy Barnes who are all in action over the course of the weekend, Carroll doesn't come with a glittering amateur pedigree.
By Carroll's own admission he didn't take boxing all that seriously in his teens, and after starting his professional career while living in Australia, he then moved back to Ireland. The Finglas native had been working as a tree surgeon for a few months when he decided he wanted to give boxing his full attention.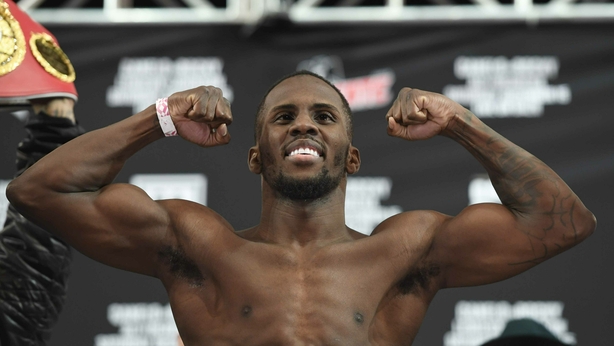 "I couldn't continue my career boxing and working at the same time, it was too hard. I didn't have a fight coming up so I was okay, but I was still in the gym training all the time. I was wearing chainsaw boots which is really much heavier than normal steel toed boots, and I remember walking up the stairs into the gym and my legs were exhausted from being up at six o'clock that morning pulling trees all day."
"It was either go and work 9-5 and just do that, or focus on the boxing and just do that, so I made a choice."
The move paid off, literally. His activity increased, and the added cash from more fights helped make life easier as a baby daughter arrived with his fiancée, Gemma. Now 'King Kong' Carroll wants to make all their dreams come true.
"It's a great life for the family, you know. It's so much better. There was times when my missus had to work two jobs to support my boxing. So now to be able to repay her, and her be able to stay at home and be a full-time mam…I've given her her dream which is amazing."
"Then again, it's like - there's a lot of pressure then on my shoulders to make sure that I continue doing what I'm doing and keep going, and secure our future forever, because boxing obviously is not a long game.
"So, for me, I'm trying to make as much money as quick as possible and secure my future so I'm financially free so I can then sit back and get a camper van and travel the world and still have income coming in, you know. So that's my goal."
On the same card at Philadelphia's Liacouras Center Katie Taylor faces Rose Volante as she bids to add a third world title to her collection as a professional. Meanwhile Ireland's 2012 Olympic silver medalist John Joe Nevin is back in action against Andres Figueroa.