After spending a punishing winter braving the polar vortex in the snowy north-east of America, Katie Taylor can see clearly now.
Spring is finally arriving and with it has emerged a definitive path to the titles the Bray boxer so badly craves. After some fairly routine defences of her WBA and IBF lightweight world titles in the latter half of last year, 2019 looks set to be the one where Taylor tears up the record books.
The first step along the way is a world title unification fight on Friday night in Philadelphia against the WBO champion Rose Volante (14-0).
Success there would mean a throwdown with the WBC Champion Delfine Persoon in June, and a chance to wrap up all the major lightweight belts.
Undisputed champions are a rare breed in boxing these days, and Taylor (12-0) would be joining men's cruiserweight champ Oleksandr Usyk and women's welterweight boss Cecilia Braekhus as the only others in the sport.
That's the kind of high-class company she wants to keep. Do that, and a super-fight with Puerto Rican star Amanda Serrano awaits at the end of summer. That would most likely see the 2012 Olympic gold medallist headline her own event in New York – more history.
And, provided both keep winning, the cherry on top would be a meeting with the aforementioned Braekhus for a clash of undisputed champions – something that's unprecedented in the modern era of boxing.
That's the direct route to iconic status within the sport, and from her base in the small town of Vernon, Connecticut, Taylor is working hard to make sure there are no deviations along the way.
That has included braving the elements in this training camp. "Every time there is a bit of snow my coach Ross (Enamait) says 'well, what would Marvin Hagler do right now? He'd run in the snow'. So we have to run in the snow a few of the days.
"I'm just completely focused on this next fight ahead, but I do realise that this could be a huge year for me, a monumental year, with huge fights down the line for me.
"Obviously, those fights can't happen unless I get past Rose Volante, so I'm just completely focused on this fight at hand, and I'm very, very confident and I do believe in myself. And I'm in a great position really; I'm very excited about this year. But then I know that I have to get past this fight first."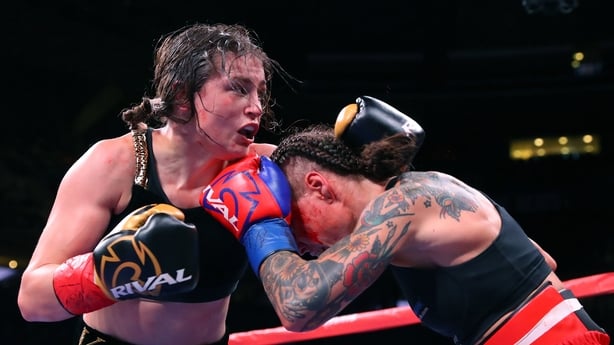 The general consensus is that, despite being an undefeated champion, Brazil's Volante is just another stepping stone for Taylor, and won't be able to offer much more resistance than her recent opponents. The 36-year-old has never previously fought outside South America, and her opponents to date have been of questionable quality.
The main challenge for Taylor would seem to be avoiding complacency. "I think the time you get complacent is the time you lose", she said. "I have been in these circumstances before as an amateur fighter where I haven't been mentally switched on from the start and I've struggled in those kinds of fights.
I am well aware that the time you do get complacent is the time that you're going to slip up and I can't take anything for granted.
"I think she's a very, very good boxer. She's very strong, she has a big right hand and she's dangerous. I definitely can't relax in there against her. I know that if I fall asleep against her, she can catch you and she has hurt all of her opponents. I think it's going to be a huge fight, and I think a very entertaining fight, and possibly a very physical fight too, for the 10 rounds. I am well prepared for this kind of challenge and I'm looking forward to it."
The fight serves as the chief support act to the super-featherweight world title fight between Dublin's Jono Carroll and Philadelphia's hometown champion, Tevin Farmer. It being the weekend of St. Patrick's Day, Volante will be stepping into the kind of occasion that would leave many an athlete overwhelmed.
Taylor, a veteran of these occasions by now, doesn't think that will be a factor.
"This is the type of platform that these girls actually need and love so they'll be up for this more than ever. I think any time that I have boxed any of my previous opponents they've always stepped up their game.
"So I don't think this is going to be any different. I do believe that every time that they step in against me they will raise their game and step up their game and that that's what I have trained for these last few weeks."
So far, only two Irish boxers have ever unified titles – Carl Frampton and Ryan Burnett. Neither of them managed to unify three belts, though, and that in itself is another Irish sporting milestone that Katie can reach in the City of Brotherly Love. Milestones, titles, history – it's what she's always been about.
"I just want to leave a great legacy in this sport, and I want to make history in this sport. And if I want to do that I can't slip up at all, I have to continue to win, I have to continue to put on great performances and I have to perform every single time I go out there. And if you can't get motivated for these big fights I think there's something wrong with you, really."
Follow Katie Taylor v Rose Volante via our live blog on RTÉ.ie/sport and the News Now app.