Katie Taylor boxed at the Rio Olympics with a broken heart, and we barely even noticed.
The reigning lightweight champion arrived at the 2016 Games, favourite to replicate her gold medal-winning performances from London four years' previous.
But Katie lost in her first fight. Bowing out to Finland's Mira Potkonen in the quarter-final stage of the competition.
A harsh decision perhaps, but nothing near the levels of judging incompetency that saw Michael Conlan denied a clear victory over Vladimir Nikitin the following day, thus ending the Belfast boxer's dreams of emulating Taylor's achievement in London.
Katie's defeat was somehow seen as symptomatic of Team Ireland's experiences in Rio, which became mired in controversy before the boxing even began as Michael O'Reilly was sent home in disgrace for failing a drugs test.
Fellow London medallist Paddy Barnes admittedly struggled to make weight in the build-up to the competition and failed to perform when attempting to win his third medal at consecutive Games, while fellow medal prospect Joe Ward was also beaten in the early stages.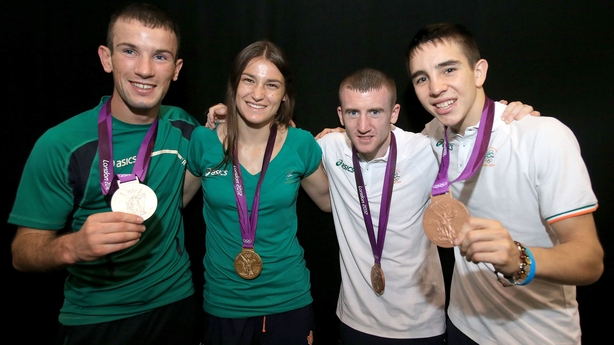 The boxing team had been Ireland's bright light from Beijing to London, where they accounted for seven of the nine Irish Olympic medals.
Rio 2016, however, inexplicably signalled the end of that illustrious era with the eight-athlete team failing to bring home any silverware.
"Perhaps at 30, Katie's reflexes are just not what they used to be," pondered RTE boxing analyst Mick Dowling following the fight.
But inside the close-knit camp, they knew that Olympic success was going to be a very tough ask considering the turmoil that the family had experienced in 2016.
Katie's brother Peter knew that something was not right as he watched his sister's ring walk in Rio ahead of that opening fight.
"I remember her walking into her first fight, thinking to myself, 'she doesn't really have any definition in her shoulders'," said Taylor, speaking in Ross Whitaker's documentary Katie, which enjoyed a cinema release late last year and will be broadcast on RTE television tonight.
"You could actually see that she wasn't in the same shape that she was in when she went to London.
"She was basically trying to do it on her own at that point."
Looking back, the pictures of Taylor's despair losing that Rio fight reveal so much more, as the sport's trailblazer looked like a lost soul, alone in the middle of the ring, the troubles of the previous 12 months pouring out, amidst the disappointment of defeat.
We need your consent to load this rte-player contentWe use rte-player to manage extra content that can set cookies on your device and collect data about your activity. Please review their details and accept them to load the content.Manage Preferences
Katie Taylor had just produced a decade of sporting achievements on the world stage that is, without doubt, unmatched in Irish sport.
Five World Championship gold medals, the same number of EU Championships and six European golds, not forgetting the crowning glory of the Olympic gold medal in 2012.
The warning signs were evident, yet perhaps not heeded a few months' previous when the Bray native "only" managed to secure bronze at the 2016 world championships.
Taylor had brought unprecedented joy and success to her homeland, yet here on the biggest stage, her defeat was just chalked down to that of an ageing fighter with maybe an element of ennui in the game she had totally dominated for over a decade.

Taylor's immediate post-fight interview on RTE certainly stirred the emotions as the departing champion admitted that it had been a tough year, but only now in Whitaker's Katie documentary do we get to hear how much her personal life was really affected by the breakup of her family.
Katie went through a torrid time throughout 2016 from a personal perspective, as her parents' marriage broke up, and while there was clearly a falling out with her father, Pete, who had coached her all her life but was now conspicuous by his absence from his daughter's corner, there were few who would have known the pain that Katie was going through in that Olympic year.
"I felt like my Dad was someone I could no longer work with," reveals Taylor in the boxer's eponymous documentary.
"My success in the ring doesn't mean as much to me as my integrity.
"I knew when I made the decision to step away from my Dad, that was going to cost me a lot. I just felt like every time that I stepped into the ring without my Dad, I was missing my right arm."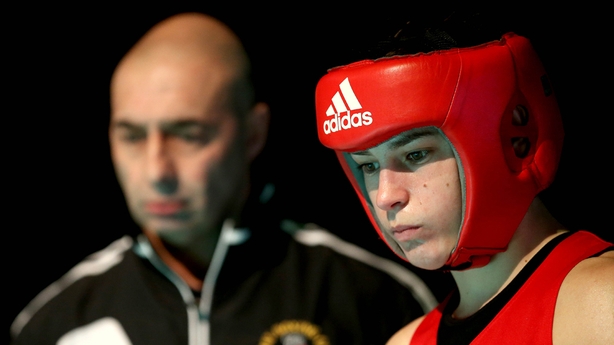 Other family members describing the emotions of the break up, compared it to being "hit by a train" or actually grieving for somebody, "because that person is gone – the trust was broke".
But of course, this documentary is also a celebration of those aforementioned achievements.
The film races along to the London 2012 Games, the culmination of that Katie-led crusade to bring women's boxing to the Olympics, which thankfully bore fruit in the English capital.
Whitaker's documentary brings us back to those spine-tingling days, as that historic week in London brought the country to a standstill, the golden girl of Irish sport securing that coveted gold medal.
In an action packed, fast paced documentary about one of Ireland's greatest sports people, remarkably, it is a still photograph that perfectly captures the moment when dreams of children – and Dads, no doubt – were finally realised.
The five-time world champion had just fallen to her knees. The decision made moments before. Yet still, the referee kept her hand hoisted.
Katie Taylor had just won Olympic gold at the 2012 London Games. A life's work culminating in the ultimate achievement.
Slightly out of focus, but very much a part of the story, two grown men embrace, as coaches Pete Taylor and Zaur Antia celebrate in Katie's corner.
Meanwhile, defeated Russian Sofya Ochigava looks to her corner in disbelief.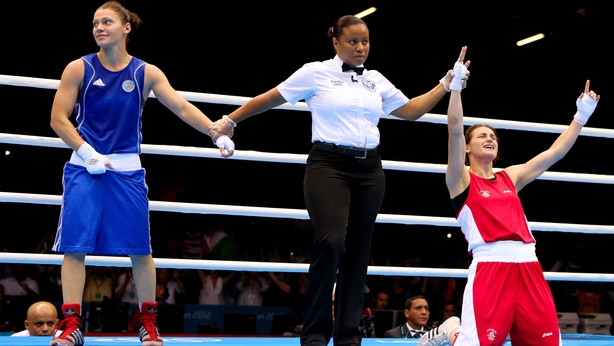 Taylor's nearest and best-matched opponent in the lightweight division, on another day, in another venue, could easily have secured the verdict.
That very same look, of course, would appear on Katie Taylor's face four years later.
Whitaker's heart-warming documentary reminisces about Taylor's happy childhood and takes us on an intimate journey to the family home in Oldcourt, Bray, where surrounded by her brothers and sister the cherished memories and the Taylor legacy lives on as two siblings still reside in the tight-knit Wicklow estate.
A mother who was Katie's "guiding light" and gave her "strength of character and spiritual integrity", combined with a dedicated and determined father, in what her brother described as "the perfect marriage" gave his sister the ideal platform to allow her sporting career to flourish. And flourish it did as Katie also possessed the talents to make it as an international footballer for Ireland.
But that disappointment in Rio had to be addressed. Was it the end of Katie's boxing career? There was a lot of soul searching required.
In a twist of fate, the end of the father-daughter relationship led to the beginning of a new and very interesting partnership between boxer and coach, as Taylor's voyage of discovery took her to the remote town of Vernon, Connecticut to train with Ross Enamait.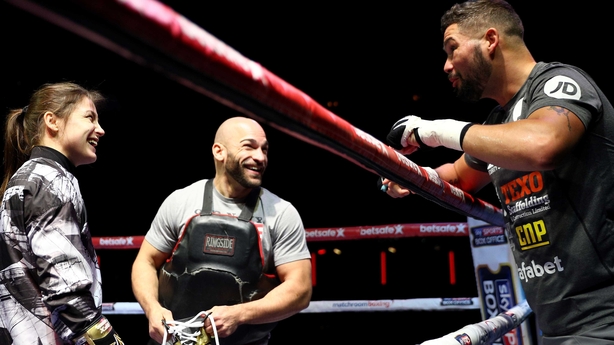 The documentary really brings out Katie's character as we get more than a glimpse into the fighter's solitary lifestyle in which we discover that "cooking is overrated" as the accomplished sports woman struggles to concoct a basic chicken stir-fry, even while following her mother's carefully handwritten, step-by-step instructions.
New trainer Enamait, who admits that he did not know much about Taylor and her amateur domination appears the perfect fit at the right time, as the remoteness of the situation under the bleak American skies seemed to suit Taylor's mindset in the aftermath of a very traumatic year back home, as she began to plot her way through the often-murky waters of professional boxing.
Of course, Taylor, wasted little time stamping her authority on the paid ranks, securing her first world title in her seventh fight to claim the vacant WBA world lightweight title, and has already been recognised on BoxRec as the top pound-for-pound boxer in women's professional boxing.
Perhaps the most cinematic of sports, Whitaker perfectly captures the beauty and the brutality of this most noble art with a mesmerising montage of picture and score as Katie conquered the world, one night in Cardiff.
Impossible to include everything into the 90-odd minute documentary, the film was most likely in post-production when Katie's Dad, Pete, was shot at his boxing club in Bray in the summer of 2018, while we only get a glimpse into the religious influences in Taylor's life.
"He trains my hands for battle", taken from the Old Testament Book of Psalms, is emblazoned on one of Taylor's t-shirts ahead of a fight.
The crusade continues.
A story deserving of a sequel, no doubt.
Watch Ross Whitaker's documentary, Katie, on RTÉ One, tonight at 10:15pm.