Olympic hopeful Amy Broadhurst says that Ireland's elite amateurs must "keep going as normal" as the prospect of no boxing at in Tokyo 2020 comes into view.
The Dealgan BC lightweight is among those who could be affected if the IOC's dispute with the International Boxing Association (AIBA) is not resolved.
The IOC's Executive Board said today that planning for the Olympic boxing tournament had been frozen, with immediate effect, and contact suspended between AIBA and the Tokyo 2020 Organising Committee.
The election of controversial Uzbek businessman Gafur Rakhimov, linked to organised crime by the US Treasury Department, as the new head of the AIBA appears to have prompted the latest move from the IOC.
Speaking on RTÉ 2fm's Game On, the Dundalk native said: "We have to keep going on as normal, keep training as normal and keep it going.
"There's no point in saying, 'what if it's not in the Olympics?'
"If it's not there it's going to be a huge disappointment to all amateur boxers because that's every amateur boxer's dream: to go to the Olympics.
"It's not their fault that boxing could be taken out of the Olympics; the boxers have done nothing wrong."
Broadhurst was the victim of what she felt was a home-town decision when losing out on a medal at the recent World Championships in India.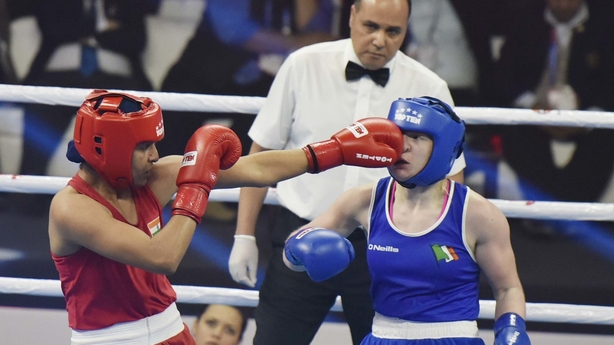 "Devastated" at the time, Broadhurst says the experience will stand to her in the long run.
"It's very hard to keep going," Broadhurst, a four-time European champions, said.
"After my quarter-final I was debating do I really I want to do this anymore because it's not going to be the last time it happens to me or any other boxer but you just need to keep the big picture in mind – like where will you be in a couple  of years' time?
"The way I look at it is that even though I had a bad experience, when I'm two or three years down the line...there's going to be a lot more success for me than disappointment so I just try and be positive.
"As bad as it sounds, I'd much rather get a bad decision in the World Championships than in the Olympics because the Olympics is the biggest stage of all."
Also speaking on the show, Sport Ireland boss John Treacy said it was up to each nation's organisations to put pressure on AIBA.
"Boxing is a central part of Olympic sport," he said.
"It's a highlight for Ireland.
"Before the election Rakhimov  did say he would step aside if it would jeopardise Olympic competition"
"I take a little bit of comfort from the IOC statement, which said that it would make all efforts to protect the athletes to ensure a boxing event takes place in Tokyo.
"They are training hard, you feel for them, they are putting their lives on hold, now they don't know if they'll be in Tokyo, they don't know when the qualification is, if there is going to be qualification. 
"Everyone has gone to great lengths to ensure our amateur boxers stay amateur, we don't want them going to the professional ranks, putting the uncertainly there, it's puts uncertainly in the mind of some of our best amateur athletes.
"It's incumbent on all national organisations to get together to rally support to ensure that they are in Tokyo. 
"Before the election Rakhimov did say he would step aside if it would jeopardise Olympic competition in any way. It might be now time to go back and ask him that question."