It says a lot about Kellie Harrington that she's desperate to return to her job in St Vincent's Hospital to catch up with all the patients she believes keep her grounded because, the Dubliner says, "they tell me the truth... and I like that".
She earned a funding grant last year but still works every second weekend, and when she catches up with those familiar faces, she'll do so with a World Championship gold in her back pocket.
Two years after winning silver in the 64kg category, she went one better in New Delhi against Thailand's Sudaporn Seesondee having dropped to 60kg - an Olympic class and a decision that signalled her intentions.
The 28-year-old wants the ultimate glory.
"I moved down to 60kg because it's an Olympic weight and I wanted to succeed at 60. It's been great so far," she told RTÉ Sport.
"It's been years coming. To finally reach my goal is amazing, but we're not finished yet. We're aiming for Tokyo.
"To stand on top of that podium and have our flag raised above my head, it was just so emotional for me, the best feeling ever.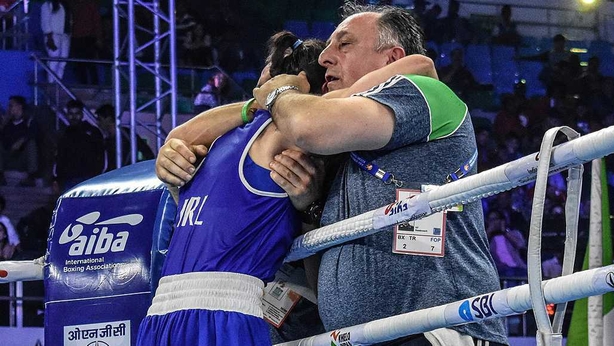 "It didn't feel real. It's something that I've always wanted. To finally have it, i just couldn't believe it. It's very difficult for any boxer to get to this point... but there'd be no great success if there no great losses."
The St Mary's BC fighter made a triumphant return to Dublin Airport Sunday evening having done the business in India and paid tribute to the tightknit community that surrounds her.
Harrington also aired her desire to emulate Katie Taylor - in and outside the ring - as she showered her compatriot with praise. 
"I work every second weekend [in St Vincent's]. Luckily enough for me they are very flexible and they look after me. I'm in this weekend and I'm really looking forward to getting in there and seeing all the patients. That's what keeps me grounded. They tell me the truth; I like that. 
"We're a great community, we all stick together through the good times and the bad times. I'm very very proud of where I'm from. I'll always have the backing of the north east inner city, from everybody around the community and all of Ireland.
"What Katie Taylor did, I'm trying to do it. I'm hoping to encourage girls and be the next role model, try to get the best out of anyone I can. If I can help one person on the way I'll be happy. 
"Katie has been a great ambassador for the sport and she still is, paving the way in the pro ranks, opening up loads of doors for anybody that's going to turn over. She's fantastic."