Ray Moylette has revealed he has been sparring former world champion Anthony Crolla ahead of his WBC International lightweight title fight in December.
It was announced last week that the unbeaten Mayo boxer would step up for a homecoming bout in the Royal Theatre, with the title on the line against an as yet unnamed opponent.
Moylette and his training team contacted Joe Gallagher to have one session with the popular Mancunian as part of his build-up, with Crolla preparing to face Daud Yordan on the undercard of the sold out Oleksandr Usyk v Tony Bellew clash next month in his hometown.
However, the one-off spar turned into a longer arrangement.
It was an entirely new world for the Mayo man, with Crolla's trainer Joe Gallagher using high temperatures in the gym to test endurance in what Moylette described as an intimidating environment but a hugely beneficial experience.
Moylette told Game On on 2fm: "I just finished with him today. I did eight rounds and I shouldn't be in that position yet but that's credit to my trainer that I can pace myself well.
"We put it to Joe Gallagher that I wanted to come over and learn from Anthony Crolla. We funded it and paid for it ourselves. I did six rounds with him that day and I was leaving and they said 'when are you going home?'. I said my flight was in the morning and they said 'can you stay for two weeks?!'. That was how it happened.
"I had to go home but I came back and this was my second week. So they obviously value me pretty well because they funded me to come now, if anything. It's good credit to my team and I that we are able to dine at the table.
"I went in and proved my point and put the pressure on him. I did get tired after five rounds, just because of the conditons. The next time I was able to control myself and pace myself better.
"Today was my sixth spar [with Crolla] and I could feel myself at another level. I was used to sparring this former world champion."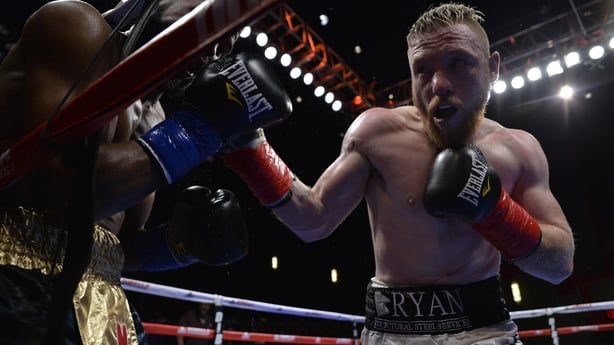 Moylette also detailed how there are two possible opponent being mentioned for the 7 December title bout, but no decision has yet been made.
"It's up to the WBC commission to decide on who they will forward. The winner of this will get a top 15 ranking in the world organisation so they can't let anyone into that. Whoever is picked will be at the same level as me or higher. I'm going to have to fight to get to that ranking.
"I've been a professional for less than two years but I've been boxing my whole life. I have a lot of skills developed, especially working with Packie Collins the last two years. We are under no illusions that I'm ready for a world title fight.
"We're going to get ourselves on the ladder and on to the fast lane, but talking to Packie then we'd take a little step back then if all went well. We still have a lot of things to learn. I don't want to me remembered for somebody who fought for a world title.
"I want to be someone that waited and crafted his skill. When the chance comes, I'll be ready and hopefully I can take it home."