Back in November 2014, Matthew Macklin was headlining a sold-out boxing show at the venue once known as Dublin's Point Depot.
The former world title challenger was looking to resurrect his career, following a devastating defeat to Gennady Golovkin, who dispatched the former Irish champion with a knock-out body blow inside three rounds.
Macklin's comeback effectively ended that night, knocked out in the tenth round by Jorge Sebastien Heiland, and afterwards, the Birmingham-born Irishman fought no one of note, retiring four fights later.
Earlier, during that lively and most entertaining night at the Dublin arena, another middleweight, fighting on the undercard, almost had the head taken off him as he celebrated his victory.
Cork native Gary 'Spike' O'Sullivan bounced into the ring full of confidence and easily accounted for local fighter Anthony Fitzgerald.
A grudge match, five years in the making, O'Sullivan ventured into the most hostile of atmospheres and upset the natives by knocking their boy clean out after just one minute of the first round.
O'Sullivan grabbed a nearby Cork flag, jumped up on the ropes and waved furiously, celebrating a remarkable win.
Meanwhile, an angry local got a sudden rush of blood to the head – we're offering a huge benefit of the doubt here – picked up one of the corner stools and volleyed it like a missile in the direction of the celebrating O'Sullivan.
Spike never even noticed as the thick wooden stool flew mere inches past his head and just like in the 61 seconds of the actual bout, his head remained unscathed.
Just over two years earlier, O'Sullivan looked as though he had the boxing world at his feet, as the Irishman had just recorded his 15th victory of an unblemished professional career, landing the WBO International Middleweight title.
Fighting on the undercard of the infamous heavyweight bout between David Haye and Dereck Chisora, O'Sullivan secured the vacant belt with a unanimous points victory over England's Matthew Hall.
A stepping stone, of course, but the Pashcal Collins-trained fighter could now attempt to plot his own future and put himself in contention for world level encounters and further title bouts.
Alas, in the second defence of his WBO belt, O'Sullivan came up against renowned English amateur and current WBO world champion Billy Joe Saunders, who easily outpointed the Cork man.
Back to the drawing board, yet such is the beauty of boxing, the man who took his belt helped him to come back stronger, as Saunders invited O'Sullivan to spar with him a year later in the build up to the European middleweight title fight against Emanuele Felice Blandamura.
Four months on, O'Sullivan was back at the aforementioned show in Dublin, looking sharp, slick and strong, very strong indeed.
For that final uppercut that put Fitzgerald on the seat of his Dublin-themed pants opened up a whole new avenue of opportunity for Spike.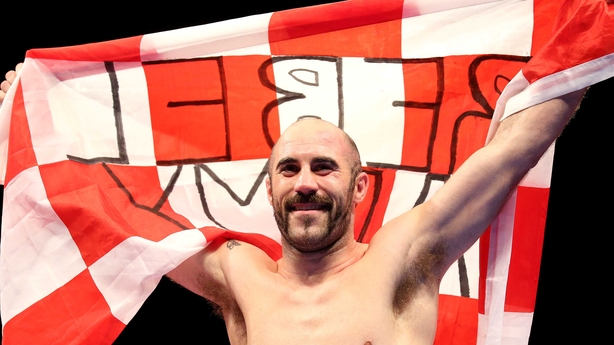 To America, as it happened. O'Sullivan signed a promotion deal with Murphy's Boxing, based out of the heart of Irish America, Boston, and fronted by Celtic punk rock band, Dropkick Murphy's lead singer Ken Casey.
O'Sullivan would fight three times in three months Stateside, including a bout at the St Patrick's Day party at the world famous Madison Square Garden in New York City.
Meanwhile, O'Sullivan's savvy social media skills were being put to full use as he used his Eddie Hearn connections from that night at The Point to goad Chris Eubanks Jr into taking a fight.
Son of former world champion, Chris senior, who likes to be referred to as "English" these days, was in the middle of a career rebuild, having also been beaten by Saunders in a British and European title fight at the tail end of 2014.
O'Sullivan went after Eubank on a grand scale, proving the power of Twitter, as the fight was made and placed in the prestigious environment of the O2 Arena in London, on the undercard of a heavyweight world title fight between Anthony Joshua and Dillian Whyte.
Eubank risked his career comeback to take on the hard-hitting Irish man but to his credit, he met fire with fire and secured the victory, as O'Sullivan was retired by his corner after seven rounds.
It transpired that O'Sullivan had suffered a perforated ear drum earlier in the bout and was fighting with severe head pain, while not being able to focus properly, on account of the destabilising injury.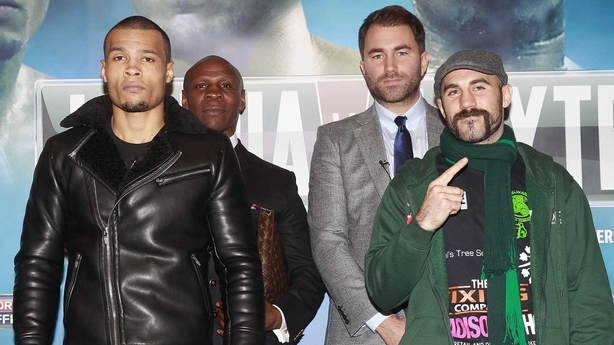 It was back to the drawing board for O'Sullivan, and a long, enforced absence gave the middleweight time to ponder his next move.
2016 was, by his own admission, a write-off.
Down in the dumps, perhaps, O'Sullivan's trip to the House of Blues brought him back to his happy place early in 2017, as he enjoyed another St Patrick's Day party performance, this time amongst the madness of the Boston celebrations, stopping Ronald Montes in three rounds.
Back on track, O'Sullivan took on a much tougher assignment in the form of lively Liverpudlian Nick Quigley, before really stepping it up a notch to fight American prospect Antoine Douglas.
Boxing for the WBA-NABA middleweight title and WBO Inter-Continental belt, Douglas was hotly tipped to make his name in the division and O'Sullivan was seen as a sturdy test that he would need to overcome to progress to world level status.
But the young American could not handle Spike's power and attempted to stand toe-to-toe with the big-hitting Irish man. The contest was waved away in the seventh round.
Suddenly, Spike became part of the middleweight conversation with his profile in America growing steadily and substantially, having now featured on several live television shows, the latest his debut on the renowned HBO channel.
In fact, O'Sullivan ticked just about every box that the American fight fan was looking for; a fighting Irishman with a Mexican style, an entertainer, a character, an underdog and most importantly, a knock-out specialist.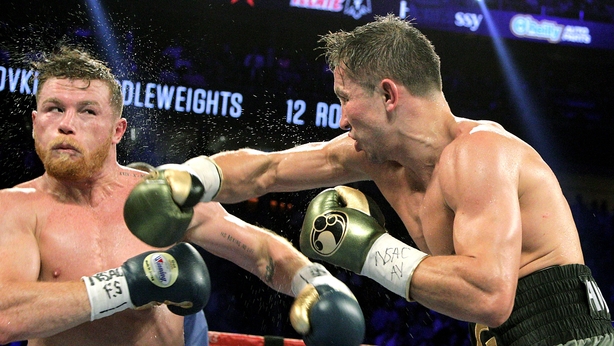 There has been a lot of wheeling and dealing since the turn of the New Year such is the brightness of O'Sullivan's star right now.
And working alongside Golden Boy Promotions, Spike has been linked with both Canelo Alvarez and Gennedy Golovkin, even turning down a fight with the latter when the former's failed drug test threw a spanner in the works for the sequel's original May date.
The purse on offer to fight Golovkin did not make financial sense for O'Sullivan who played the waiting game, which has now presented itself in the form of former world champion David Lemieux, on the undercard of the rescheduled sequel of the biggest fight of the year.
And now just over 24 hours out from the most important fight of O'Sullivan's career, the Mahon middleweight has arrived into the mayhem of Las Vegas world title week, and the verbal dispute did not take long to reignite with both Lemieux and Spike raising the stakes in that department.
In fact, Spike and Lemieux have been at it for the best part of a year, regularly exchanging insults across their Twitter profiles, which has added to the genuine worldwide interest in the bout that many are predicting could actually overshadow the main event.
Like O'Sullivan, Lemieux possesses most of those attributes that would endear him to the American boxing fan.
Or at least he used to.
For the Canadian looked completely out of his depth last December when he failed miserably in an attempt to take Billy Joe Saunders' WBO world title.
Spike's long-term buddy, Saunders, took the fight on Lemieux's home turf and schooled the local boy with a masterclass in back-foot boxing – the hometown fighter resorting to throwing huge haymakers, which Saunders easily evaded and even had time to reduce the challenger's efforts to comedy.
In the meantime, Lemieux bounced back with a comprehensive points victory over Karim Achour, yet not without controversy, as the Canadian missed weight, a perennial problem for the fighter who had been rumoured to be moving up to super-middleweight.
.@lemieuxboxing and @spike_osullivan 🔥🔥🔥

Who do you got? #CaneloGGG2 pic.twitter.com/NNd2Eb6pOo

— Golden Boy Boxing (@GoldenBoyBoxing) September 13, 2018
The official pre-fight press conference took place on Thursday, and as expected,the hostilities continued with O'Sullivan upping the ante with some very choice words volleyed at his opponent.
Lemieux has been quite happy to trade insults all week and it is fair to say that there is some real antipathy invested in this fight.
"It's time to walk the walk. My opponent has been doing so much yapping, I'm sure his chin is going to be very warmed up for the fight and he's going to need it," said Lemieux.
A sharp-dressed O'Sullivan had some choice words – most of which are not fit for publication – for his opponent, beginning his stint at the podium with some exaggerated sniffing sounds.
"Do you smell that? I think I smell fear," snarled Spike.
"Saturday night, we're going to fight. The talking will be done and the fight will be like our careers – he's on the way down, I'm on the way up."