It's been a long time coming for Carl Frampton.
The 31-year-old featherweight will complete his life-long ambition of fighting at Windsor Park as he heads up one of the best boxing cards that's been put together on this island for many years.
Heading up the undercard, Paddy Barnes takes on WBC flyweight champion Cristofer Rosales, from Nicaragua. It's the Irish Olympic medallist's sixth professional fight and his first shot at a World title.
Tyson Fury continues his comeback as he takes on German journeyman fighter Francesco Pianeta, with the always entertaining Fury promising to make make "Italian sausage" out of Pianeta or to kiss his feet.
The man who is rumoured to be Fury's next opponent, WBC heavyweight champion Deontay Wilder, will be at ringside leading to the possibility of some major post-fight fireworks.
A November Las Vegas bout for Wilder's title is believed to be close to being agreed, but Fury isn't concerned by the extra-attention that will be on him in Belfast.
Asked about the American's presence on Saturday after a public workout in Belfast on Wednesday, Fury responded: "It's not really concerning me.
"What's concerning me is my legs looking very long and slender? I've been working on them for a very long time and they're still not very big, but they're quite long, so they'll be alright on the night. I'm looking forward to a great night."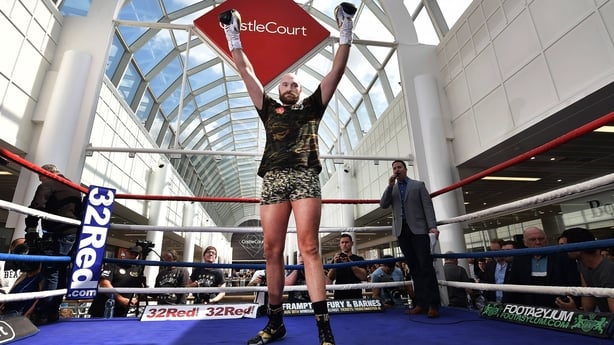 The main attraction, however, is Frampton and he'll defend his WBO interim featherweight title against Australia's Luke Jackson.
While it's not the highest profile opponent of the Jackal's career, it is the biggest occasion.
"I've dreamed about it for a long time now," Frampton said.
"The atmosphere created at Windsor Park for a football game can't be rivaled anywhere in the world - it sounds like there's 80,000 people in there. "
The Belfast fighter is expected to ease past the challenge of Jackson with bigger fights waiting for him down the road.
IBF champion Josh Warrington is set to be ringside to watch Frampton, while WBO titlist Oscar Valdez remains a potential alternative opponent, all of which has led to accusations that Jackson is not being taken seriously enough.
It's something that Frampton has denied. "He [Jackson] said that I'm overlooking him but I haven't been. I haven't been this whole camp, it hasn't just changed this last two weeks.
"When people talk about me overlooking him, and talk about Warrington and Valdez - I don't start talking about them, I get asked about them. They're the fights that I want, but Luke Jackson is the only one who's been on my mind this whole training camp."
However, Frampton did admit that he views Jackson as only a bit-part player on a night that he believes is all about him and the people of Belfast.
"From start to finish, without being disrespectful to Luke, this is about more than Luke Jackson. This is me and Windsor Park and something I've wanted for a very, very long time.
For his part, Jackson is ready to cause a major upset. This in the biggest fight of his 16-fight career and he has yet to taste defeat.
"I've been an underdog my whole life," he said. "I'm not supposed to be here. My friends are either in jail or they're dead and that's where I'm supposed to be.
"I've trained hard and I've made all this happen myself; I've had no hand-outs no freebies, no rich parents, nothing like that and I've worked hard and I'm proud of myself.
"I want what Carl's got. I want his money, I want his fame - I want everything so that's why we do it. We want to be at the top and I want to be able to look after my family."