Anthony Joshua, ever more the golden boy of British boxing, says he has no interest in trying to conquer America after adding a fourth world heavyweight championship belt to his collection on Saturday.
           
Instead, he wants America - in the shape of WBC champion Deontay Wilder - to come and fight him in his own backyard for the undisputed crown.
However, Barry Hearn, the chairman and founder of his promotion company 'Matchroom', suggested that Joshua might head to America to boost his profile across the Atlantic.
           
The WBC title is the only one remaining on Joshua's radar after he took the WBO championship from New Zealand's previously unbeaten Joseph Parker with a unanimous points decision at Cardiff's Principality Stadium.
           
"All these years, the UK fighters had to go to America and everyone had to spend a heap of money to go to Vegas," he said from the ring.
           
"We can do it in London, around Wembley, or Cardiff. It's local. We're staying right here.
           
"Wilder - Let's go baby, let's go."
Taken to 12 rounds for the first time in his professional career, the 2012 Olympic gold medallist added Parker's WBO belt to his own WBA Super, IBF and IBO titles in front of a 78,000 crowd at Cardiff's Principality Stadium.
           
The judges scored it 118-110, 118-110 and 119-109 in his favour, leaving Joshua just one belt - Wilder's WBC title - away from becoming the first undisputed champion since compatriot Lennox Lewis in 2000.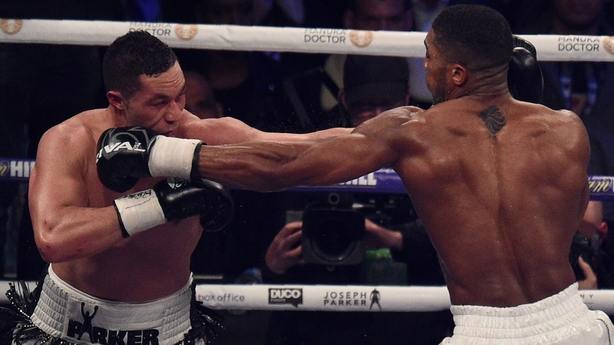 Joshua won his first three belts by stopping Ukrainian Wladimir Klitschko at London's Wembley Stadium in April last year, with 90,000 fans celebrating one of the great nights for British boxing.
           
He has now twice defended titles in Cardiff before similarly huge crowds.
If some had expected an early knockout it did not pan out that way, even if Joshua could be said to have controlled most of the 12 rounds by using his jab and left hooks to telling effect.
           
Apart from an explosive sixth round, with both trading some stinging blows, neither looked likely to buckle with Parker showing more staying power than any of Joshua's previous opponents.
           
The referee also intervened repeatedly, breaking up the fight just as it seemed to be heating up and calling a time out in the ninth with Joshua returning to his corner to tighten up his gloves.
Asked what he would have to do to beat Wilder, Joshua replied: "Get him in the ring and I'll knock him spark out."
What a robbery... WOW‼️ @joeboxerparker great job Bro omg don't apologize you did nothing wrong. True champion. @anthonyfjoshua, I ACCEPTED 100%

P.S. Take AFRICA off your Arm. They're warriors. You from UK brotha pic.twitter.com/09yv1bCqrq

— Deontay Wilder (@BronzeBomber) April 1, 2018
           
The Briton's promoter Eddie Hearn questioned whether Wilder was up to the challenge, however.
           
"Deontay Wilder was supposed to be here tonight, but he pulled out," he told Sky Sports television. "Deontay Wilder's people don't contact us, they don't want to know. He talks the talk, he can't walk the walk."
           
"We'll do it anywhere," he added. "Have you seen where he boxes? He boxes in some great venues with no one there. Look at what we're doing over here. Look at what Anthony Joshua's doing.
           
"Deontay Wilder will be watching right now. And this is called a show, this is called a crowd. He will not beat AJ and these people."
           
Wilder, unbeaten in 40 fights, begged to differ and put out a video on social media after the fight suggesting he wanted to make it happen.
           
"Of course I want Joshua to fight, he knows it no matter what they say and no matter what his promoter says ... I want the fight, let's make the fight happen, stop making these excuses," he said. 
Eddie Hearn's father Barry, the chairman and founder of Matchroom, contended that Joshua should be willing to fight Wilder in the US.
Hearn said: "Anthony Joshua wants all the belts - that is the big card Deontay Wilder has got to play (but) commercially, Joshua is far bigger than Deontay Wilder.

"I think Wilder would come over here because in the world we live in, in boxing, the couple of million dollars Wilder is getting for a fight is pretty small fry in comparison to the rewards that await him for a Joshua fight. Travelling is not usually a problem if the money is right.

"But I still think in the long term, if Anthony sits down and thinks it through, he may come to the decision that to be a truly global sportstar he needs to go to America - not just for the money - but, in terms of the brand value of AJ, fighting in America is going to be on his horizon.

"I wouldn't rule out AJ fighting in America despite his comments last night."