Darren O'Neill believes that Michael O'Reilly can have few complaints after the Portlaoise boxer received a four-year ban for an anti-doping violation.
O'Reilly missed the 2016 Rio Olympics when it was revealed on the eve of the games that he had tested positive for the banned substance methandienone.
The middleweight World bronze medallist has since argued that he unintentionally ingested the anabolic steroid while taking a supplement called ''Falcon Labs Superdrive Testobooster Tech' but on Monday the Irish Sport Anti-Doping Disciplinary Panel confirmed a four-year ban, back-dated to July 2016.
"We were always well warned," 2012 Olympian O'Neill told 2fm's Game On. "Anything you would need to take, shakes or whatever it may be, were provided to you.
"We can argue whether it was intentional but you know not to take things.
"You've been informed enough. On all the forms and in all the advice you're given, you're always told it's your own reponsbility, even if you're given a supplement by a nutrionist. You can call the team doctor, there are apps that you can use.
"There was no need and no excuse for it."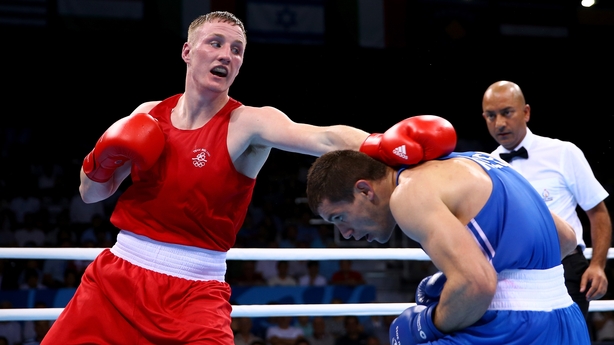 O'Neill added that O'Reilly's team-mates were angry at how his failed test reflected on Irish boxing.
"We were hugely disappointed as a team and felt a bit embarrassed," said O'Neill.
"We had worked very hard over the last decade or more to try and build a reputation as successful boxers and a team that carried themselves well.
"Dragging our successes down like that was something we were all quite angry over."
O'Reilly's former coach Pat Ryan said that the boxer accepted he deserved a punishment but planned to appeal the severity of the ban to the Court of Arbitration for Sport.
He will miss the 2020 Olympics in Tokyo if he is unable to secure a reduction.
"Michael did not intentionally or knowingly ingest one supplement," Ryan told the Irish Independent.
"The sanction was most certainly warranted regardless of the innocent, careless or reckless mistake he made. He received a four-year ban..
"Michael has said he will be appealing the sanction to the Court of Arbitration for Sport as he feels it is disproportionate and that it is extremely severe.
"The one supplement that Michael took was a prohibited substance and was not an illegal substance."