As Belfast's Jamie Conlan recently succumbed to the superiority of IBF super-flyweight champion Jerwin Ancajas in front of thousands of rapturous home supporters, his younger brother could only watch helplessly from ringside.
Having flown home in order to be take a spot in his older sibling's corner for the biggest night of his professional career, Michael Conlan had the best possible view of the six brutal rounds that transpired at the SSE Arena.
Now based across the Atlantic after signing with Bob Arum's Top Rank for what has already been a promising start to life in the paid ranks, he witnessed his previously unbeaten brother viciously stopped at the hands of fearsomely strong 115lbs title holder Ancajas.
The 25-year-old Filipino had his opponent down on the canvas four times and produced sickening body shots before the end came in the sixth round.
Known as 'the Mexican' and 'the Irish Gatti' in his native homeland, Conlan's gallant display in Belfast justified those labels as he was outdone by an elite level eventual conqueror. Beaten black and blue and, what is now almost customary in any Conlan fight, cut badly above his eyes, the 31-year-old endured the maiden blemish on his record to date.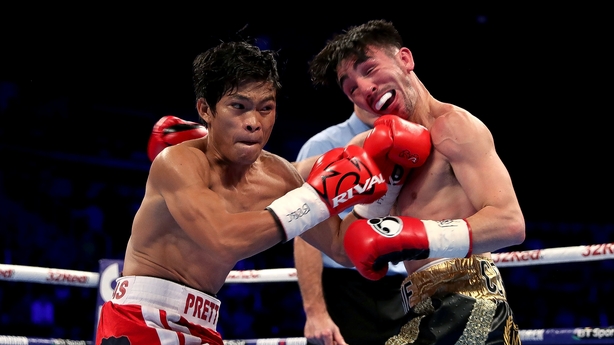 "He done what he always does and showed heart and a big set, something he didn't need to show to anyone as we all know he has," the younger of the Conlan siblings told RTE Sport.
"He was in against an elite fighter and someone who is just a few levels above him. He gave it his all but was outclassed by the 'mini Pacquaio' Ancajas, who I think is number two in the division behind [Naoya] Inoue.
"The super-fly division is probably one of the hardest in boxing at the minute and to be even in the mix for titles is a great achievement. I'm proud of him."
Despite witnessing first-hand the arduous and potentially punishing obstacles that lie in wait at world level, Conlan remains unfazed as he attempts to reach the pinnacle of the sport himself.
"I get excited when I think of it because I know it's where I'll be," continued Michael.
"I know how hard it is and what it takes and I always put in the hard work, so it's not going to make me work harder but it has given me more of a focus on where I want and need to be in the near future."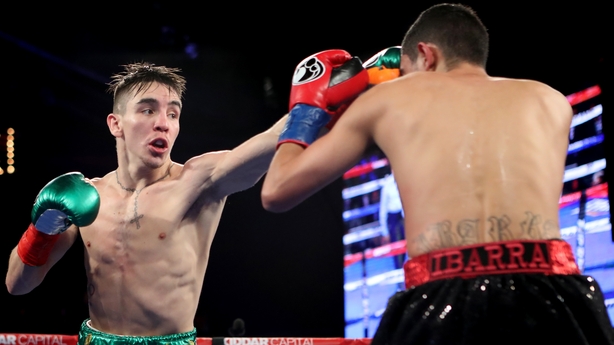 Belfast has a rich history of producing talented fighters at the highest level. Throughout 2017, another new generation has emerged to join stars such as Carl Frampton, including Conlan, his former Olympic team-mate Paddy Barnes and unified bantamweight titlist Ryan Burnett.
Conlan's career may only be four fights deep on American soil, but the 25-year-old has long been dreaming of showcasing his skills back home, and last weekend only intensified that desire.
"I thought the atmosphere was unbelievable as usual, Belfast people love their boxing," he outlined proudly. "We're a fighting city and when big nights like Saturday happen, everyone comes together.
"Of course, one of the main reasons I want to fight at home is because of those amazing atmospheres. I had something like it at my debut in a sold-out five odd thousand Madison Square Garden Theatre arena, but to experience that in Belfast will be something special."
After assisting with corner duties for his brother it's back to business for the former amateur world champion, as he aims to rack up a fifth consecutive pro victory.
His latest ring-walk will take place before double Olympic Gold medal winners Vasyl Lomachenko and Guillermo Rigondeaux collide in a mouth-watering super-featherweight title pairing.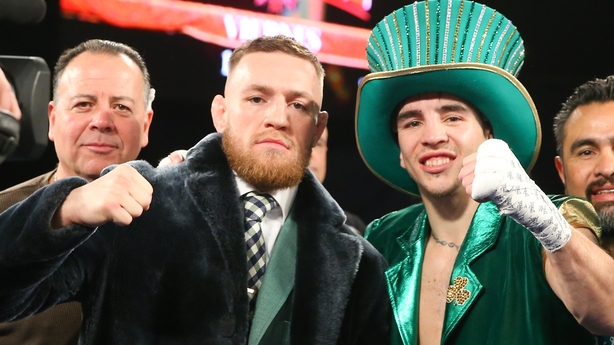 At The Theatre in Madison Square Garden Conlan returns to the scene of his unforgettable St Patrick's Day pro debut, as he prepares to tackle Argentine Luis Fernando Molina (7-3-1). The 29-year-old South American is yet to be stopped in 11 outings to date and arrives on the back of successive wins in his home nation.
Another interesting face also set to feature in New York City is featherweight Shakur Stevenson, who claimed silver at the 2016 Games in Brazil. The 20-year-old American and Conlan have been tipped as future rivals after both penning deals with Top Rank, having previously seen a potential Olympics battle unfortunately fail to materialise.
"Yes we are tipped to face each other in the future but to be honest I don't think anything of sharing the same card as him, my focus on will be my opponent for December 9th," said Conlan. "Yes, of course at some stage I'll see him as a rival.
"I'm feeling great, training camp is going well and I'm looking forward to putting on a great performance on such a big night of boxing."