Carl Frampton is targeting victory against Mexico's Horacio Garcia on Saturday so that he can end the "worst year" of his career on a high.
The featherweight, 30, fights for the first time since suffering his first professional defeat, splitting with his trainer Shane McGuigan and manager Barry McGuigan, and since his fight with Andres Gutierrez was cancelled with less than 24 hours' notice.
That defeat, by Leo Santa Cruz, was worsened by losing his WBA featherweight title, the inability to secure a lucrative third fight with his rival, and him undergoing a full training camp to return until Gutierrez's withdrawal after falling in the shower.
As well as the unexpected development of splitting with the McGuigans, with whom he had succeeded, he has since linked up with Frank Warren and appointed Jamie Moore as his new trainer.
In less than 12 months Frampton has gone from being a world champion and Britain's leading fighter to being largely overlooked, but before fighting the 27-year-old Garcia insists he has been "rejuvenated" by the drastic change.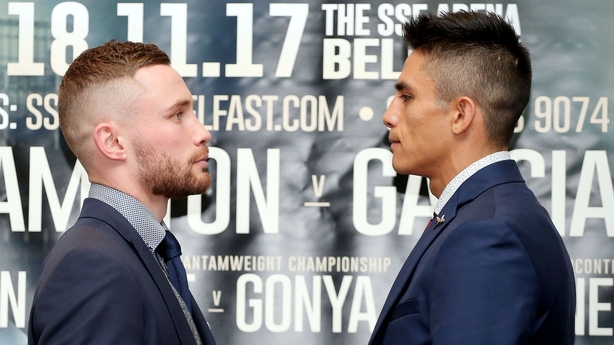 "It's been the worst year so far with what happened at the start, and everything that went on in the middle," he said ahead of the fight at the SSE Arena, his first in his home city of Belfast in almost three years.
"Disastrous. (Saturday's) very important for my whole career. Linking up now with (advisors) MTK Global, my new trainer Jamie Moore, with Frank and with BT Sport, it's given me a bigger platform than I've ever had before.
"This part of my career could be the biggest yet. It's important to kick it off well and obviously important to win, so the other boys in the division know I mean business.
"The whole change, I'm feeling rejuvenated, and feel like I've an extra few years left. I feel fresher, with no injuries, and that's a lot to do with my approach to training, and the methods Jamie's using."
Raising The Jackal: The Belfast club and coaches that forged Frampton
Asked of the influence the largely-unproven Moore had had on his preparations, Frampton revealed he had also suggested a change to the McGuigans.
"We graft hard, but I've cut the rounds of sparring down," he said. "That's something I spoke about before I even spoke to Jamie: to the McGuigans.
"Every day in my previous camps was a hard day and you feel like you have to train like that all the time, but you can pick up little niggles. With Jamie, we have hard days and then easier days where we just drill tactics. I haven't felt like this for years."
Manchester's Moore is perhaps best-known for surviving being shot five times near Marbella in 2014 in a suspected case of mistaken identity, and is working with a fighter of Frampton's calibre for the first time.
"It's really important for someone at Carl's stage of his career to go through his camp smartly," said the 39-year-old former European light-middleweight champion. "Believing the harder you work, the fitter you'll get is such an old way of thinking."
"Gives me goosebumps. I've envisaged it time and time again." - @JamieConlan11 on waking up with a World Title on Sunday. #FramptonReborn pic.twitter.com/jY9e8o8Xnt

— eir Sport (@eirSport) November 16, 2017
On the undercard Jamie Conlan, 31 and also from Belfast, fights for his first world title against IBF super flyweight champion Jerwin Ancajas, of the Philippines.