Oscar De La Hoya says he has been "secretly training" eight years on from his retirement and believes he would defeat Conor McGregor within two rounds if the pair clashed in the ring.
The Boxing Hall of Famer, hung up his gloves as a professional boxer in 2009, has called out UFC star following on from the Irishman's highly-publicised bout with Floyd Mayweather Junior.
"You know I'm competitive," the 44-year-old De La Hoya said on "Golden Boy Radio with Tattoo and the Crew," a daily digital radio show.
"I still have it in me. ... I'm faster than ever and stronger than ever. I know I can take out Conor McGregor in two rounds.
"I'll come back for that fight. Two rounds. Just one more (fight). I'm calling him out. Two rounds, that's all I need. That's all I'm going to say."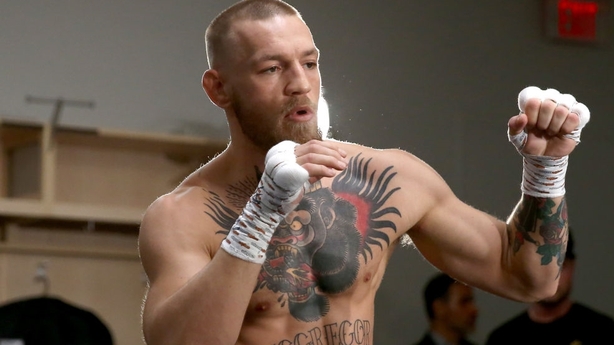 De La Hoya publicly considered a comeback in June 2015, only to change his tune one week later.
A 1992 Olympic gold medal winner and 10-time professional world champion, De La Hoya captured titles at 130, 135, 140, 147, 154 and 160 pounds.
He won bouts against Hall of Famers Julio Cesar Chavez Sr. (twice), Pernell Whitaker and Arturo Gatti. He also fought other greats, including Felix Trinidad, Hector Camacho Sr., Bernard Hopkins, Floyd Mayweather Jr., Shane Mosley (twice) and Manny Pacquiao.
De La Hoya has not fought since dropping a one-sided eighth-round knockout loss to Manny Pacquiao in December 2008. He went 39-6 with 30 knockouts in his career and was inducted into the International Boxing Hall of Fame in 2014.
De La Hoya also has battled drug and alcohol addiction and has been to rehabilitation multiple times, but he said in Monday's interview that he is doing well now.
McGregor meanwhile has apologised for his actions after entering the cage at Bellator 187 and confronting referee Marc Goddard.
McGregor was celebrating with his team-mate Charlie Ward following his win and leapt onto his friend, before entering into a dispute with the referee.
In a post on Instagram, the UFC star said: "I sincerely apologise for my behaviour at last weekend's fight event in Dublin.
"While trying to support a loyal team-mate and friend, I let my emotions get the best of me and acted out of line.
"As a multiple weight UFC champion, executive producer, role model and public figure, I must hold myself to a higher standard."