Deontay Wilder wants Anthony Joshua's management to stop "ducking" him and set up a heavyweight unification fight.
The 32-year-old American, who is prepared to travel to Britain to defend his WBC belt against WBA and IBF champion Joshua, has accused promoter Eddie Hearn of delaying negotiations over a bout.
Wilder told BBC Sport: "I think Eddie is ducking me more so than Joshua. If Joshua's a strong champion, a true champion, you guys in England should smoke him out, make him fight.
"You should see if he's the best. My heart says I'm the best, if I'm not I want someone to show me."
Joshua recently retained his belts by beating Carlos Takam in Cardiff and while Wilder would rather fight on home turf, he is willing to cross the Atlantic to face the Olympic gold medal winner.
"Packing out stadiums looks good but the money and Mecca of boxing is in America," Wilder added.
"But if you want to stay at home like a little girl, this king has no problem travelling to knock out the champion."
In a video posted to his Instagram account, Wilder also urged Joshua to "fight or shut up".
Anthony Joshua responded that he would fight Wilder on "my terms".
"If Wilder's not making an offer we'll do it on my terms. Present him with an offer, and see how they feel about that offer.
"That only goes to the champions: Deontay Wilder and Joseph Parker. It's the same situation to both of them.
"It's no problem if Wilder wants to fight early next year, but no offers have been made to me. There has never been an offer. Everyone says they want to fight, and then sits back and waits for me to do all the homework.
"What we then have to do - which Eddie's doing - is fly out to the United States to make time.
"No offers have been made from their or our side; we had a mandatory in place, and now we're taking the time and effort to get the ball rolling.
"There's one thing talking and acting, but negotiations don't happen over social media. We're now making the moves forward.
Joshua added: "I'm serious about becoming undisputed heavyweight champion of the world. We're just making sure that a lot of these guys who are making noise will back up what they're saying."
WBO champion Joseph Parker's promoter David Higgins suggested his man was likely to meet Joshua before Wilder does.

"Eddie Hearn and I have exchanged emails," Higgins told reporters in Auckland.

"My message was Joe would fight Joshua next and Hearn's message was that Joshua would fight Parker next.

"It's now a question of the deal and money."

Higgins said if they were able to agree to a fight it would probably be next March or April. He added he had also been in talks with Wilder's camp.

"They have put a figure on the table. It wasn't enough," Higgins said. "If they put the right amount of money on the table we will go to America to fight Wilder."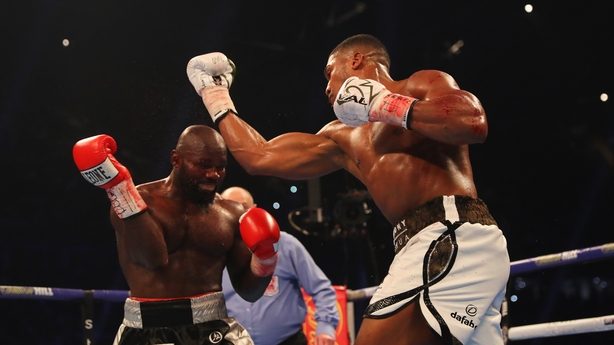 Parker's trainer, Kevin Barry, said he was keen to get the 25-year-old in the ring as soon as possible against the Briton.

Joshua defeated late replacement Carlos Takam in Cardiff last month and Barry said the France-based Cameroonian had exposed the Briton's weaknesses before the 10th-round stoppage.

"That Joshua fight puts everything into perspective now," Barry said. "Takam had done no sparring. He tested Joshua right to the end. We saw how gassed Joshua was.

"We all saw that Joshua could not hurt Takam. That showed me that he is very beatable. He can't knock you out with one punch. He is very robotic.

"I think the guy is there for the taking and I want us to get in front of him before someone else beats him."

If the Joshua bout did not come off then Parker could fight unbeaten Australian Lucas Browne instead, Higgins said.

"We have been in talks for a few weeks with his promoters," Higgins added. "There is no deal. We have loosely agreed terms and principles ... and it is possible if we decide it is the best option."

Barry said Parker would now enter a training camp in Auckland before heading back to Las Vegas in mid-January.