Ryan Burnett visualised the verdict ahead of Saturday night's world title fight against Zhanat Zhakiyanov.
The Belfast boxer was putting his IBF Bantamweight world title on the line – remarkably in his first defence – taking on the seasoned scrapper from Kazakhstan, who was arriving with barter of his own, the WBA Super world title strap.
Burnett predicted in the pre-fight media circus that he would have a belt on each shoulder at the end of the night at the SSE Arena by the banks of the River Lagan.
And true to his word, the 25-year-old battled, then out-boxed his lively, Ricky Hatton-trained opponent at the new home of Belfast boxing and secured a unanimous verdict to unify the division.
So as imagined, Burnett posed for pictures with a belt over either shoulder, now firmly on the road to becoming one of the top pound-for-pound fighters in world boxing.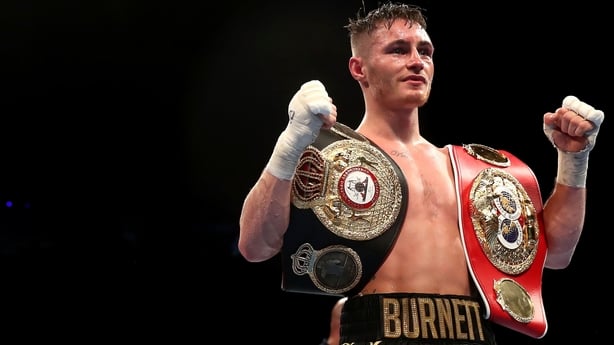 However, Belfast's latest pocket rocket would not have visualised himself sitting in the back of an ambulance shortly after that historic fight.
"As I was walking to the changing room, I just felt like my head was swelling from the inside and I knew that something wasn't right," Burnett told RTE Sport, speaking on 2fm's Game On.
"Then when I got into the changing room, my coach started talking to me, and I couldn't hear him, I couldn't hear what he was saying.
"I knew there was something up. And then the doctor came in and had a quick look at me and before I knew it, I was in the back of an ambulance and on my way to hospital."
That journey to the hospital brought a much different sense of reality to the champion, as Burnett pondered previous scenarios where boxers have suffered severe injuries.
"When I was in the back of the ambulance I was thinking to myself, 'God, I hope I'm ok here', because you hear these stories of fighters falling very ill after fights.
"And because there was so much pressure in the head, I was thinking to myself, I hope I'm ok here."
Thankfully for Burnett, hospital tests showed no signs of brain trauma and the fighter returned to the hotel in the early hours of the morning.
"Once I got there, they did a brain scan, a CT scan and everything came up clear, I just had a bit of swelling.
"So they checked my jaw and stuff and it just came out that my face and head were just badly swollen.
"I've never experienced something as dramatic as that.
"I got the all-clear from the hospital and got out at about two o'clock in the morning and went back to the hotel.
"And when I got back, there was a load of people waiting from me and they all started screaming, which was nice."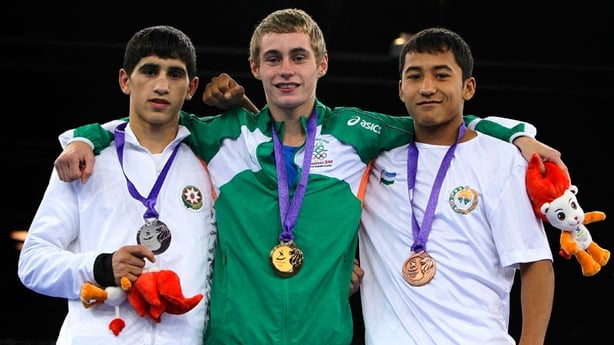 Not one to sit on his laurels, the former Youth Olympics gold medalist said that future plans would be decided by trainer Adam Booth and his team.
Of course, while those decisions are being made, Burnett said he'll be "keeping myself right in the gym".
Burnett did take a moment to reflect on that battle on Saturday night where he admitted that he had to adapt to Zhakiyanov's aggressive style.
"I tried to stick to our game-plan but because he was relentless coming forward, I had to adapt to his style, but once I got the hang of things, and I was listening to my corner, the fight started to flow in my way."
And while unwilling to commit on the where and when of his next defence, Burnett was sure to remind of what he had just accomplished, a feat which will see him mentioned amongst the greats of Irish boxing.
"I don't know, it's not something I look into but what I have done, people are going to take a lot of recognition from it," said Burnett, when asked why his profile in Ireland was not as high before Saturday's fight.
"I deserve it. I think I should be well up there. I'm now a two-time world champion. I'm currently the youngest unified champion in the world so to have that record speaks for itself.
"I'm very blessed to have a good team around me so I'll just leave it to them to work out what is next and while they are working that out, I'll be keeping myself right in the gym."