Paschal Collins believes that his fighter Stephen Ormond was mugged in Belfast on Saturday night and has ruled out returning to the city for a re-match following the controversial defeat at the SSE Arena.
The Dublin trainer also had some choice words for corrupt judges within the sport, calling for them to be banned, while also advocating a process where results could be immediately overturned.
On a night when Belfast bantamweight Ryan Burnett was celebrating, after unifying the IBF and WBA divisions, the judges' scorecards left a sour taste in the mouths of fight fans, following some bizarre scoring at the Laganside venue.
Dubliner Ormond was the victim of the scorecards on this occasion.
The former European champion picked himself up off the canvas in the third round before out-working and over-powering Belfast's Paul Hyland Jr in the curtain-raiser for Burnett's encounter with Zhanat Zhakiyanov.
Ormond's entertaining 12-round battle took that bizarre twist after the final bell as the scorecards revealed a 117-110, 114-113, 112-115 split-decision victory for hometown fighter Hyland Jr, with serious questions asked about the judging of Valerie Dorsett from North Carolina who gave Hyland the landslide result.
"When the first announcement was called out 117-110, I knew straight away; I knew we were going to get screwed over," Collins told RTE Sport.
"That meant that one judge [Dorsett] gave nine rounds to Hyland," added Collins, who claimed that his fighter, known as The Rock, was mugged by the decision
"In a close fight when the decision goes against you in their home town, you think 'that was terrible', but in Belfast, we weren't actually robbed, we were mugged."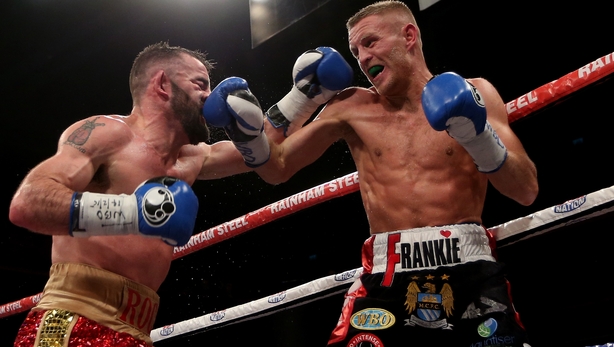 Ormond's path towards a world title fight came to an abrupt end back in 2015 as the Clondalkin native was controversially disqualified while defending his European title against England's Terry Flanagan (pictured above).
Flanagan went on to land the WBO world lightweight title in his next fight – a title which he still holds – while Ormond regrouped and set off on a soul-searching journey, fighting his way back up the lightweight ladder.
So back in Belfast, Ormond was looking to rekindle his career on a high-profile undercard, and Collins explained that his fighter had gone back to basics, drawing on previous winning experiences, most notably in his victory over Derry Matthews.
"Our game-plan was to pressure him without getting too close to get hit for the first couple of rounds, wear him down and tire him out, and it was working because Stephen was catching most of his shots on his gloves."
Of course, Ormond's rhythm was thrown right off kilter in the third round as he was caught on the chin by a short right just as he was looking to land a jab.
"The knockdown was more of a flash knockdown and wasn't a hurtful shot," explained Collins. "If you watch back, Stephen was actually throwing a jab at the time and kind of walked into it.
"He was a little shaky in the legs, but Stephen is as tough as they come and he cleared his head quickly enough, and had the better exchanges at the end of the round.
"But then he started getting stronger and it was just pressure, pressure, pressure all night, but calculated pressure, I didn't see him losing a round after that knockdown."
The decision shocked the packed Belfast arena and the multitude's watching the Sky Sports Fight Night, who voiced their outrage via social media, while the television channel's two ringside experts, former world champion Andy Lee and trainer Dave Coldwell both called a comfortable win for Ormond.
But Collins remains upbeat and admits that the controversy surrounding Ormond's defeat has actually been turned into a positive, with calls for a re-match starting as soon as the two fighters sat down at ringside for the post-fight television interview.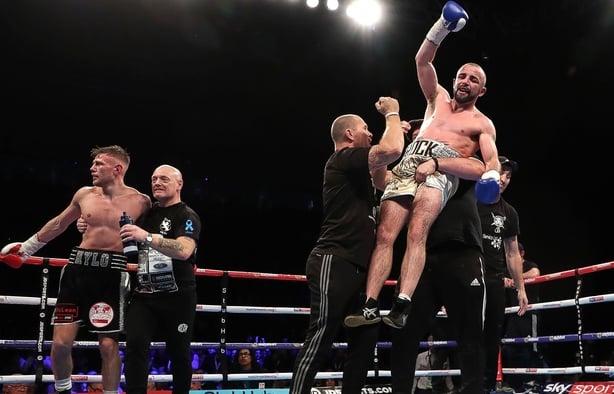 Collins, however, does not want a rematch, as he believes that Ormond has nothing to gain by fighting Hyland Jr again.
"When we got back to the dressing room, we hugged and we celebrated because he won the fight.
"He never got the decision but he won the fight and he'll come back better for it.
"And he'll come back in bigger fights if Eddie Hearn can reward him for what happened him with a big fight and a pay day."
Collins also believed that the referee "was helping" Hyland during the fight with a couple of decisions, which allowed the unbeaten Belfast boxer the chance for some respite, but overall the brother of former world champion Steve Collins was happy with the man in the middle.
"The referee was helping him out on a few occasions, but he was very good because he allowed them to fight and he didn't break them up too much.
"So I can't have too much criticism of the ref. The referee actually told us after the fight that he had Stephen winning by three rounds."
And while Collins was taking as many positives out of the trip north to Belfast, he had harsh words for the judges, while at the same time does not appear too confident of seeing any changes in the near future.
"You would fall on deaf ears [by appealing]. Basically what they would say is 'the judging was terrible, we'll order a re-match', but the fact of the matter is we don't need a re-match.
"If it was a world title fight and he was getting paid a couple of hundred thousand, you'd say absolutely. We'll get robbed again but at least we'll have the money to buy a house out of it."
The main event saw Burnett unify the bantamweight division, adding Zhanat Zhakiyanov's WBA belt to his own IBF title, however, that result was also slightly tarnished by another lopsided scorecard, with one judge awarding the fight on a 119-109 verdict.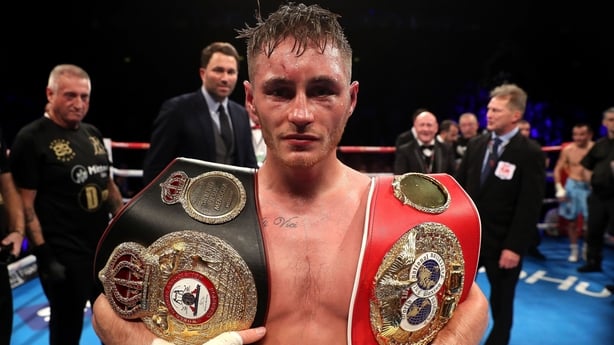 Zhakiyanov is trained by former world champion Ricky Hatton who also expressed disbelief after the fight.
"I was staying in the same hotel as Ricky Hatton," added Collins. "We were chatting after the fight and he said, the right man won but not by that score, so he had a bit of a sour taste in his mouth as well.
"But as far as that scorecard is concerned, it's disgusting and people like that should be banned and removed from boxing.
"I believe there should be inspectors at these matches, like at soccer matches, watching the referees and watching the judges. They should be able to override these corrupt judges at the show so on the night we can have the proper winner.
"I've been involved in boxing since I can remember and corruption goes on.
"It happens and it has happened since the beginning of time, and it will continue to happen. Unfortunately, we are small fish in a big pond and we can do nothing about it."
Collins admitted the main motive for his fighter was to get Ormond onto a Sky Sports production to showcase his style to a bigger audience, and now the Celtic Warriors Gym trainer believes that Ormond will get another bout against one of Hearn's more established fighters, like Ricky Burns (pictured below) or Anthony Crolla, which would garner a proper paycheque.
"They are talking about re-matches, but I wouldn't even go there, because he won the fight.
"Why would you want a rematch? You go to a restaurant and get food poisoning. Would you go back for a free meal? I wouldn't.
"I said to Stephen 'people need to see how you fight, what you are like, you're a very fan-friendly fighter'.
"Funnily enough, the controversial robbery on Saturday has got him more exposure than if he had actually got the decision, so I think this might work in his favour."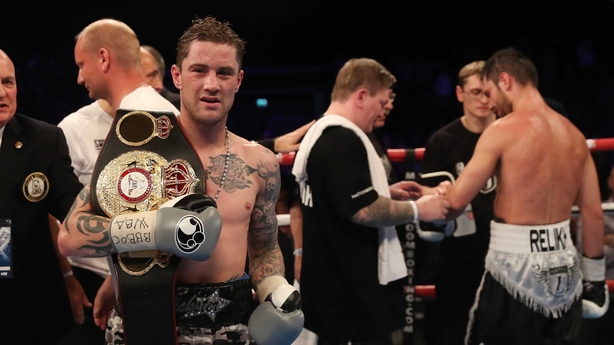 "He said, 'I just want the Ricky Burns of this world, the Anthony Crollas, the Tommy Coyles. If I go over and fight them and get robbed, at least I get paid for it, a half-decent purse'".
Despite all the controversy, Collins was delighted to see his star student back performing at his peak and he believes that Ormond can now look forward to something positive in the near future.
"In Belfast, he was back to his old ways, everything was going well, his energy was good, he was happy and a couple of times I had to run to the centre of the ring and drag him back to the corner, he was actually enjoying it that much.
"He is the hardest trainer and the most dedicated in my gym, and I do believe good things happen to good people, and I believe that his time will come."