Shane McGuigan has no feelings of regret about his splits with Carl Frampton and David Haye.
The trainer has also dismissed suggestions he is under pressure to again prove himself.
McGuigan will oversee George Groves' first defence of his WBA super-middleweight title on Saturday, when the 29-year-old fights to reach the semi-final of the World Boxing Super Series by defeating Jamie Cox.
The fight represents McGuigan's first at world level since those splits, which came during a period in which he was established among Britain's leading trainers.
Haye has since worked with Cuba's Ismael Salas and Frampton, having also split from his manager and Shane's father Barry McGuigan, is being trained by Jamie Moore.
Asked if that was a disappointment, Shane McGuigan said: "No, not at all.
"The biggest thing is continuing and having respect for one another; not having a bitter taste in your mouth, and there's no bitter taste in my mouth.
"Do I feel I need to prove myself again? No, not at all. I led George Groves to a world title, and Josh Taylor dismantled Ohara Davies. I'm there for them, for their safety. I don't give a c**p about my reputation. If I really cared about it I'd be boxing."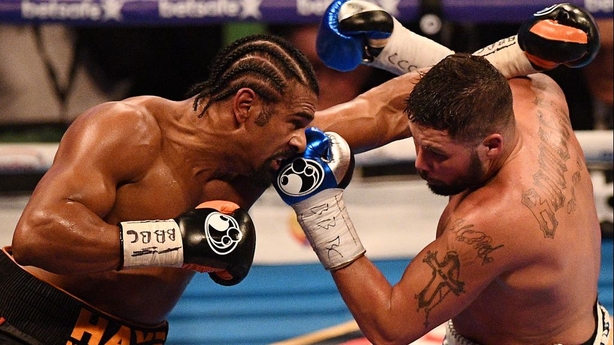 McGuigan, 28, had never experienced defeat as a trainer before Conrad Cummings lost to Ronnie Mittag last November. Within two months Carl Frampton had lost his rematch with Leo Santa Cruz and within four Haye had also lost to Tony Bellew.
Training had kept McGuigan so busy that he and wife Sophie's honeymoon had had to be delayed by 10 months, but even amid the intensity of his profession, he insists he remains unaffected by those defeats.
"(Me and Cummings) didn't lose: that's it," he said. "The only thing I was annoyed at was he didn't perform. He won the fight but didn't perform.
"David snapped his Achilles and was four rounds to one up before he snapped it, and Carl lost a majority decision to an elite fighter, didn't perform to the best of his ability.
"It's great: I've (now) got more time in the day and can put a little bit more into George Groves. We're in a tough fight against Jamie Cox and are going to need all that time to prepare for this. He's a good fighter."