Darren O'Neill is hoping to go out on top in what might be his final major boxing championships as a fighter.
The former Olympian will be part of a nine-strong Irish team that takes part in the European Elite Men's European Championships, which starts in Ukraine on Friday - the draw takes place this morning - and run until June 25.
The 31-year-old admits that he will more than likely pack in competitive boxing at the end of this year and knows that the euros could be his last hurrah.
"This is the swan song really," said the Kilkenny man, who was Irish team captain at the 2012 London Olympic Games.
"I was going to step away from it a few years ago but I said to myself that I'd go to a few of the majors and enjoy myself. I did that; I went to the European Games, European Championships, the qualifiers and the whole lot and I enjoyed it since.
"I'm going to keep enjoying it this year - I'm going to the European Championships and they'll probably be my last Europeans. I've had a great journey and wouldn't it be magical to go out on top?
"That's what I'm hoping to do. If I get a good draw and perform well I'm quite confident I can do well. I'm going to enjoy the experience."
If O'Neill, who stepped up in weight from light heavy to heavyweight in recent times, gets into the last eight of the euros he will automatically qualify for the world championships later this year - and that's where he dreams of bowing out.
"I'd love to go back to another world championships," he said. "They are at the end of this year and to get there I'd have to make the top eight in the Europeans.
"I read recently that it's 70 or more years since Ireland won a major medal at either heavy or super heavyweight so it would be nice to put an end to that. I'm going to perform and enjoy it."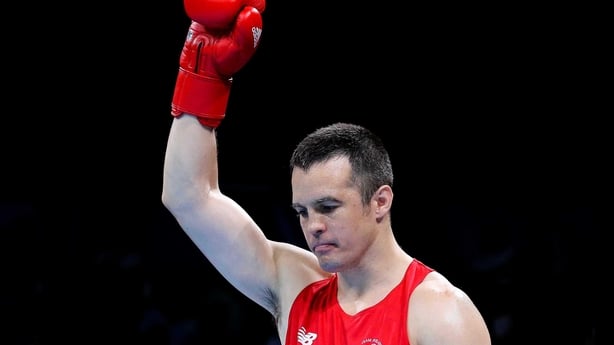 The squad of fighters leave behind boardroom turmoil in the Irish Athletic Boxing Association and O'Neill has been critical of the sport's governing body in the past, but currently he he only has room in his mind for the euros.
He is a qualified primary school teacher and he worked in the classroom for years before deciding to concentrate full-time on boxing.
He has earned further qualifications since, though he still hasn't decided what career path he wants to follow when he hangs up his gloves for the final time.
"I'm sick of thinking of life after boxing and I still have no idea of where I'm going!" he laughed, speaking to RTÉ Sport. "I'm a qualified primary school teacher and just last year I qualified with a masters in business admin so I have the MBA letters after the name as well.
"How I'm going to utilise those, I'm not sure. I'm open to everything and anything so if there is anyone out there looking to give me a job they're more than welcome to get in touch!
"The eye has been on the future for the last few years, but what exact area I'll delve into I'm not sure.
"Obviously I'd love to stay in sport, but I'm open to all avenues. Having had experience in such high-pressure environments for so long I think I can excel and adapt to whatever area I get into.
"Within sport you have to be a quick learner and with a background in teaching and a masters in business behind me I'm well positioned to transition into life after sport."