The British Boxing Board of Control are set to weigh up the possibility of extending women's professional boxing rounds to three minutes - in line with men's bouts - following calls from former Olympic champion Katie Taylor.
London 2012 gold medallist Taylor recorded her fourth professional win in as many months last weekend, dominating her eight-round lightweight clash against Bulgarian Milena Kolvea in Manchester.
The Irishwoman put her former world-title challenger opponent on the canvas in the penultimate round and while she could not force a finish, Taylor later claimed that the stop-start nature of two-minute rounds in women's pro boxing makes it more difficult to record a stoppage or knockout in women's fights.
"Definitely if you had three minute rounds you would have a better chance of stopping these girls, for sure," said five-time amateur world champion Taylor, whose four paid contests have all taken place in England.
Team Taylor are believed to have prepared a proposal, which calls for female pro fights to be increased in length from the current two-minute round format to three minutes in line with men's fights.
Robert Smith, general secretary of the British boxing board, revealed that they will soon consider that possibility.
"Yeah, we will have to now," said Smith. "It's time to look at the rule because women's boxing has moved on now from when the regulation was put in place when it first started.
"I think we're going to have to look at the three-minute round," added the official, who claimed that Taylor's performances have demonstrated a dramatic improvement in the quality of women's pro boxing.
The decision of Britain's two-time Olympic gold medallist Nicola Adams to turn pro – the Leeds native makes her debut next month – and speculation that Liverpool's Natasha Jonas will soon join the paid ranks are also sure to help raise standards further.
"There was a point where women's boxing was new in the country all those years ago," said Smith. "The quality is getting better.
"Obviously Katie is a very good boxer and we also have good [British] Olympians coming in [to the professional ranks] now so the standard is going to get better.
"We have to look at these things," added Smith.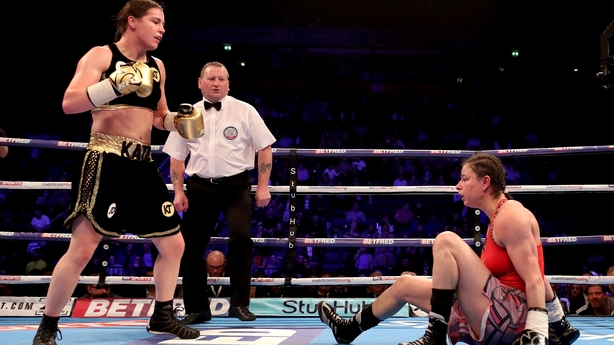 Taylor is set to return to the ring in London next month on the undercard of Anthony Joshua's world heavyweight title defence against Wladimir Klitschko at Wembley Stadium.
While that April 29 fight date may come too soon for a change in the length of rounds, Smith said: "We'll move fairly quickly… By the end of April, maybe not, but by summer."
Taylor's ring performances were previously influential when helping to convince the International Boxing Association (AIBA) to admit women's amateur boxing into the Olympics ahead of the London 2012 Games where the Irishwoman claimed lightweight gold.
An extension in the length of female pro rounds is complicated by international considerations as the European Boxing Union (EBU) and most recognised world governing bodies all schedule women's bouts for two-minute rounds, including world-title fights, with the WBC previously issuing conflicting statements on the topic.
Taylor has yet to fight as a pro in Ireland, but her team are keen on booking a world-title homecoming date in Dublin later this year should all go to plan in 2017 for the 30-year-old.
Boxing Union of Ireland (BUI) president Mel Christle said he would only support the idea of three-minute rounds "subject to the best medical advice on the issue."
Christle explained: "That all depends on the medical committees of the various [governing] bodies… You have to consult the medical experts to make the final decision."