Michael Conlan may have faced far more accomplished opponents in the amateur game, but the Belfast boxer has described his pro debut victory over Tim Ibarra as "the best experience" of his career.
Referee Benjy Estves Jr stepped in to end the super-bantamweight contest after 59 seconds of the third round at Madison Square Garden's Theater Arena in the early hours of Saturday morning.
Ibarra's limitations as a boxer were all too apparent, but the electric atmosphere generated by the 5,102 sell-out crowd, who were whipped into a heightened frenzy by UFC champion Conor McGegor, has clearly whetted Conlan's appetite for the challenges which lie ahead.
"It was the best feeling I've ever had in my boxing career, so far," the 25-year-old told Game On listeners on RTÉ 2fm.
"It beats winning a world gold, it beats winning an Olympic bronze medal. It was definitely the best sporting experience of my life.
"It was just unbelievable; the atmosphere, the crowd, the whole entrance, the way it was done. Everything about it."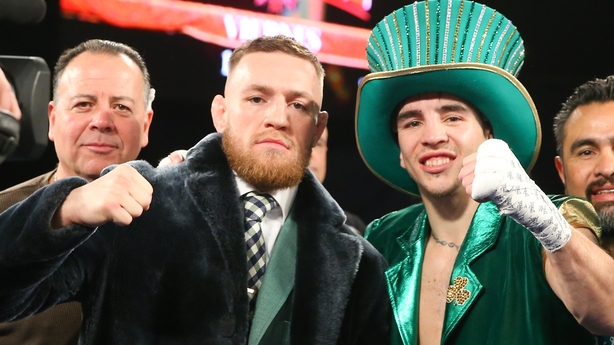 Conlan made a relatively tentative start against Ibarra, who was fighting outside his native Colorado for just the second time in his eight-fight (4-0-4) pro career.
"I was just tight because I was trying to get the KO," he explained.
"It was tense enough - trying to go for it. That was probably the only thing I did wrong.
"I wasn't nervous about the opponent.
"I was more nervous about my own performance because I wanted to impress.
"I wanted to impress the American public because I know the public at home, the Irish public, they know how could I can be and they know how good I am.
"I just need to show what I am over here, coming on the world stage."
The 5'8" Conlan tipped the scales at 122.8lbs for the fight and feels comfortable at the weight - as long as he doesn't have to brave biting New York winters with just 4% body fat.
"I was skin and bone," he admitted.
"I was here in New York when the snow came and I was the coldest I've ever felt in my life.
"I was in great shape and I felt good after I weighed in. I was refuelled and I thought I was in great shape in the ring.
"I felt good and I felt strong."
The 2015 amateur world champion will face a gruelling schedule in the year ahead, with promoters Top Rank eyeing as many six bouts in his first year in the paid ranks. However, Paddy Barnes' July wedding will afford Conlan some down time three fights into his campaign.
"Our next move is May 12 Or May 19 in Boston," Conlan confirmed. "That's what we're looking at next.
"I think I'll be back in the Garden June time, then I'll be home for July for Paddy's wedding and then back for September and December in Belfast."