It would appear highly unlikely that Michael Conlan will face any real difficulty in dispatching Tim Ibarra when the Belfast native makes his professional debut at Madison Square Garden's Theater arena tonight.
However, the star of the show recognises that certain risks and pressure are attached to the great expectations that surround his switch to the paid ranks.
Carrying a modest 4-4 record, 26-year-old Colorado native Ibarra is widely considered to be a bit-part player in the much-hyped drama that is Conlan's first pro outing – a six-round bout that has been afforded the rare status of a headliner at the iconic venue's smaller arena.
A crowd of around 5,000 predominantly Irish or Irish-American fight fans are expected to be present. And Conlan's management and Top Rank promoters predicting a sell-out for what they hope will be their star signing's first steps towards becoming a household name to rival Conor McGregor's status in the US fight market.
UFC star McGregor is set to carry the tricolour and walk the 25-year-old debutant into the ring, which has increased US interest in a fight that Top Rank president Todd duBoef has claimed has set a new precedent in terms of coverage for a debut outing.
So all that's left to finish the script is the fairytale ending of Conlan flattening his unheralded opponent - and now the 25-year-old Irishman must up to the occasion and the hype surrounding the 124lb bout, which takes place in between the super-bantam and featherweight limits.
"There's 100 per cent pressure, but I do thrive on pressure," said Conlan when quizzed on the theory that he has everything to lose should an almost inconceivable shock happen or if Ibarra actually threatens to cause an upset.
"It [pressure] is what makes me a better fighter and I truly believe that," continued the 25-year-old amateur world champion. "But, at the same time, people are going to think that I'm going to go in and blow this guy away in 20 seconds.
"The guy has had a full training camp and the journeymen in America are different from the [lower-level] ones back home.
"He [Ibarra] has four wins and four losses, he's not a bum," said Conlan. "He's had a full 12-week training camp and he's going to come fully prepared for his opportunity to be in the limelight and try to beat a prospect that has so much going on about him.
"So it'll be something I've never experienced before in my life… I don't entertain any ideas about a loss, but at the same time thoughts do creep into your head and you have to banish them right away.
"Losing would be unthinkable really, it'd never happen," added the Belfast man, who is trained by California-based coach Manny Robles.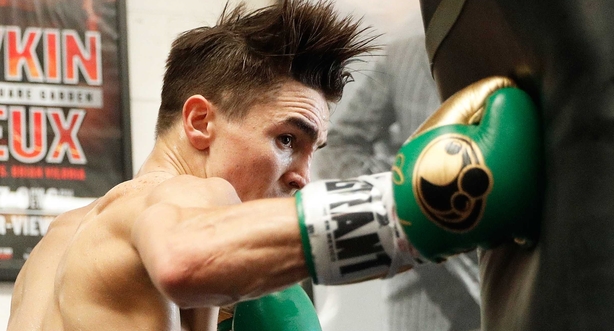 Ibarra is determined to upset the party, with the Colorado fighter insisting that he will use the harsher realities of the pro game to his advantage against Conlan, a highly decorated amateur.
"It's smaller gloves, longer [more] rounds… I give him credit for going six rounds right off the bat because it's not a walk in the park," said the 26-year-old, who questionably described his fighting style as being adaptable to whatever challenge Conlan presents.
The Belfast native is a talented switch-hitter, who has starred at elite amateur level when claiming world, European and Commonwealth gold along with Olympic bronze.
Ibarra describes his own style as follows: "I'd say I'm a pretty slick, long boxer who likes to fight on the outside.
"I'm not much of a brawler, but if it comes to that then I can fight hard and I take care of business whatever way it needs to be done."
The American's suggestion that he can upset Conlan by making it rough – or by getting in the Irishman's face - did not go down particularly well with the Falls Road fighter, however, and they provoked a far more bullish analysis of how he sees the fight playing out.
"It doesn't bother me who is front of me," said Conlan. "If he wants to talk s**t to me, he's saying he can get under my skin, I will let him.
"He can talk as much as he wants - he's still getting knocked out."
Common sense would suggest that should be an accurate prediction as Conlan has boxed at a level far above Ibarra in recent times, albeit as an amateur.
Five years to the day since Conlan's manager, Matthew Macklin, lost out in an entertaining battle to then-world middleweight kingpin Sergio Martinez, Irish fight fans will this time most likely be celebrating a St Patrick's night victory in New York.
BoxNation will screen the bout live, with Conlan expected to be in the ring around 10pm local time (2am Saturday, Irish time), while RTÉ will broadcast delayed coverage on Saturday night.
Prediction: Conlan TKO2.