Carl Frampton climbed up the steps, strode out to stage left and surveyed the masses.
Upwards of 5,000 fight fans had filled one side of the MGM Grand Garden Arena on Friday afternoon. Frampton looked out at them, put his right arm in front of his waist and bowed deferentially.
The Jackal began this, the biggest fight week of his life, by saying he felt 'out of place' amid the bells and whistles of Las Vegas.
In that moment under the burning spotlights at a raucous weigh-in however, he looked like a man who realised his steady, studied strides forward have brought him exactly where he needs to be.
Carl Frampton getting ready for Santa Cruz rematch pic.twitter.com/HlGkVpIIhN

— RTÉ Sport (@RTEsport) January 28, 2017
Tonight at the same storied arena, the 29-year-old puts his WBA featherweight title on the line against Leo Santa Cruz, the vaunted Mexican three-weight champion who he unceremoniously, unforgettably dethroned in Brooklyn last July.
If Friday's hordes are anything to go by, this Vegas debut will be even wilder than his New York bow.
At rough estimate, 90 per cent of those in attendance had crossed an ocean to be there and worked up a hell of a thirst en route.
Last year Frampton brought armies to Manchester and then Brooklyn, his exploits on both of those pitstops — unifying the super bantamweight division by wholly outclassing Scott Quigg before becoming just the island's second two-weight champion at the Barclays Centre — propelling him to end-of-year honours unprecedented for an Irishman.
Even as this defining battle loomed closer into view, they rolled on in. On Thursday afternoon he was presented with his Ring Magazine Fighter of the Year award, on Friday morning named the Boxing Writers of America's man of 2016.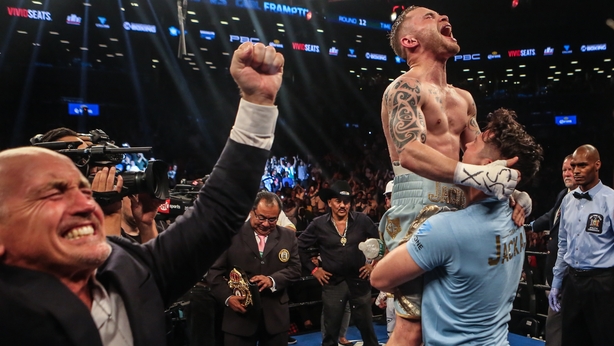 He has accepted them all with the humility and grace that has become the hallmark of this most humble champion. But it's rapidly approaching that hour where Frampton's focus and demeanour begin to change, the man from Tigers Bay fixes his fighting eyes and gets down to work.
"If you look at some of the stuff that has been said about the first fight I want to prove that it wasn't a fluke, I want to prove that I'm a better fighter," Frampton, who took that first instalment on a majority decision, said this week.
"I want to prove that all these awards I picked up at the end of the year are justified.
"The character in the ring is different to the man outside it. When you smell blood or see blood, you go after it. That's not any different to any other guys doing this sport or any other man. It's just human nature."
It is human nature for these fighting men. And Santa Cruz is one of the best of those too. The Mexican was stung badly by the first defeat of his professional life last time out, reaching for reasons and throwing forward the distraction of his father's cancer battle and the effects of the partisan crowd on the Brooklyn judges as key factors in his downfall.
Jose Santa Cruz's sickness is thankfully in remission now and he has been ever present at his son's side in the build-up to this rapid rematch. While Frampton's fans dominated proceedings at Friday's weigh-in, it's likely that a caravan of Mexican support will make its way from California before Saturday night.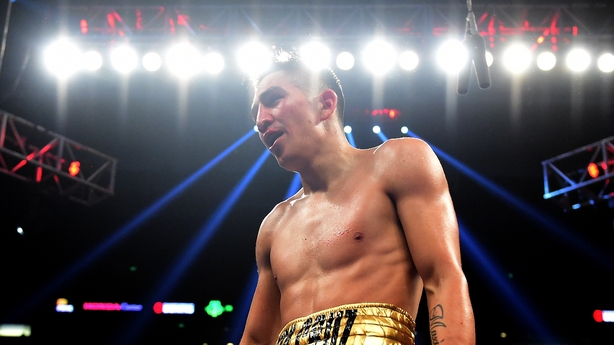 "Revenge is the only thing on my mind," Santa Cruz said on stage after both headliners had weighed in at an identical 125lbs even, the only drama on the afternoon being the cancellation of fellow featherweight title holder Lee Selby's clash with Jonny Barros after the Argentine failed a medical.
"I thought the first fight was pretty close, I thought I won by a point or so. Everyone has different opinions, people told me I won."
Santa Cruz doesn't want to leave it to a matter of opinion second time round. Height and reach advantage are again on his side here. He will have to at least try to adopt a more patient approach than last time when he unleashed 1002 punches in 12 rounds, getting consistently caught with cleaner shots on the counter by Frampton.
But the Jackal and his support staff of McGuigans — his trainer Shane chief among them — have improvements in mind too. As brilliant as he was in Brooklyn, his camp insist he can be even better this time.
Congrats @RealCFrampton & @McGuigans_Gym for winning the Holy Grail of Boxing Awards,The BWAA for best fighter & best trainer of the year. pic.twitter.com/hx1sF6SE4Y

— Barry McGuigan (@ClonesCyclone) January 27, 2017
"He went back in straight lines, didn't step off, he threw his hook from too far. Loads of things [to improve on]," said McGuigan Jr, looking to ensure every angle is covered in the same city where his father surrendered the same WBA title to Steve Cruz in an ill-fated outing In 1986.
"It's stuff that I can openly tell Leo Santa Cruz 'this is what my guy done wrong, what did you do wrong?' Because we can make the adjustment, I don't think he can."
On the precipice of his 30th birthday, Frampton has hopes and dreams that stretch beyond the Strip. Chief among them is another megafight back on home soil at Windsor Park this summer.
With that in mind, turning in another highlight-reel night couldn't be more timely In a division stacked with sterling performers. The reports from his pre-fight camp are that he has now truly settled into featherweight to the point that he has charged up his power and his belief in it, laying out sparring partners.
How can he better a truly momentous 2016? An early finish tonight would certainly do the trick.
"I know everything that he's going to do," Frampton insisted this week. "If he does throw more, it just gives me the chance to nail him, again. If he wants a war, I am ready."
Follow Carl Frampton v Leo Santa Cruz with our live blog on RTÉ.ie from 2am on Sunday January 29