"Unprofessional relationships" within AIBA created an atmosphere of collusion between senior management and judges that undermined the boxing body at last year's Rio de Janeiro Olympics, the governing body said in a statement on Friday.

It added, however, that a special investigation committee of experts had found no evidence of active interference in the results after carrying out 50 interviews over a four month period.

"An unwelcome axis of influence and sole decision-making had been created and used by former Senior Management that led to a lack of due process being carried out," said AIBA president Ching-kuo Wu.

"Whilst there is no evidence that this had a direct influence on results in Rio, if best practice is not followed 100% of the time by our officials and R&Js (referees and judges), that is unacceptable."
The results of a number of bouts, including bantamweight favourite Michael Conlan's defeat, were called into question last summer.
The world champion was beaten in controversial circumstances at the last-16 stage in Brazil by Russia's Vladamir Nikitin, a defeat which prompted the Belfast man to label AIBA "cheats".
Conlan has since turned professional and will make his debut in New York in March.
AIBA said the 36 Rio referees and judges, who were sidelined pending the investigation, would now be reintegrated on a case-by-case basis.

The tournament in August was embroiled in controversy surrounding a new '10-point must' scoring system, with allegations by some boxers that they had been robbed of victory.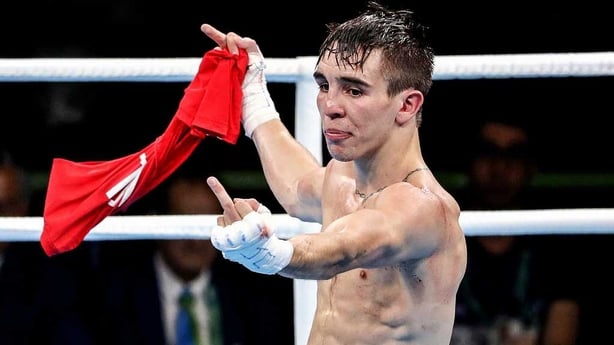 AIBA also dropped a number of judges and referees during the competition, after finding that "less than a handful" of the decisions from 239 bouts reviewed were not at the level expected.

The organisation's French executive director Karim Bouzidi was also reassigned to a new role.

Friday's statement spoke of a "lack of proper procedural norms" due to "a concentration of decision-making power and the assigning of roles assumed by former senior management that had a detrimental impact on in-competition best practice."

It said the actions taken by AIBA post-Rio had been justified.

An automated Swiss Timing system will now assign officials to matches, with all five judges' scorecards used to determine the winner of a bout instead of just three chosen at random by a computer.
"There is no evidence that the reallocation of medal rankings is required"
"There is no evidence that the reallocation of medal rankings is required for Rio 2016, but AIBA will be researching the feasibility of processes for the appeal of decisions in the future," it said in the statement.

A broad education programme involving boxers, coaches, officials and fans will be set up "to instil a greater understanding of scoring and give a strong reminder of the importance of sportsmanship, respect and fair play values.

"The subjectivity of scoring is part of what makes the sport unique, and the nature of the contest means that strong opinions are formed by teams and fans, but that should not impact negatively on the integrity of the officials," AIBA said.
Follow Carl Frampton v Leo Santa Cruz with our live blog on RTÉ.ie from 2am on Sunday January 29