Negotiations will resume for a fight between Billy Joe Saunders and Saul 'Canelo' Alvarez after the Mexican was installed as the mandatory challenger for Saunders' WBO middleweight title.
The 27-year-old Saunders will also, according to his promoter Frank Warren, appoint a new trainer to succeed Jimmy Tibbs in the coming days.
Alvarez was this week declared Saunders' mandatory challenger and despite the champion disappointing in his recent points victory over Artur Akavov, it would be his and Warren's preference to immediately pursue the Mexican for a fight in the US in May.
He was in contention as a future opponent of Alvarez - one of the world's most popular fighters - after the 26-year-old's September defeat of Liam Smith, and this week's development will force Alvarez to decide whether he wants to defend his WBO light-middleweight title or challenge Saunders.
It is also widely hoped Alvarez will fight IBF and WBC middleweight champion Gennady Golovkin in September 2017, when an additional world title would be one of the few ways to make perhaps the sport's biggest fight even bigger.
"We're going to go for this fight; we want to fight him," Warren said. "If he's his mandatory he's next, Bill's got no choice.
"It's not an easy fight, let's not kid ourselves, but Bill at his best is a good fighter. He genuinely has a very good chance of winning.
"Canelo's a good body puncher; Liam Smith did well against him until he got caught. Bill's got to look at some of the good moments Liam had then work out what he can do to do better. He's got an excellent chance.
"Where it takes place is going to be down to negotiations. For a fight like that Bill's going to want to go where the money is. We've been having talks on and off for six months."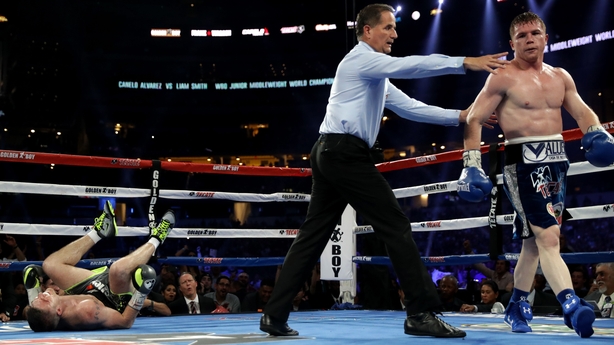 Warren had previously hoped Saunders would fight on the Alvarez-Smith undercard to build his profile in the US. He instead remained inactive until facing Akavov earlier this month, when he struggled after splitting with Tibbs.
Andy Lee's coach Adam Booth is believed to be in contention to succeed Tibbs, while Warren also revealed that Saunders is motivated by the prospect of avenging Alvarez's wins over compatriots Smith, Ryan Rhodes, Matthew Hatton and Amir Khan.
"(A new trainer) will be sorted out in the next few days; we're absolutely on top of that," he said. "They've parted company and that's it.
"It's a big motivation (to be the first Briton to beat Alvarez); Bill likes to get the bit between his teeth and you get the best out of him when it's against him."