Katie Taylor believes that she is returning to her very best ahead of her professional debut against Poland's Karina Kopinska at Wembley on Saturday.
The Bray boxer enjoyed her finest moment in the ring when she was crowned Olympic champion at London 2012, but her bid to become a double Olympic gold medallist was shattered when she lost her opening bout to Finland's Mira Potkonen in Rio in August.
Promoter Eddie Hearn revealed at a press conference in Dubin today that Taylor is set to be on the undercard of men's middleweight kingpin Gennady Golovkin's bout at Madison Square Garden, New York on 18 March – with Michael Conlan headlining the previous day.
However, prior to that, Taylor must first overcome Kopinska on her professional debut.
The 30-year-old believes her training camp in the US with trainer Ross Enamait has been a major success.
"The weeks out there have been very, very gruelling, but it's been absolutely brilliant," Taylor said.
"I feel in great shape. I feel like I'm boxing better than I have in a long, long time."
A great camp with a great fighter! pic.twitter.com/1HwArqJcjv

— Ross Enamait (@rosstraining) October 8, 2016
Kopinska, who has lost more fights than she has won in the paid ranks, isn't expected to pose Taylor too many problems, but the heavy favourite is refusing to underestimate her opponent.
"She's very, very durable," Taylor said. "She's obviously very tough.  
"She's a very experienced pro and I think she's a lot better than her record suggests.
"It is going to be a great challenge for me and I'm really looking forward to it."
Reflecting on the disappointment of this year's Games, Taylor said: "It was heartbreaking to lose in Rio. Everyone that knows me knows how much the Olympics means to me, and I'd love to be walking out as a two-time Olympic gold medallist but it wasn't meant to be.
"It hasn't altered my confidence at all. Life is all about ups and downs, mountain tops and valleys, sometimes you have to persevere through tough times. I still have a lot of confidence and belief in myself and the best is yet to come.
"It's been a disappointing year but I've also had some great performances too; people haven't talked about them, but it hasn't been all bad.
"There's been a lot of positives that have come out of the last year but we're moving on now so the past is irrelevant - I'm making a debut and that's what I am focused on."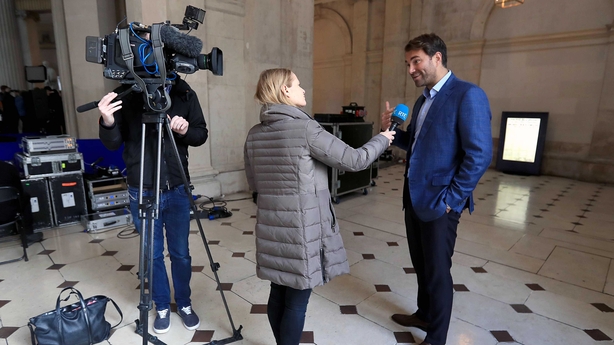 Promoter Eddie Hearn revealed at today's press conference in Dubin that Taylor is set to be part of the huge show in New York on 18 March – with Michael Conlan headlining the previous day.
Asked when Taylor will eventually come home to Dublin, Hearn told RTÉ Sport: "For the world title. That's what we want. I spoke to Katie and said 'I have this planned and this planned' and she said 'what about Ireland?'.
"I said I want to go back to Ireland for the world title. That is probably in just under a year from now. She could win a world title in her third or fourth fight. We need to build her around the world. I want her to be a global star, not just a big star in Ireland or England, but a star everywhere. 
"We could showcase her all in these key markets, and return here as a worldwide superstar – because we know how big she is in Ireland – but at the same time we don't want to take that for granted.  
"It's not a mentality of we can go to Ireland anytime. We want to come to Ireland for the big one – a world title fight – in a packed out arena. Everyone is just dying to have her back here and that'll be very soon.
"People are saying 'do you think she is the next Ronda Rousey?'. Well she can be. But the reason Ronda Rousey is such a success is one; she has the marketing power of the UFC behind her. Well Katie has that with us and Sky. But two; she is very exciting to watch.
"People were not watching because she was a woman. They were watching because it was a great fight. That is going to be the same with Katie.
"People are fascinated. I have been walking around literally showing people her on the pads and the response is 'wow she can really fight'. I'm saying 'don't worry about that.  Watch and see'.
"These first couple of weeks are so important. If people like Ronda Rousey and women in UFC can grow, there is no reason why Katie Taylor can't do it in boxing."