In the week that Katie Taylor announced her decision to go pro, former Olympic silver medallist Wayne McCullough feels that Taylor, along with Paddy Barnes and Michael Conlan, should have joined the paid ranks in the aftermath of the trio winning medals at the London Olympics.
"I advised them to go pro after the London Games as I would love to have worked with them as their trainer," McCullough outlined when speaking on RTÉ Radio's Saturday Sport programme.
"All three waited four years to turn pro and this was after things went against them at this year's Olympics.
We need your consent to load this SoundCloud contentWe use SoundCloud to manage extra content that can set cookies on your device and collect data about your activity. Please review their details and accept them to load the content.Manage Preferences
"They all got medals the last time, this time they didn't and that can depreciate your selling point. Katie won a gold medal four years ago and in many respects she had everything to lose after that."
That said, the silver medallist from the 1992 Barcelona Games, expects the Bray boxer to do well in the professional game.
"Katie has the drive and I think she can turn herself into a world champion for sure," he added.
Taylor has fights coming up in London and Manchester and there's talk of a bout in Dublin.
There is also speculation that she may be looking at the American market.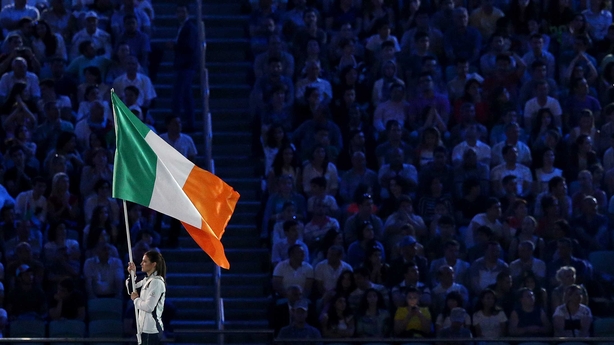 McCullough has been based Stateside for a number of years and on Taylor's prospects there, he said: "In boxing circles she is a big name. I train women boxers at my gym and they all know Katie Taylor and they are looking forward to her coming here.
"I think starting off she may be on the undercard and then if she fought in New York or Boston she could top the bill for sure. She will sell out no problem at all. The Irish will always turn up. In America there are 36 million of Irish descent."
However, the former WBC bantamweight champion did admit that finding decent opponents for the 30-year-old may be a problem.
"That is the difficulty for many of professional women boxers," he revealed. 
"Katie is an Olympic gold medallist. You don't want to put her in with people who are going to fall over. She has to be in with people who are going to fight back. That might be a problem.
As to how much Taylor can earn, McCullough was keen to emphasis the point that it's all about winning in the pro game.
"Katie will start off with good paydays, not million dollar paydays," the Belfast native predicted.
"You're only as good as your last fight. In professional boxing you got to keep winning. It's not like the amateur system where Katie had lost one or two fights and you still get paid from the Olympic Council.
"In the pro game, you could be fighting for half a million dollars one day and lose, and then be fighting for 20 grand the next. If you keep winning that's good, but if you don't you will drop down to the fourth division."