Michael Conlan admits he "didn't read the contract" that prohibited him from betting on the outcome of fights at the Rio Games - but refused to apologise for it, and claimed the punishment dished out was merely an attempt to tarnish his name.
Conlan and Ireland team-mate Steven Donnelly were admonished by the International Olympic Committee for placing bets on the outcome of fights in Brazil, with Donnelly wagering on his opponent in a fight that he went on to win.
Conlan's Games ended in hugely controversial fashion, as Russian Vladamir Nikitin victory in their bantamweight quarter-final bout prompting the Belfast man to say "amateur boxing stinks from the core to the top".
I think they were trying to tarnish my name, they were looking to pin something on me
He confirmed his venture into the pro ranks in September, and is set for a glamour debut at the iconic Madison Square Garden as the headline bout. After a summer of pain and drama, Conlan has no regrets.
"I done some bets," Conlan told RTÉ Radio 1's Saturday Sport.
"I didn't know I wasn't allowed to bet, I didn't read the contract - my fault, yes, but at the same time it was harmless. I didn't try to fix any matches, I didn't try to cheat.
"I think they were trying to tarnish my name, they were looking to pin something on me. All the bets I done I lost! My max bet was 100 quid or 200 quid. The others were all 30 quid, 20 quid.
"I'm not worried about it. I'm not sorry for what I've done because I was bored in the Olympic Village. I'm sorry I didn't read the contract... but what can you do?"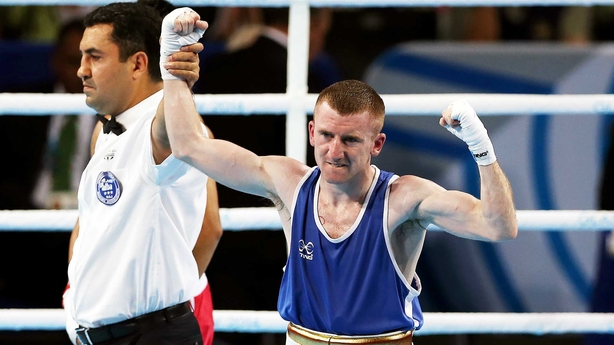 With a Paddy's Day date in the Big Apple on the horizon, Conlan has every right to be optimistic about what his future holds in store.
The 24-year-old's opponent has yet to be confirmed, but he revealed talk of his old friend Paddy Barnes [above] joining him on the card are not quite on the money.
"It's a dream come true," Conlan said his New York date. "Madison Square Garden is called the Mecca of boxing, so it's a phenomenal place to fight and for me to have my debut there is going to be really special. It's on Paddy's Day, the city will be green and we'll be celebrating like the Irish do.
"I wouldn't know any opponents yet; we'll know closer to the time. I'm going to have a press conference in Ireland with Top Rank in the next week or so.... but I don't think I'll find out my opponent until the new year."
Of Barnes's claims he's been confirmed on the undercard, Conlan added: "Paddy's just being Paddy, joking around. He's trying to chance his arm, that he could possibly get a chance on the show but there's nothing confirmed yet.
"It's a possibility for any Irish fighter to get on the show, it would be great to have other Irish fighters and a bit of support there.
Towards the end of 2018 I'll have a world title or I'll be fighting for a world title
"You don't see any fighters doing what I'm doing, making their debut at Madison Square Garden and topping the bill. It gives me a bit of confidence in myself and confidence in my ability that big promoters like Top Rank who've worked with the best for many many years have this kind of faith in me.
"In my contract I've secured one fight a year in Ireland, guaranteed. It could be Dublin. I'm probably a bigger name in the south than I am in the north.
"Dublin is my home and has been for the last seven years. I'd love to fight in that city, but also in Belfast, I grew up in Belfast. Whatever one suits me. 
"Towards the end of 2018 I'll have a world title or I'll be fighting for a world title."