Tyson Fury's friend Billy Joe Saunders fears the heavyweight will be dead by 30 if he "doesn't get the help he needs".
Fury, 28, did little to help fears surrounding his condition when just three hours after taking to Twitter on Monday afternoon to announce his retirement from the sport, he returned to reveal he had reversed his decision.
After first describing boxing as "a pile of s***" and "the saddest thing I ever took part in", he wrote: "You think you will get rid of the Gypsy King that easy? I'm here to stay. Just shows you what the media are like. Tut tut.
"Soon as I get better I'll be defending what's mine: the heavyweight throne."
"I've spoken to him, but he's down, he's very down, he's not in a mood to talk to anybody. He's mentally not there" - Saunders
Retirement would have meant walking away from what Press Association Sport understands would have been a career-high purse in the region of £6million for a potential rematch with Wladimir Klitschko.
On Friday it was reported he had tested positive for cocaine, just a week after he withdrew from their October 29 date because he was "medically unfit" to fight, although his camp have not commented on that. Those around him have said he is struggling with depression.
The wider picture has led Saunders to fear for Fury's health. The fellow traveller and world champion, 27, has known the WBA and WBO heavyweight champion since he was 14, and fears he is in an "extremely bad place".
"I'm very concerned that he won't see 30 years old," he said. "Very concerned. If the public don't get behind him, and he doesn't get the help he needs, it could affect his life and his family's lives forever.
"The travelling community's behind him. But it's out of the travelling community - the press - that need to give him a breather, a pick-me-up, a pat on the back.
"I'm not saying everything he's done's right - not even a 'You've done right, you've done wrong' - (he needs) a 'It'll be alright, don't worry about it, chin up'. Give him a bit of that and perhaps he might see a little bit of light, (it) might give him a little bit of confidence.
"I've spoken to him, but he's down, he's very down, he's not in a mood to talk to anybody. He's mentally not there.
"Nothing shocks me at the moment, because he's not mentally right. He needs help. He's in a bad place at the minute. I know him very well; extremely bad place."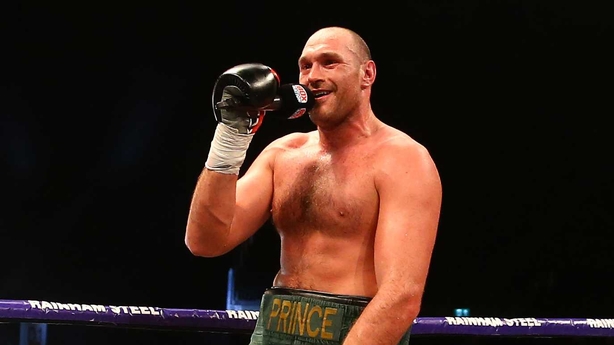 Saunders' promoter Frank Warren, whose BoxNation television channel had expected to receive significant interest for the rematch that had been scheduled between Fury and Klitschko, instead believes it is Fury's personal responsibility to address his problems.
Asked whose responsibility it was to straighten out Fury's life, Warren responded: "His. I know Peter Fury, his uncle, really works hard and I'm sure his dad does.
"But it's him. All he's doing is harming himself. It's a waste of talent but what can you do? You can't keep making excuses for it.
"People have put their money up, their time, and obviously his health must come before all of that. But he can't keep doing this to himself and his family and he can't keep doing it to the sport."