Paddy Barnes is hoping to make his professional debut in his home city of Belfast on 5 November at the Titanic Exhibition Centre.
Speaking on RTÉ 2fm's Game On, the three-time Olympian indicated that he is provisionally on the card, but admitted he had to "find out a few things" before it's a definite.
The Belfast boxer has signed with Matthew Macklin's MGM Promotions and is planning to fight at flyweight.
However, while Marbella-based Macklin will act as Barnes' manager, the boxer told the show he will not be moving to Spain.
Barnes cited a number of reasons for this decision, including the language barrier and the heat, while also joking that he is "too fair skinned" to consider such an option.
I feel I need to get out of Ireland because there'd be too many distractions
Instead Barnes is planning to base himself in England, and is hoping to travel over there once his pro debut is out of the way in order to find a suitable coach.
"I feel I need to get out of Ireland because there'd be too many distractions," he said.
"I want to take this pro career seriously and I feel like going away that will stand to me."
Barnes said he had been in talks with Macklin since last year and MGM - who are also going to manage amateur world champion Michael Conlan - were the only people to offer him "something proper".
While the professional move had been in the pipeline for sometime, Barnes said he delayed it because for him "it was always about creating history for Ireland."
"I wanted to be the first ever triple-Olympic medallist and the first-ever double Olympic medallist.
"It was just about creating history and ticking boxes but ultimately I wanted to win a gold medal as an amateur. That never came to life but I'm happy enough with my career.
"I'll always be devastated with not getting a gold in the Olympics but I have to forget about that and push on to bigger and better things in the pros."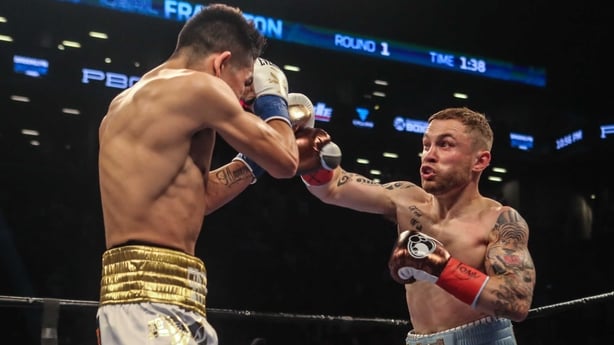 Barnes also added that witnessing the success of his friend and fellow Belfast boy Carl Frampton inspired him to make his decision.
"He's one of the reasons I want to go pro. Watching him fight in the Odyssey Arena in front of thousands of fans, it's unbelievable."
With Barnes and Conlan leaving the amateur ranks, in the wake of the likes of Jason Quigley, there has been some sense of a changing of the guard within Irish amateur boxing.
However, Barnes moved to reassure fans that normal service will soon be resumed.
"There are a lot of fantastic young kids coming through so in the next few years we'll see more European and world champions and Olympic champions."
With his professional debut on the horizon, the 29-year-old added that he has a debt of gratitude to the amateur set-up.
"Amateur boxing has been very good to me. I am where I am because of amateur boxing - I have been well looked after."