Former world champion Barry McGuigan has reflected on "a diamond" who could trace his roots back to an Ennis famine-time emigrant as the world mourned the passing of Muhammad Ali.
The iconic American died aged 74 in the early hours of Saturday morning after a lengthy battle with Parkinson's disease. McGuigan said Ali transcended sport with his charm, charisma and stature as a figure of huge cultural significance during an enormously turbulent time in US society.
"This is not just the greatest boxer that there's ever been. In my opinion he is the greatest sportsman that there has ever been," McGuigan told Dave Fanning on RTÉ 2fm.
"We are grateful that he chose boxing. He was phenomenal. He had grace. He had charm. He was a beautiful looking man. He brought a skill to boxing that had never been there before.
"He was a diamond, a super, super man. His great grandfather was one Abe Grady from Ennis and it's incredible when you think about his life.
"His great grandfather went after the famine to Louisville, Kentucky and he married a freed slave, a girl. An Irishman marrying a freed slave in 1860, an incredible story. He had Irish in him. Lots of people say that's where he gets his charm! I can't say we can claim all of that but he was a remarkable man.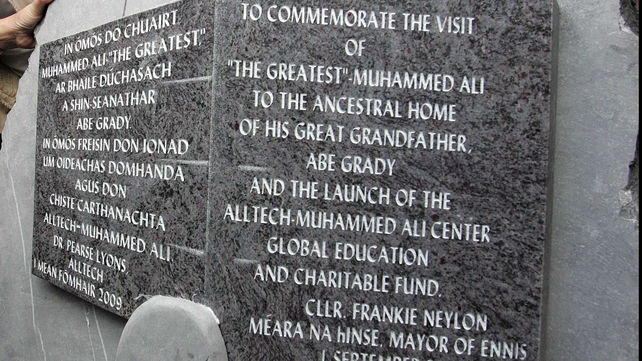 "He happened to be around at a time that was historically the most important time probably in history. This is a day to celebrate because God knows he suffered in the last 30 years of his life. It is a happy release for him and for his family. He's up there with Martin Luther King, with Nelson Mandela, with all of them."
Former Irish international fighter and Olympian Mick Dowling echoed McGuigan's sentiments, and said he changed the sport forever with his inimitable style and presence.
"He came here in 1972 when I was a young fighter going to the Munich Olympics with the rest of the Irish squad and we were brought out to meet him at the hotel he was staying out in Kilternan," said Dowling.
"I met him many years later when he came back to Ireland when he was sick.
"Ali revolutionised not only boxing but sport in general. He was just exceptional. His fame transcended all sports. He brought an audience to the sport that we never had before. He was such an entertainer.
"Nobody could copy him. He was an icon, somebody special."
You can watch Cathal O'Shannon's legendary interview with Muhammad Ali on the eve of his fight against Al 'Blue' Lewis in the ring at Croke Park on the RTÉ Player