Just days before the biggest fight of his career, Amir Khan's trainer Virgil Hunter has conceded his fighter lacks 'killer instinct'.
The 29-year-old will challenge WBC middleweight champion Saul Alvarez on Saturday and remains the significant underdog after making a major step up in weight for this fight.
Saturday's bout at Las Vegas' new T-Mobile Arena will be at a catchweight of 155lbs, two divisions beyond welterweight where Khan is established, and comes against a fighter considered among the world's best.
Few give Khan a chance of defeating the Mexican fighter and it is accepted his greatest chance of victory comes in using his superior speed and avoiding exchanges.
In the same week Khan has accepted he lacks the power to hurt the champion, Hunter has spoken of his belief he lacks a trait Alvarez is widely considered to have.
"Amir doesn't have that type of killer instinct that Miguel Cotto has," said Hunter, one of the world's leading trainers, when asked about Alvarez's past fight against Puerto Rican Cotto.
"If he had that type of killer instinct we could really know if his punch was in comparison with (Cotto's).
"You can't call up killer instinct - that has to be in you. That has to be in you a long time ago you know. You see kids come in the gym, they want to hurt somebody; right away, you know that's killer instinct," he said.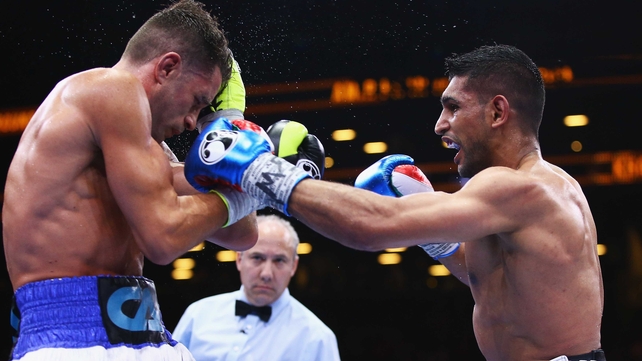 "If they get beat up, they're right back the next day, with a vengeance, like 'I'm going to get you'. I've seen that, that's a trait."
"He can really hit to the body - and he's got a 'body-whip' effect to his punches." - Virgil Hunter
Hunter is largely responsible for the significant improvement in Khan's defensive flaws since he was appointed his trainer in 2012 following Khan's split from the respected Freddie Roach.
He spoke earlier in the week of how impressed he was at Khan's attitude and reaction to the setbacks suffered in successive defeats before they linked up.
And though few expect Khan to hurt Alvarez on Saturday, Hunter insisted his body punching is comparable with the very best.
"I'll tell you this much; his left hook to the liver, I'll match you with anything," said the American.
"The one he put (Marcos) Maidana down with, he can hit to the body - he can really hit to the body - and he's got a 'body-whip' effect to his punches.
"He has competitiveness. Competitiveness, done right, can sort of put you in the same class, but I don't advise him to trade punches, because he's giving up too much size."