Among the most prominent tattoos worn by Carl Frampton is an inscription of the Latin phrase "Veni, Vidi, Vici" inked on his chest.
Considering the translation "I came, I saw, I conquered", it is a mark that easily lends itself to the hype which so often accompanies big fight nights.
With Frampton heading into 'away' territory in Manchester this Saturday for his much-anticipated showdown against super-bantamweight rival Scott Quigg, the Belfast native finally has the chance to deliver a victory to justify that inscribed boast.
But with only a few days to go, the undefeated 29-year-old's prediction ahead of the fight is more clinical than any boasting attempt at hyperbole.
"People haven't seen the best of me yet and any of the doubters, this is going to be the fight that makes them sit up and say 'F**k me, Frampton can actually fight'," says the IBF world champion, who is not in the habit of liberally dropping profanities into interviews.
His uncensored enthusiasm may be partly down to the growing sense of anticipation surrounding the pay-per-view bout and all the Sky Sports hype that comes with such an occasion.
On top of that, a fight between this pair has been some five-and-a-half years in the making with Frampton having called out then British champion Quigg following the former's win over Ukrianian Yuriy Voronin in his seventh pro fight.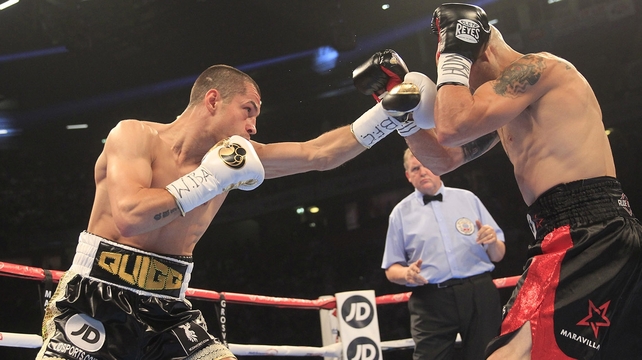 Promotional issues kept the foes apart until now and the two will finally meet with Frampton defending his IBF world title against the 27-year-old WBA belt holder, who was controversially upgraded to the status of a full world champion by that governing body.
This is not an occasion that needs any tinsel to decorate it, however, and Frampton (21 wins, no losses) is firmly focused on his elusive rival Quigg (31 wins, no losses, two draws).
"Obviously training sessions have been focused on Quigg and how I think he performs – especially my sparring," explained Frampton.
"I feel like I've been flying in the gym and if I keep doing what I'm doing, it's going to be an easy night. I had my last spar the other night and (stablemate) David Haye was in the gym - he described it that I was like a prime (Yuriorkis) Gamboa," added Frampton, referring to the precocious Cuban talent.
Frampton today travels to Manchester as fight week ticks towards the first bell on Saturday night, having spent the majority of a five-month camp in London.
Much of his training took place at Haye's gym in Vauxhall following the former heavyweight champion's decision to link up with trainer Shane McGuigan, son of Irish boxing legend Barry – the latter continuing to fill the role of Frampton's manager and mentor.
"He's looking great. He's bouncing fitness wise, it's been a great camp," says the elder McGuigan.
"You normally get hiccups along the way… but we've had a fantastic camp this time and he's been spectacular. He's in great shape and he's done a lot of rounds of sparring and in great condition."
Both Frampton's and Quigg's teams have continually traded barbs and regularly questioned the preparation of each other, with Quigg's trainer Joe Gallagher often citing notoriously unreliable sparring rumours about Frampton's past preparation.
That may be why Frampton and McGuigan are so eager to emphasise how smooth this training camp has been, but there is also a need to dismiss any lingering doubts from the Belfast man's last pre-fight build-up.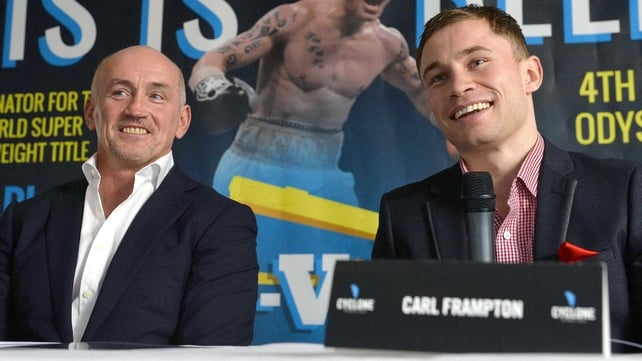 "The last time it was a disappointing camp, it's easy to make excuses when it's all over but it didn't run smoothly," says McGuigan, referring to problems that surrounded Frampton's preparation for his last outing, a points win over Mexican Alejandro Gonzalez Jr in El Paso last July.
Gonzalez had Frampton on the canvas twice in the first round, with the champion expressing a few concerns about his preparation afterwards, particularly over his struggle to make the 122lb super-bantamweight limit.
On reflection, Frampton blames a certain level of "complacency" for his near-disastrous start against Gonzalez and McGuigan insists that his man has not suffered with similar struggles in his preparation for Saturday night's bout.
"If we wanted to, he would never need to be more than a super-bantamweight. It was just too hot out in El Paso, he was drinking too much (water) after sessions," claims McGuigan on the weight issue.
"This time he's been light for a long time, it helps (with) the fact that we've been getting ready for five months. He's been down on the weight a long time, the weight has been absolutely brilliant and he's strong as a bull."
It is an assessment which, for the most part, Frampton appears to agree with.
"I was embarrassed that I got put over twice," says the champion.
"There was a lot of complacency on my part… I'll not be complacent with Quigg obviously, I think he's a dangerous fighter, I need to be switched on."
The bookies have Frampton slated as a marginal favourite in keeping with the expectations of many fans and pundits over the past five years as the fight has marinated.
Quigg's performance in dispatching Kiko Martinez in two rounds on the same July night that Frampton laboured in El Paso has swayed some opinion, but Frampton maintains that he will not be too aggressive in the ring, even with a large Irish support set to be present in the 20,000-capacity crowd.
"I don't want to get carried away with the crowd and stuff and the hype of the fight," says Frampton. "If I'm clever in this fight, stay switched on and stick to the game-plan then it's going to be one-sided so that's what I intend to do."