Just days after winning gold at the World Championships, Irish boxing has been thrown in crisis with the news that head coach Billy Walsh has resigned.
Walsh, who led Ireland to Olympic, World and European gold medals, has now stepped down from his role as Head Coach of the IABA's Irish High Performance Unit and senior team,
There had been increased speculation over Walsh's future in recent weeks, but hopes remained that the coach and the IABA would be able to come to an agreement which would see him remain in the position.
"Regrettably the IABA have not made it possible for me to continue."
However a statement from Walsh today read: "Regrettably the IABA have not made it possible for me to continue on in the role as Head Coach of the High Performance Unit and senior team."
Walsh had reportedly agreed a new contract drawn up by the Irish Sporting Council, which funds Irish boxing.
However, the IABA is understood to have declined to consider that contract, instead pushing a contract of their own which was not agreeable to Walsh.
The statement explained: "Since February of this year I have been engaged in a process with the IABA to secure my future as Head Coach with the High Performance Unit and senior team.
"A protracted process that went on for eight months included numerous high level meetings that resulted in various proposals. In August a fair proposal was developed under the auspices of the Irish Sports Council (ISC) that was acceptable and fair but then not subsequently ratified by IABA.
"I was hopeful in recent weeks that a final proposal arising out of an approach in late September by the IABA would lead to a successful conclusion but unfortunately it didn't."
Walsh went on to thank the Irish Sporting Council for their efforts in trying to solve the impasse which led him to resigning.
"I wish to express my gratitude to the Irish Sports Council for all their support and commitment to the IABA High Performance Programme over the course of the last 14 years and most recently in trying to broker an agreement on this matter," his statement read.
"The Sports Council have supported Irish boxing and worked tirelessly to find a solution."
291days til Rio & Billy Walsh sadly leaves our most successful team after 8months of negotiating with IABA #BIGLOSS 

— Darren O'Neill (@DarrenONeil) October 19, 2015
The IABA has said that it accepted Walsh's resignation "with regret" and that it did its "utmost to retain" his services.
The statement went on to thank Walsh for his service and wish him the best with USA Boxing.
It read: "The IABA has been in discussions with Billy following his approach to the organisation to seek improved terms and conditions after he stated that he had received an offer from USA Boxing.
"The IABA is deeply disappointed not to retain his valued services, and for the avoidance of any doubt, the IABA has done its utmost to retain Billy Walsh as head coach.
"However, Billy himself has made the decision to resign and take up a position with USA Boxing, and we wish him every success with this."
Meanwhile, RTÉ News understands that Walsh has yet to sign a final deal.
He is due to fly to America later this week and terms have been agreed, but no contract has yet been signed.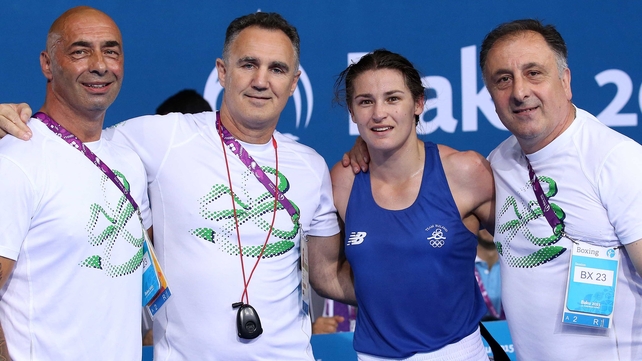 Olympic gold medallist Katie Taylor has described the resignation as a sad day for Irish boxing.
Speaking in Dublin today, she said she was shocked and saddened by the news.
The Bray woman described Walsh as an extraordinary man and an amazing coach who had done so much for the Irish boxing team and for her over the years. 
She added that she had hoped the situation would have been resolved with the boxing association and said it was a big loss for Irish boxing.
Tribute
Walsh also paid tribute to the staff he worked alongside since 2003 as well and the boxers he helped to glory along the way.
"Zaur Antia, Jim Moore, Eddie Bolger, Pete Taylor, John Conlan, Billy McClean and Dmytri are well positioned to take my work and the work of the high performance programme forward and lead this senior team into Rio to compete for medals," he said. 
"I have the utmost faith and belief in them having worked alongside them for many years.
"The boxers I have worked with (too many to mention for fear of leaving some out) have inspired and challenged me in equal measure and I salute their efforts, their courage and their amazing performances down through these last 14 years.
"I wish to thank them for their trust and support and for allowing me to continue in their corner for every fight they fought on the international stage. I wish them all every success in their endeavours to qualify and secure Olympic Medals at Rio and nobody will be more delighted to see Irish boxers succeed in Rio than me."