Matthew Macklin returns to the ring next month in Marbella as he attempts to get another shot at a middleweight world title.
The former Irish, British and European Champion and three-time world title challenger will headline an MGM Promotions black tie dinner event at the H10 Andalucía Plaza Hotel in Puerto Banús on 28 August as he kicks off a three-fight plan that he believes will lead to world title glory.
Macklin had considered hanging up his gloves following a defeat to Jorge Sebastian Heiland in Dublin last year but returned to winning ways in May with a second-round stoppage win in Birmingham.
Now he is looking to build on that win ahead of a fourth assault on a world title early next year.
"I really want to build some momentum between now and the end of the year and get three solid wins under my belt", said Macklin. "That will give me a great base to push for a world title shot early next year. The fight in Marbella will kick that off and then I'm looking to fight in Birmingham in October and then maybe back in Ireland before the end of the year.
"I seriously thought about retiring after the disappointment of the Heiland fight but when I looked back at it, I had been in the gym all of last year. A number of fights fell through for a variety of different reasons but I had gone through long training camps for those fights and by the time the Heiland fight came around I was burned out. I felt great for three rounds and then it was like somebody pulled the plug and I really think it was a case of being overtrained and having nothing left on the night.
"It was good to get back in there in May and put the Heiland fight to bed. It was basically an exercise to get back in the gym and see how I felt, get back in the ring and get a win and it ticked all those boxes and I felt good. Now I want to stay busy and stay active in the ring as well as being in the gym.
"It's mentally and physically draining being in the gym constantly and having fights fall through or not having a definite date but when you know when you're fighting it's really gives you that edge and drive and you can see what you are building towards."
Having taken on three of the biggest names in the sport in world title bids against Felix Sturm, Sergio Martinez and Gennady Golovkin, Macklin believes he can finally get his hands on that elusive world title belt in 2016.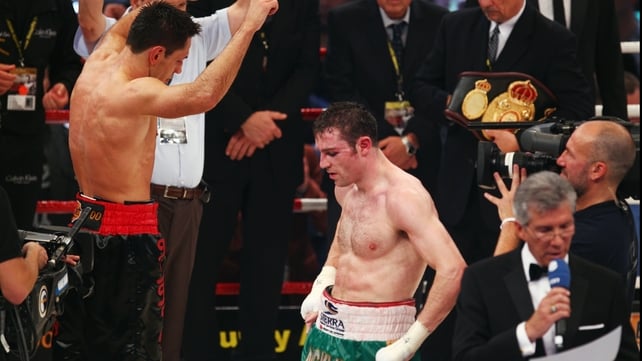 "It's the drive to get that world title that still gives me the hunger and desire. Obviously I was robbed of that with the decision in the Sturm fight, I came up just short against Martinez and in the case of Martinez and Golovkin I came up against two guys who look like they will both end up in boxing's hall of fame.
"The middleweight division is very interesting at the moment. Obviously Glolovkin is head and shoulders above everyone else. Outside of that there are some excellent champions but I'd fancy any my chances against any of them. Boxing is like snakes and ladders and the guys that hold titles at middleweight are the perfect example of that.
"Danny Jacobs has made an amazing comeback from cancer to win the WBA title. Only a year ago Andy Lee looked to be on the verge of a career-ending defeat to John Jackson when he turned it all around and then went on to win the WBO title. Then you have David Lemieux who just won the IBF title. It's not all that long ago that he was stopped by Joachim Alcine, a guy I KO'd in a round so it's amazing how things can turn around so quickly in boxing.
"All three of those have done brilliantly to turn their careers around to win world titles but they have also showed vulnerabilities and I'd be confident stepping into the ring with any of those guys."
It's a case of first things first for Macklin though and the first hurdle en route to another world title shot comes in Marbella next month. "It's exciting to headline MGM's first event in Marbella. Obviously we've had the gym there for a few years and it's amazing how popular it's become.
"Some of the world's best fighters have trained there and it's gained a big reputation in a short space of time and continues to go from strength to strength."