Barry McGuigan believes that 2015 will be a sensational year for Belfast world champion Carl Frampton.
The Tiger's Bay boxer will make the first defence of his IBF world super-bantamweight title on 28 February against mandatory challenger Chris Avalos at the Odyssey Arean and Frampton's manager believes that he will beat the challenger in some style before going on to more high-profile fights later in the year.
Speaking to RTE Sport, the Clones Cyclone was quick to dismiss the cocky Avalos, who claimed at this week's press conference that he would knock the champion out on home soil.
McGuigan said: "Avalos had a lot to say and is convinced he is going to knock Carl out. He's a very confident guy, a very talented kid, but he is not as talented as he thinks he is.
"It's going to be a great fight and it will be a lovely contrast in styles. But I know there is only going to be one winner.
"Frampton is an exceptional guy and he is going to be doing a lot of great things (in 2015) and Avalos is not going to derail us. He's had 25 wins and 19 knock outs, so he can bang a bit but he hasn't fought Carl Frampton before."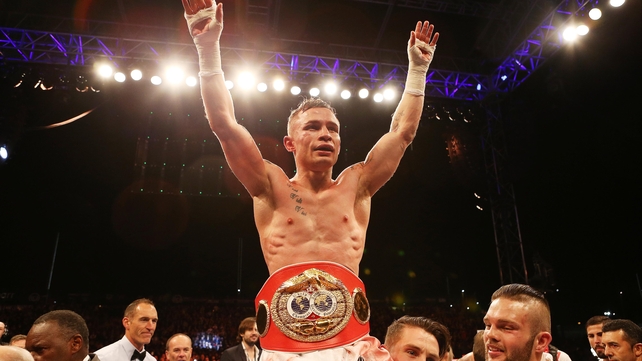 And while McGuigan believes that his fighter will make light work of Avalos, he is also aware that everything changes inside the ring and that Frampton must remain focused. But McGuigan also feels that Avalos will not be able to handle the white-hot atmosphere that comes with a Frampton home fight as they return indoors to the Odyssey.
"I don't think he knows what he is letting himself in for," added McGuigan.
"He's about to walk into the most atmospheric arena in the world, when he comes to the cauldron that is the Odyssey Arena. It's going to be something that he has never experienced before.
"Having said that, a ring is a ring and it doesn't matter where it is, and Carl has to produce the goods, but Carl has been fired up.
"If we needed to get Carl fired up, this guy has certainly done that for us and he is training really well and is already sparring. He has done 21 rounds this week with Pajo (Patrick) Hyland, who is a world class operator at featherweight and super featherweight. So he is in great condition already and the fight is two months away.
"He is a consummate professional and he knows that he now is a target for all these young pups coming through, and they all have egos and this is indicative of what he is to expect in the coming months and years.
"But I believe that 2015 will be a sensational year for Carl Frampton, and I believe that he will beat Avalos and he will beat him in exciting style, and then we will go on to fight (Scott) Quigg possibly or Leo Santa Cruz. It's going to be a magnificent year for him."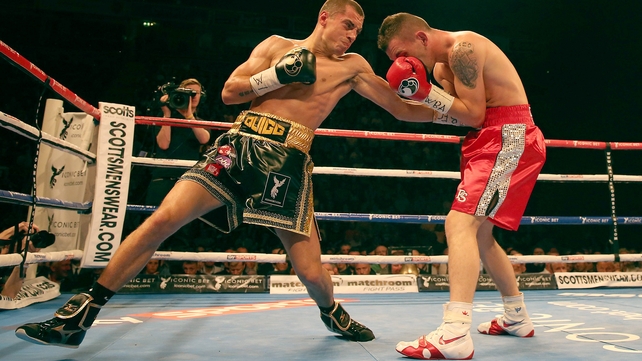 Much has been made of the similarities between the careers of manager and fighter. But McGuigan was quick to heap most of the praise on another of the McGuigan clan, his son Shane, who is Frampton's trainer.
"I'm now experienced as a manager as opposed to a fighter. And when you are a fighter, you have a certain amount of control but as a manager, it just happens and you keep your fingers crossed, bite your nails and hope that everything goes well," explained McGuigan.
"But I've got the utmost faith in Frampton and he really is exceptional. You want to see him in the gym, he really is doing amazing things.
"It is a completely different experience and I see the relationship he has with Shane. Shane is a pretty awesome coach. He has only just turned 26 and he really has found his vocation in life.
"He is exceptional at what he does. And the great advantage with him is that he fought himself, so he know what it is like to take a slap in the mouth. And he knows everything about nutrition and strength and conditioning, which is a big, big significance to fighters these days.
"And what it actually does is that is allows guys, if they are disciplined, to come into the ring bigger and stronger."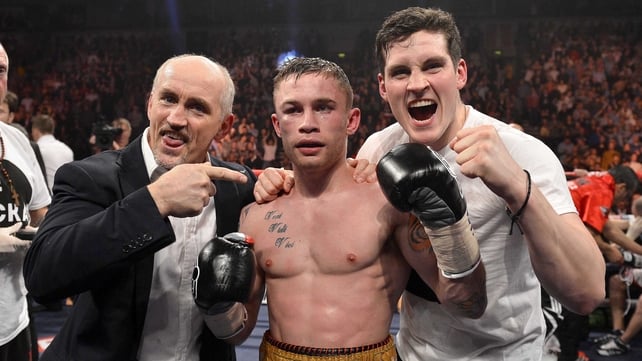 And while McGuigan believes that 2015 is going to be a huge year for Frampton, he is also confident that Frampton will go on to dominate the division and move up to featherweight in future years.
"There is so much hype these days that it's almost pleasant to hear guys being humble and not making too many predictions, but I really think that Frampton can unify or certainly fight for a couple of other titles at super-bantamweight and go up in weight and win at least another weight division title. He is that good."