By Ed Leahy
Over two years have passed since Matthew Macklin fought Felix Sturm for the middleweight world title.
The Birmingham born Tipperary man travelled to Germany to fight the local hero in front of a vociferous and partisan crowd at the Lanxess Arena in Cologne and took the fight to Sturm from the opening round through to the final bell of the 12th.
Macklin believed – and still does – that he won that encounter, however, the men that mattered – the judges – awarded the bout to the champion, albeit on a split decision.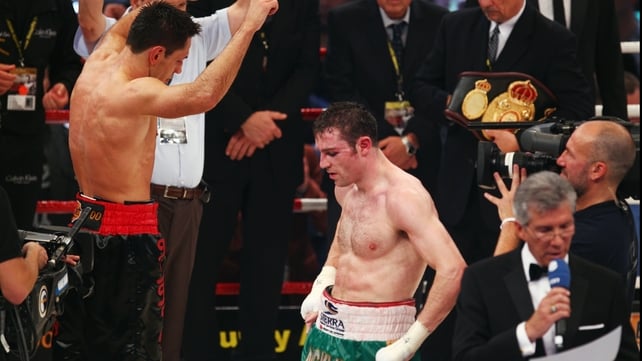 On reflection, Macklin probably needed to do a little bit more in the latter stages of that fight to take the champion's belt in his homeland, yet the fight proved that Macklin could mix it at the highest level and his performance secured another world title bout, this time against top-rated Sergio Martinez, who was also considered a step up from the German - Martinez remains the number one rated middleweight by Ring magazine.
Again Macklin took on the role of aggressor and, at times, looked as though the St Patrick's Day bout was going to play out in his favour, dropping the classy Argentine in the seventh round as the champion touched the canvas with his glove following a right from Macklin.
But Martinez turned up the intensity and put an end to the contest with a soul-destroying 11th round from which Macklin could not recover.
Macklin bounced back again six months later with a confidence-building, but facile, first-round knockout of Canadian Joachim Alcine, setting up his third world title fight against WBA and IBO champion Gennady Golovkin.
This time, however, Macklin looked out of sorts and was unable to stamp any sort of authority on the fight, and was stopped with a clinical body-blow in the third round by knock-out king Golovkin.
Two years on and Sturm had lost his belt and now, as challenger, took on newly crowned IBF champion Darren Barker from London last Saturday night.
Barker had snatched the belt from the man who had beaten Sturm, Daniel Geale, but then surprisingly accepted Sturm's offer to bring the fight to Germany.
Again Sturm had the fanatic German boxing support behind him at the Porsche-Arena in Stuggart but this time, the three-time world champion had no need to rely on a hometown decision as he demolished the Englishman in the second round to complete a successful renaissance, returning to the top of his game just over a year after parting with his title.
Macklin meanwhile was doing a rebuilding job of his own in Atlantic City, fighting on the undercard of the Guillermo Rigondeaux bill and outpointing Lamar Russ, also on Saturday, with the consolation that the fight was live in America on premium boxing platform HBO, while Sky Sports were taking the fight into living rooms on this side of the pond.
The middleweight division remains the ultimate in boxing and Irish fighters have been mixing it with the best at this elite division for the past ten years without reaching the promised land of a world title.
John Duddy led the way as he fought his way up the rankings before losing a title fight with Julio Cesar Chavez Junior.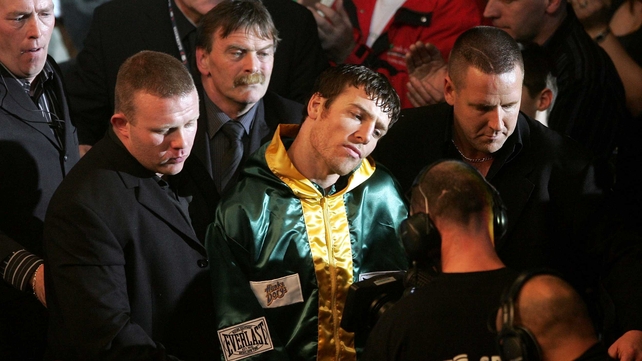 And as Derryman Duddy was trading blows at the top of the division, Limerick's Andy Lee was making a big impression in the world famous Kronk Gym in Detroit learning his trade with legendary trainer Emanuel Steward.
Lee was making steady progress and establishing himself as a classy middleweight with a big future before getting caught up in a brawl against Brian Vera – an unrated fighter who had made his name in reality television show, The Contender – losing his unbeaten 15-0 record.
Lee would also go on to get his revenge on Vera en route to an unsuccessful shot at Chavez Jr's title in 2012 and has spent the last 15 months rebuilding, now based in London under new trainer Adam Booth, who formerly coached George Groves and David Haye.
As Lee was rising through the ranks Stateside, Macklin was slowly but surely moving into the world class category, as he took the British and European belts with his crowd-pleasing, attacking style.
"He's had a ten-round warm up now. I had a fight last week so let's get the fight on" - Andy Lee
But now Macklin must be wondering what might have been after watching the ease at which Sturm took that title off Barker on Saturday night.
Barker had called time on his boxing career less than two years ago following a traumatic time personally, losing his younger brother in a tragic car accident, while his body was also giving him grounds to retire.
But the likeable Londoner was fast-tracked to a title fight by the main mover in boxing promotion, Eddie Hearn, and got his chance at the belt against Australia's Geale.
Macklin's showing in his first two title fights would suggest that he could have beaten either but such is the business of boxing, his path was to lead him to take on the future of the division, Kazakhstan's Golovkin.
Macklin has also made changes since the Golovkin disaster as he yearns for one more chance to land that most coveted of prizes, bringing former nemesis Jamie Moore into his corner after parting ways with trainer Buddy McGirt.
And 'Mack the Knife' was anxious to impress as he looks to land another title shot, but first he had to account for the up and coming and unbeaten Russ.
Macklin had only had four rounds of competitive boxing since the Martinez fight 20 months ago, however, the former European champion bounced into the ring with buckets of enthusiasm and went straight on the attack against his 6foot 2inch opponent.
It proved an awkward fight for Macklin as he was finding it difficult to land his trademark power shots, opting instead to jump in as he attempted to get through Russ's defence.
Macklin was always ahead thanks to his relentless work rate in the early rounds but he was also getting caught a little more than he would have expected and had to nurse an early cut above the eye, which could have caused major problems if Russ had the tactical nous to target it.
Macklin took the fight on a unanimous verdict from the judges but the main thing that he got out of the fight was ten competitive rounds as he proved he still had the heart to stay at the top level.
One interested spectator in the Sky Sports studio was fellow middleweight Andy Lee.
The Lee v Macklin fight is being touted for New York or Boston on St Patrick's Day 2014, so Lee's analysis was interesting, yet vague and obviously loaded.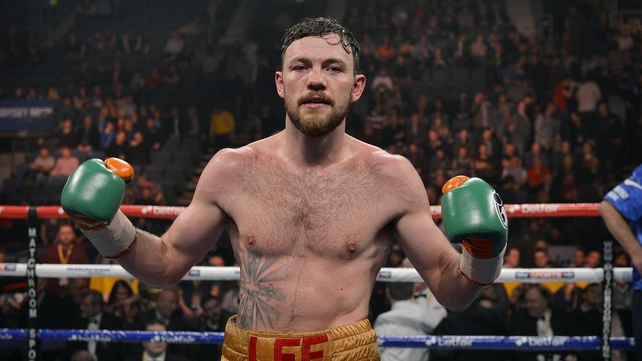 When asked was Macklin's performance world class, Lee said: "No way was it world class and it was not his best performance, but maybe in the long term getting ten rounds in will be good for him and will stand to him as he hasn't had a lot of action of late. It's something that he can build on."
And Lee could neither deny nor confirm the rumours of a St Patrick's Day showdown as he said there was 'nothing official'.
"But we both said that we want to fight," said Lee. "I certainly want to fight in the first quarter of next year. He's had a ten-round warm up now. I had a fight last week so let's get the fight on.
"There's nothing stopping it from happening."
Lee was also quick to emphasise that he had seen nothing new in Macklin's performance that might cause concern should the bout take place.
Lee said: "(There was) nothing there that I hadn't seen before. He didn't box to his best. I think he was too eager to stop Russ, but Russ was better than he anticipated. I think it was a fair result.
"(Macklin's) not hard to miss; he's there to be hit. He comes forward and is aggressive. And I think if we fight, that's how he will try to fight me, try to push me to the ropes.
"It won't be a boxing match with him, it will be a fight and I'm ready for it."
Following Macklin's victory, there have been many calls for a re-match with new champion Sturm, considering the obligatory return bout with Barker looks unlikely due to injury and the current mindset of the outgoing champion.
And surely Macklin would be more attracted to a world title fight with Sturm, especially if he can get it to take place in Ireland or the USA.
But if that fight does happen in the New Year, the possibility of Lee and Macklin finally meeting for the much-anticipated all-Ireland middleweight encounter looks as unlikely as ever.